9-Man volleyball tournament in NYC highlights cultural significance
NEW YORK - Forget what you know about streetball, there's one game that's been played for more than 70 years, yet few people outside of a community have ever seen it. 
The sport is called 9-man volleyball, and it is wild. 9-men, on a slightly larger court. 
Five or more blockers face off every play against fast-paced, chaotic offenses. No rotation, so players specialize in their positions with back row players tending to be shorter than front row players. The exciting game is played on asphalt, and its unforgiving nature is evident with a plethora of knee braces and athletic tape. 
But the hardship of 9-man volleyball makes perfect sense, considering its roots in US history. It was the 1930s when Chinese immigrants brought the sport over from Toisan, China. The history of the game is the subject of a documentary called "9-man", by documentary filmmaker Ursula Liang.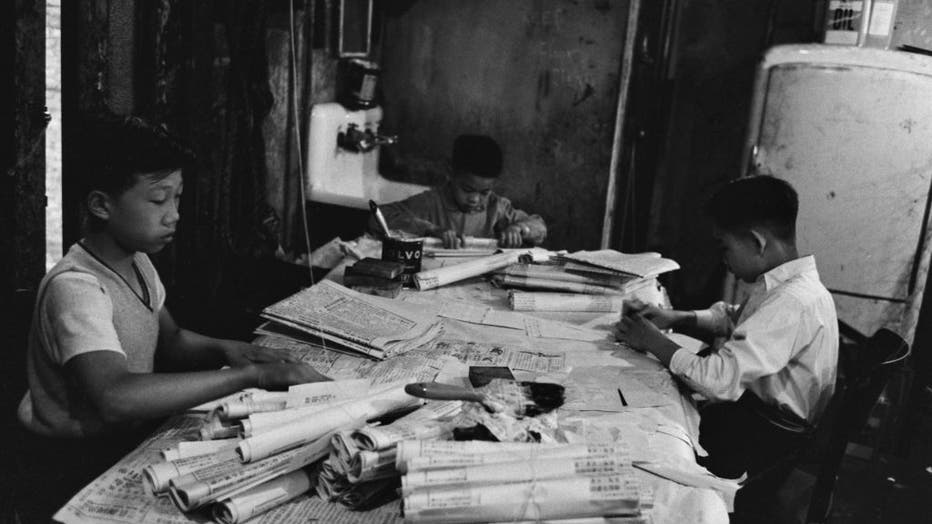 Three boys wrapping newspapers ready for delivery, in the offices of The China Tribune newspaper, in the Chinatown district of Manhattan, New York City, New York, circa 1960. The China Tribune is a Chinese-language daily newspaper. (Photo by Doris Ni
At that time in US history, Asian men were allowed in the country as laborers, not women. And the men largely worked isolating, emasculating jobs by doing laundry, or working in restaurants. Participation in sports was nowhere near the horizon.
9-man flourished in the margins. 
When Chinese men got out from work, most commonly on Sundays, a piece of string tied between pipes, acted as the net. Rags tied with rope – the ball. And with it a community was fostered. More than 70 years later, few of its rules have changed and teams travel throughout North America to play culminating with a massive tournament each Labor Day weekend. 
RELATED: US Navy official says multination military training in Australia shows unity to China
This weekend, New York plays host to the NYMini tournament, a tune-up for the big dance. There are so many teams that arrive in Lower Manhattan that tournament play is spread out between four locations, all of them outdoors on the tough turf.
Danny Moy, a former player himself, is now the head organizer. He says on the face of it, this may be about skills, but at its roots it's about building community, friendships, and brotherhood. 
"Sticking together is a big thing, right?" Moy said standing but 4 courts teeming with action. 
"You'll show them that we're in this together. We're still here. We want to compete at a high level with the tradition and the culture that's been instilled for so many years."