Win Terry's SUV, $100K playing FOX Bet Super 6 NFC Championship contest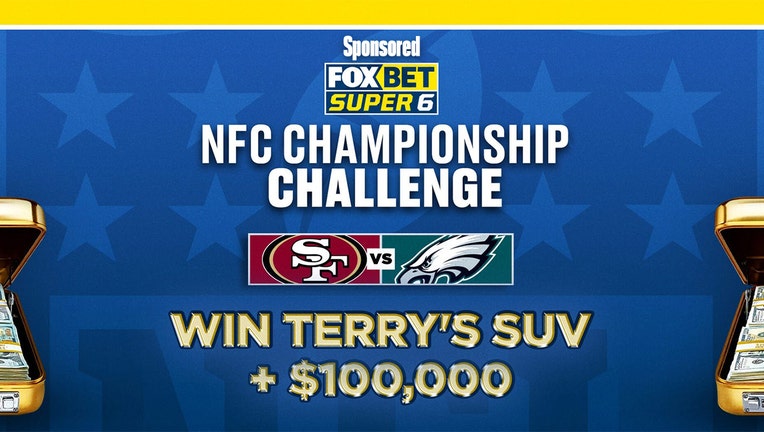 article
It's West Coast vs. East Coast, Dirty Harry vs. Rocky, the Golden Gate Bridge vs. the Liberty Bell. 
It's the NFC Championship matchup featuring the San Francisco 49ers and the Philadelphia Eagles. The big game before the Big Game. And it's on FOX and the FOX Sports App.
Does it get any more thrilling? Um, actually, yes because no matter which team wins this battle, you could walk away from conference championship weekend with a brand-new SUV. Make that, drive away. 
And get this. You don't have to suit up in cleats and pads, get tackled or even attend the actual game. All you have to do is play to win Terry's $100K in the FOX Bet Super 6 app.
The FOX Bet Super 6 NFC Championship Challenge is a free-to-play contest in the FOX Bet Super 6 app where players pick six different outcomes in the marquee matchup between the 49ers and the Eagles. From the team with the most tackles to the winner and the margins of victory, if you predict all the outcomes perfectly, you could be on your way to a $100,000 payday.
After you submit your picks, opt-in to play Terry's SUV sweepstakes. If your name is drawn, a sweet new ride could be all yours.
Remember, you have to get your picks in before the game kicks off Sunday at 3 p.m. ET. And as always, FOX Bet Super 6 is free to play, it's easy, it's fun and people really do win. 
You have a chance to win an SUV and $100k. If you're looking for help with your picks, we got you covered. Before you dive into the action, check out our predictions below.
49ers at Eagles (3 p.m. ET Sunday, FOX and FOX Sports app)
Which team will have more passing yards and how many will they have?
Even though Eagles quarterback Jalen Hurts has admitted his throwing shoulder isn't quite 100%, you couldn't tell last week in Philadelphia's victory over the Giants. Hurts played great, so you have to go with Philly here. 
No shade to San Francisco's Brock Purdy. Brock, after all, has proven that Mr. Irrelevant is, in fact, very relevant. But a banged-up Jalen still gets the edge here — especially since the Eagles average 256.7 passing yards per game, while the Niners average 238.2.
Prediction: Eagles, 215-229
Which team will have the most tackles and how many will they have?
These are the league's top two defensive teams, so this will be close. But this season, Philadelphia has averaged 59.2 tackles per game and San Fran has averaged 57.9.
Eagles get the edge in this spot.
Prediction: Eagles, fewer than 63
Which team will have the longest punt and how long will it be?
It's time to show the Bay some love. The Niners' Mitch Wishnowsky has a 74-yard punt under his belt this season. That's tied for fourth-best in the league. Eagle Brett Kern's longest punt this season has been 53 yards.
Faithful to the Bay and to Mitch on this one.
Prediction: Niners, 44-46
Which team will have the most rushing yards and how many will they have?
Again, another category where both these squads rank in the top 10. The 49ers average 138.8 rushing yards per game; the Eagles average 147.6.
The NFC Championship Game will be a contest where Philly's Miles Sanders carries the load of the running game, helping the Eagles soar on the ground.
Prediction: Eagles, 135-144
Which team will have the longest field goal and how long will it be?
This postseason was uncharacteristically cruel to one particular field goal kicker. Ahem, we're looking at you Brett Maher. But for the Eagles and the Niners, the field goal game goes back to its regularly scheduled programming. In this contest, we'll be tallying the length of field goals made, not how many were missed.
Philadelphia's Jake Elliott's longest field goal this year was from 56. San Fran's Robbie Gould's longest is 51. However, the Eagles will force the Niners into more long field goal situations this Sunday. So we're going with the Gould on this one.
Prediction: Niners, 50-51
Which team will win and by how many points?
At FOX Bet, the Eagles are currently 2.5-point favorites over the 49ers. Both of these teams are fun to watch, so it's too bad one of them has to lose. Both these squads have put together wildly impressive seasons that feature well-rounded offenses and defenses.
But the edge goes to the Eagles.
While their running games and their defenses are neck-and-neck, this matchup will ultimately come down to quarterback play and home-field advantage. 
Having Hurts at QB and playing at Lincoln Financial will give Philly a leg up. So expect a close game. However, we like the Eagles with the win and the cover.
Prediction: Eagles by 3 points
Now, it's your turn to play.
Open up your FOX Bet Super 6 app and make your picks for this exciting NFC Championship matchup. Remember to submit your picks to win Terry's $100K and opt-in to win a new set of wheels in the Terry's SUV sweepstakes before game time.
And share your picks with us by tagging @FOXSuper6 and @EricaReneeD and using the #EricaSuper6 across all social media platforms.
Good luck!
Download the FOX Bet Super 6 app for your chance to win thousands of dollars on the biggest sporting events each and every week! Just make your picks and you could win the grand prize. Download and play today!
No purchase necessary. Open to legal residents of the US, excluding WA. 18 and older. See terms and conditions at foxsuper6.com. Sponsored by TSG Interactive US Services Limited.