FOX Bet Super 6 winner cashes in on Terry Bradshaw's SUV in 49ers-Eagles contest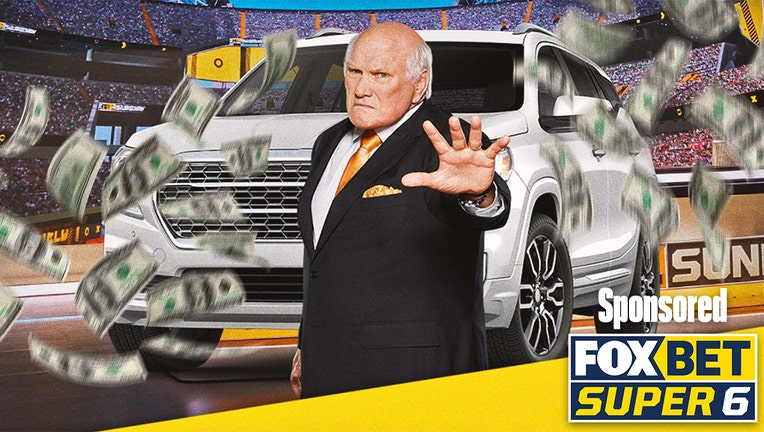 article
The Eagles dashed the 49ers' playoff hopes in the NFC Championship Game, but one FOX Bet Super 6 player saw his dreams come true when his name was pulled in the FOX Bet Super 6 NFC Championship contest after he opted into Terry's SUV Sweepstakes.
David from Nevada was the lucky contestant who cashed in on Terry Bradshaw's big prize. The bartender has been playing the free-to-play FOX Bet Super 6 contests since the app launched more than two years ago. And he said that he's still floating several days after finding out he won.
"I'm on a high," he admitted. "Been smiling for three days straight." 
Fortunately for David, his new winnings have given him something to grin about after a tough sports weekend. He's a lifelong Niners fan, which means his squad saw the end of the road the same night he discovered he joined the FOX Bet Super 6 winners row.
"If I hadn't won Terry's sweepstakes, I would've been devastated. But winning made everything better!"
The husband and father of four was behind the bar working his Sunday shift when the call with the good news came in.
"I don't really mess with my phone while I'm at work like these kids nowadays," noted the 52-year-old. "But I looked down and saw a number I didn't recognize. So I went outside in the snow with just my t-shirt on to take the call.
"And that's how I found out I'd won."
David told his youngest daughter and her tech-savvy boyfriend about his good fortune, and "after about two minutes," they found the tweets.
"The announcement was everywhere. It was on Twitter — 'David from Nevada.' That's when it really sunk in that I'd won."
This brand-new winner confessed that football is the only sport his wife allows him to watch as much as he wants, so when it comes to FOX Bet Super 6, the NFL contests are usually where he focuses his attention.
"As far as strategy, sometimes it's hard. So sometimes, I just guess. And I tell people that I always play because it's free. It costs nothing to make your picks."
One pick that David did make was taking the cash prize over the SUV since he and his wife are already a two-SUV household.
"Instead of the car, we're taking the cash. And there are a million things we've thought about doing with it. We might take a vacation. We're thinking about moving up to Oregon and pitching in the money to start our own little farm community.
"I did say something to my wife about moving to Costa Rica, but I don't think she's much of an island girl," David laughed.
And because Terry Bradshaw has a special place in David's heart, winning the sweepstakes will be particularly memorable for him.
"I've always been a huge Terry Bradshaw fan," he gushed. "And the [NFL on FOX] pre-game show is perfect. The way they joke around with each other and play off each other — it's perfect.
"It's the best pregame NFL show that ever was and that ever will be."
While David is still undecided about what he's going to do with his prize, he's certain about his Super Bowl prediction.
"Patrick Mahomes still looked great out there limping around on one leg, but the Eagles look tough. I really just want it to be a good game, but I'll say Eagles 27, Chiefs 23."
Are you ready to get in on the action at FOX Bet Super 6? Download the app right now, and make your selections for this week's NASCAR Clash at the Coliseum contest and for next week's huge $1,000,000 Super Bowl contest.
Your big payday could be right at your fingertips, too.
Download the FOX Bet Super 6 app for your chance to win thousands of dollars on the biggest sporting events each and every week! Just make your picks and you could win the grand prize. Download and play today!
No purchase necessary. Open to legal residents of the US, excluding WA. 18 and older. See terms and conditions at foxsuper6.com. Sponsored by TSG Interactive US Services Limited.