Aaron Rodgers 'shook up' by Damar Hamlin cardiac arrest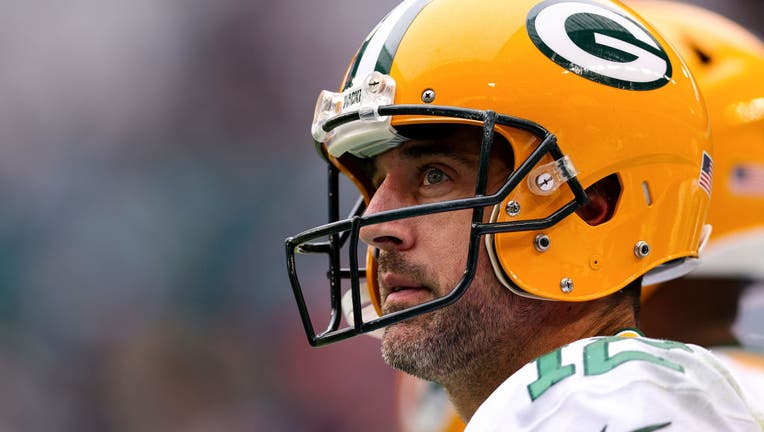 article
GREEN BAY, Wis. - Green Bay Packers quarterback Aaron Rodgers offered thoughts and prayers for Bills safety Damar Hamlin, who suffered cardiac arrest during Monday Night Football.
Rodgers made the comments Tuesday, Jan. 3 on the Pat McAfee Show. The Packers QB said he wasn't watching the game Monday night between the Buffalo Bills and Cincinnati Bengals, but he "turned to it" and quickly knew something was seriously wrong. 
"It's one of those weird things where you turn to something that you expect to see, and when you see the non-halftime, and they're not in the studio, I was like, 'This isn't good,'" said Rodgers.
He said he "hoped that it was some sort of weather delay or something."
The Bills safety suffered a cardiac arrest after making a tackle during Monday night's game, causing the NFL to suspend a pivotal game that quickly lost significance in the aftermath of a scary scene that unfolded in front of a national television audience. 
The 24-year-old Hamlin was administered CPR on the field. Teammates surrounded Hamlin, shielding him from public view. Many were weeping and praying while Hamlin was treated on the field by team and independent medical personnel and local paramedics. He was taken by ambulance to University of Cincinnati Medical Center. Fans of both teams gathered outside, holding lit candles and praying.
"You know...thankfully, they didn't keep showing the hit," Rodgers continued Tuesday on the Pat McAfee Show. "I think that was...let me just say, first of all, really difficult situation. Obviously, all of our thoughts and prayers are with him and his family. Really difficult situation for everybody covering that, and I thought there was a lot of class and empathy – and it was a really tough situation – by Troy, Joe, Lisa and everybody in studio. It's uncharted waters, and I thought they handled that as well as they possibly could."
Rodgers said he put himself in the shoes of all the players and staff on the field Monday night. 
"You know, it's just one of the things, you're watching the coverage because you're worried about him, and you want some good news, and you're hoping to hear some good news, and I reached out to Josh (Allen) right away. I didn't expect a response. He actually texted me back from the locker room, and you know, just because he's a close friend, and I just felt for him, watching his face and just putting myself in their shoes – watching somebody you love on the ground. CPR, I mean, that's when it gets real. They're fighting to save this guy's life not in the locker room or at the hospital, like, on the field. I can't even imagine what that would be like to go through, so really tough night.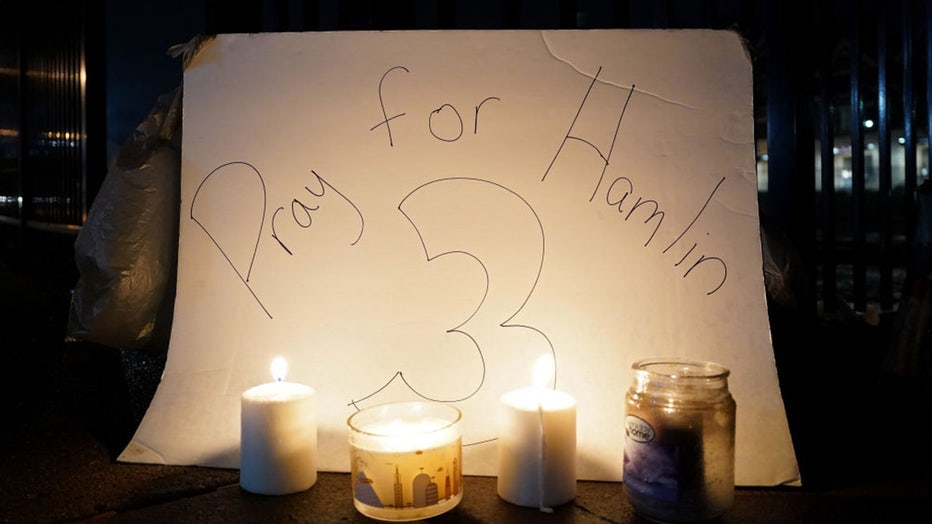 A vigil is displayed at the University of Cincinnati Medical Center for football player Damar Hamlin of the Buffalo Bills after he collapsed following a tackle during the game against the Cincinnati Bengals and was transported by ambulance to the hos (Dylan Buell/Getty Images)
The Packers QB said the situation rattled him. 
"You know, I was shook up," said Rodgers. "Still am feeling weird about it because I think your football mortality just comes right face-to-face because one of your brothers in the fraternity of the NFL is fighting for his life right now, so I'm glad to hear that update from his representation, and that's all we can just hope for right now."
The Associated Press contributed to this report.