Yonkers bar owner collects donations for apartment fire victims
YONKERS, N.Y. - A Yonkers bar owner is being hailed as a saint after he and his staff worked to collect donations for the victims of a devastating apartment fire that left hundreds displaced. 
Robert Kirby is the owner of Burke's Restaurant and Bar and since Wednesday morning, he and his staff have been hard at work trying to collect all necessary items to donate to the victims of the Mona Lisa Luxury Cooperative Residence fire. 
"They're my neighbors. That's how I was raised. They're my neighbors," said Kirby." Clothes and shoes in every size, food, hygiene products have been piling up."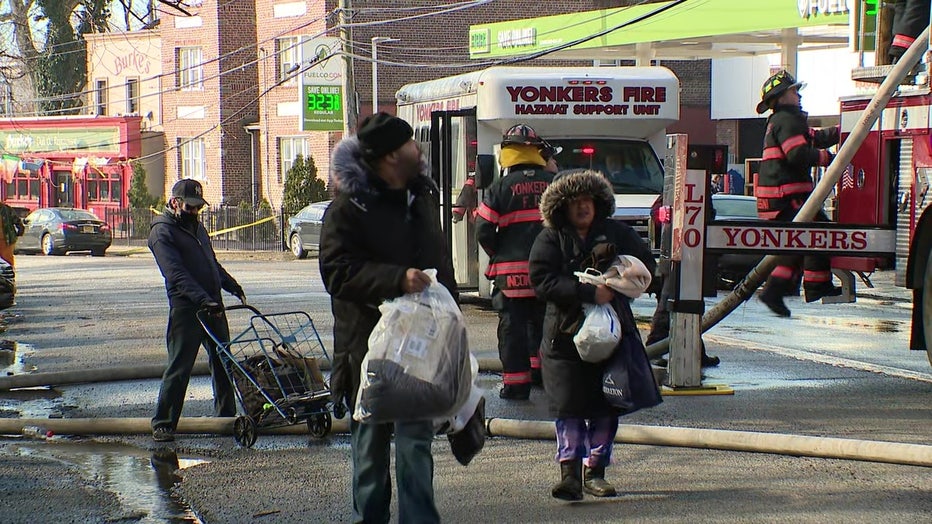 FILE - Displaced families carrying their belongings following a fire at the Mona Lisa Luxury Cooperative Residence.
Kirby sprang into action as soon as he heard about the fire and its victims. He knew he had to do his part. It's the least he can do to help, he said. 
"Yonkers it's a huge city. But when push comes to shove, it's a tight-knit community and we got each other's backs every single time," Kirby told FOX 5 New York. 
There will be a special fundraiser at Burke's on March 24. 
Until then, the message here from a humble former executive chef was: Don't take anything for granted and always pay it forward. 
"If I have a hundred families that come here and say I need support, I'm not going to say no," Kirby said.