Yonkers apartment building fire was sparked by marijuana growing operation: Police
NEW YORK - The massive fire at a Yonkers apartment building earlier this week that left one person dead and dozens of families displaced was sparked by a marijuana growing operation, according to police.
The fire at the Mona Lisa Luxury Cooperative Residence on Wednesday started in a first-floor apartment, according to fire officials, and was likely caused by an electric heating lamp used to cultivate six marijuana plants that a resident was growing for personal use.
"Evidence recovered at scene and statements from the resident lead investigators to believe that the lamp detached from its hanging support and broke, sparked on the floor starting the fire. Upon discovering the fire, the resident proceeded to raise the alarm and alert his neighbors," the Yonkers Police Department said in a statement Saturday afternoon.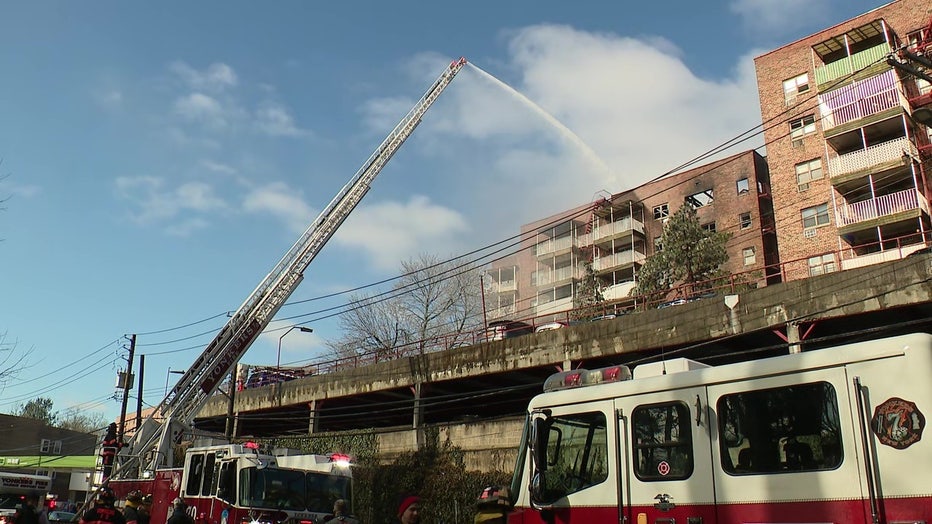 FILE - Firefighters extinguish a fire in Yonkers that killed one and displaced hundreds.  (FOX 5 New York)
The fire eventually claimed the life of a 67-year-old man living on the building's 4th floor and injured six other residents. Roughly 65 people were evacuated, and over 100 firefighters from the city and surrounding area were called in to fight the flames. 
RELATED: E-bike blamed for Bronx grocery store fire that left 7 hurt
"The tragedy of this incident is compounded by how avoidable it was. We have seen before how dangerous these high-powered devices can be, and without regulations or guidelines to protect the public, people are unnecessarily being placed at risk – marijuana laws need to be fixed, be it cultivation or smoke shops; our communities demand it," said Yonkers Fire Commissioner Chris Sapienza.
The fire remains under investigation and is being reviewed by the Westchester County District Attorney's Office.