Major winter storm slams area; more than a foot in NYC
NEW YORK - A major winter storm was makings its way out of the New York City region Tuesday, after slamming northern New Jersey, Long Island, areas north of the city, and much of southern Connecticut through Tuesday.
A wintry mix persisted after dumping about 19 inches of snow in New York City, with even more in parts of northern New Jersey. About 16.3 inches had fallen in Central Park by Monday night. Parts of Queens got 18.5 inches. Mendham, New Jersey, won the jackpot with 30 inches and counting.
Snowfall rates reached 2-4 inches an hour and near blizzard conditions were reported across the region.
The storm caused mass transit suspensions on Monday afternoon with outdoor subway service shutting down at 2 p.m. and commuter rail lines also announcing closures.
New York City Mayor Bill de Blasio declared a local State of Emergency Sunday evening, meaning all non-emergency travel in the city was restricted as of 6 a.m. on Monday. 
In-person learning at public schools in the city was canceled Monday. During a briefing from City Hall Monday, de Blasio added no in-person learning would take place on Tuesday either. Classes will be fully remote. 
Vaccine appointments across two dozen locations in New York City were also canceled. De Blasio said New Yorkers with appointments could reschedule them for a later date and people would still be guaranteed a spot even if their appointment was canceled. A call on Tuesday's vaccinations, however, has yet to be made.
Food distribution at schools was also canceled for Monday. Alternate side of the street parking was canceled through Saturday, and Open Restaurants/Open Streets was canceled on Monday as well.
The snowfall was expected to make travel difficult or even impossible late Monday into Monday evening.
Heavy snow was expected through Monday evening and then periods of light to moderate snow were expected overnight into Tuesday.
The highest snow totals and snowfall rates were most likely to occur late Monday.
All of Long Island was also under a Coastal Flood Warning due to the storm, with a threat of moderate surges of up to 2 to 2 1/2 feet along the south shore of Nassau County, the southern and eastern bays of Queens and Long Island, and locally on the north shore of Long Island. Flooding would likely begin well before high tide Monday night and may remain well afterward, and additional minor to moderate flooding is likely during high tides on Tuesday.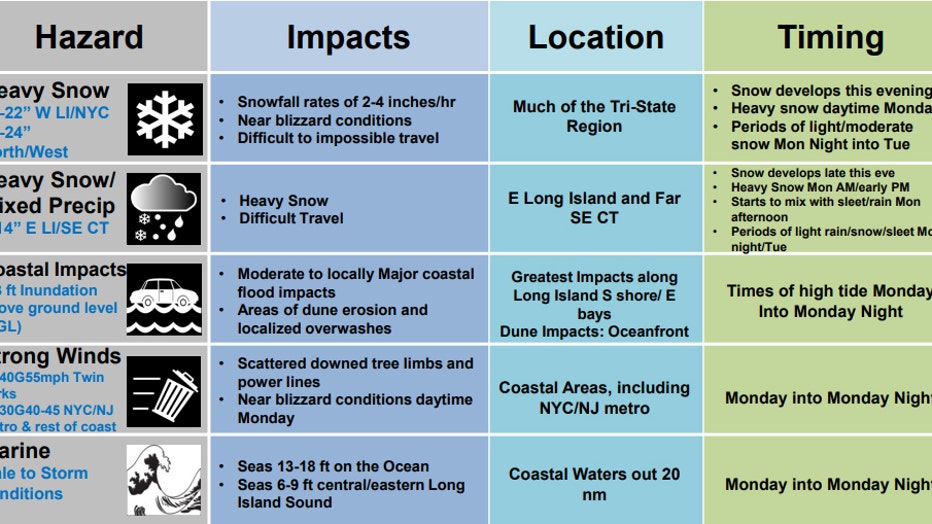 Scattered downed tree limbs and power lines are expected from the storm due to the strong winds. Gale to storm conditions and seas of 12-17 feet on the ocean and 4-8 feet on the Long Island Sound are expected through Monday night.
Download the FREE Fox 5 NY weather app and always stay updated on storms.
Apple App Store: https://apple.co/2GrlPnz Google Play Store: http://bit.ly/2IPSlTd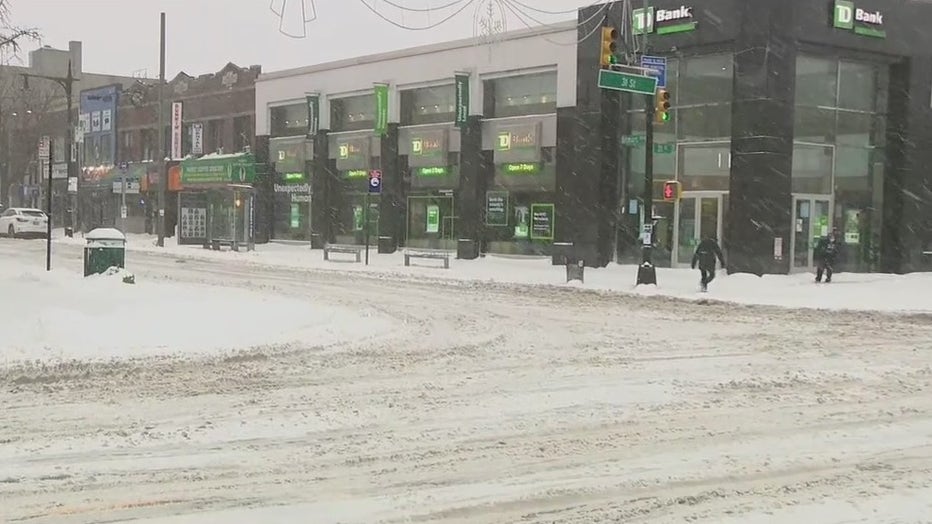 A major winter storm is hitting the NYC region. (FOX 5 NY)