Winter storm hitting New York City area
NEW YORK - A coastal storm continues to bring heavy rain, strong winds and snow to some parts of the New York City area, but the wet weather is slowly coming to an end.
Where is it going to snow?
The National Weather Service issued a Winter Storm Warning that lasts until 10 a.m. Saturday in Western Ulster County. In Sullivan County, a winter storm warning is in place until 7 p.m. Friday. 
Download the FREE Fox 5 NY weather app and always stay updated on storms.
Apple App Store: https://apple.co/2GrlPnz Google Play Store: http://bit.ly/2IPSlTd
NY snow timeline
Expect the wet weather to last into Friday morning and afternoon. The system should begin to exit New York City around noon.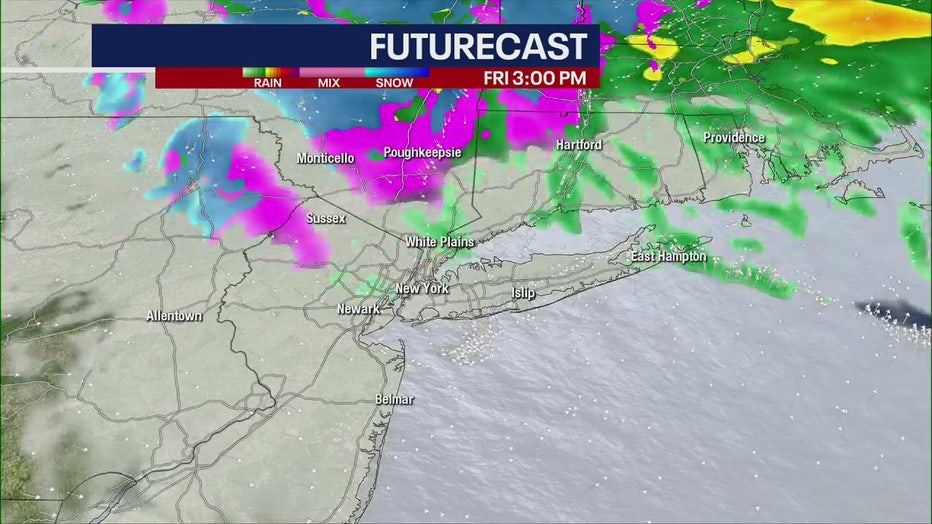 How much snow or rain for NYC area?
Most of New York City will continue to see rain. But some to the northwest of the metro areas may still see some heavy, wet snow that could be pretty intense at times. 
Some of the higher elevations in far western portions of Orange County, New York, could see 3 to 8 inches or more of heavy, wet snow before the system pulls away.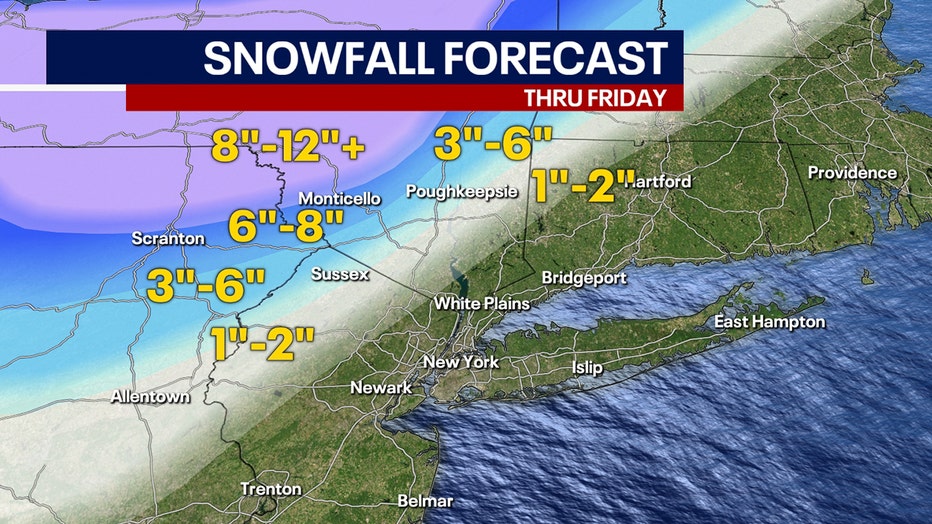 The snowfall forecast through Friday, Dec. 16, 2022.
"Scattered downed tree limbs and power lines possible in this area," the National Weather Service said.
Western Passaic County, New Jersey, could get 2 to 3 inches of wet snow. The highest amounts will be along the far western border with Sussex County.
Other parts of northwest New Jersey could get 2 inches of snow with some higher accumulations possible in higher elevations. A light glaze of ice is also possible.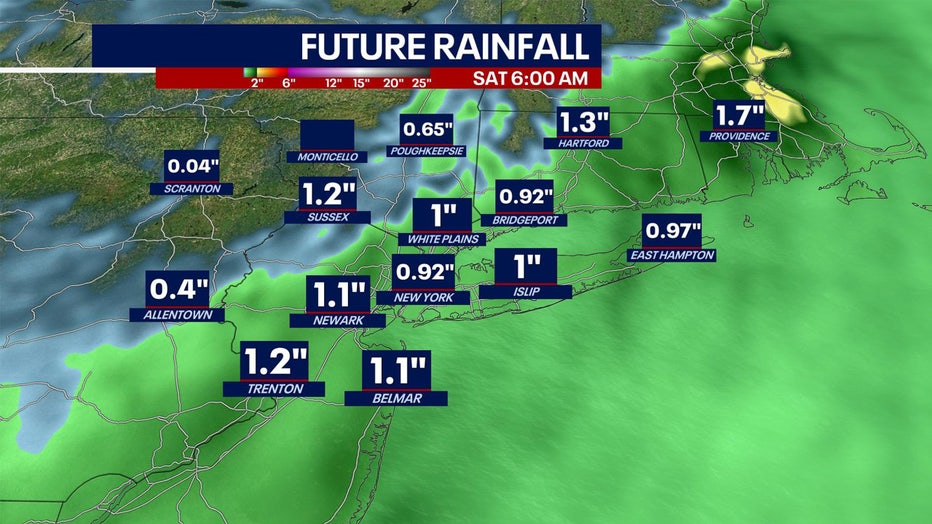 New York City and its nearby suburbs could see 1 to 2 inches of rain from the storm.
RELATED: What are the chances of a White Christmas in New Jersey?
RELATED: Could New York City have a White Christmas this year?
"A period of easterly wind gusts of 30-35 mph, with gusts up to 50 mph over coastal areas and the waters late tonight into Friday morning," the National Weather Service said. "Wind advisories are in effect for eastern and southern Long Island as well as coastal [Connecticut] and southern Westchester on Friday.
A Gale Watch is also posted for the waters off New Jersey and New York. Minor coastal flooding is also possible from the storm.
Stay with FOX 5 New York for the latest forecast.