Winter storm drops rain, some snow to NYC region
NEW YORK - A winter storm that impacted the New York City metropolitan area brought rain and snow to the region before it moved out by the early afternoon.
Nearly 2.5 inches of snow fell in New York City while coastal New Jersey and eastern Long Island saw more than three inches. The highest snow total was in Belmar where 3.7 inches of snow fell.
Slippery road conditions affected the morning commute. The New York City Emergency Management issued a travel advisory for Thursday. Temperatures were expected to drop into the teens Thursday evening freezing wet surfaces.
A Wind Chill Advisory was in effect for a number of counties in northwestern Connecticut as well as the southern Adirondacks, the Taconics, eastern Catskills, the Mohawk Valley, and Upper Hudson Valley in New York from Thursday night until late Friday morning. Wind chills as low as 15 to 30 below zero were expected.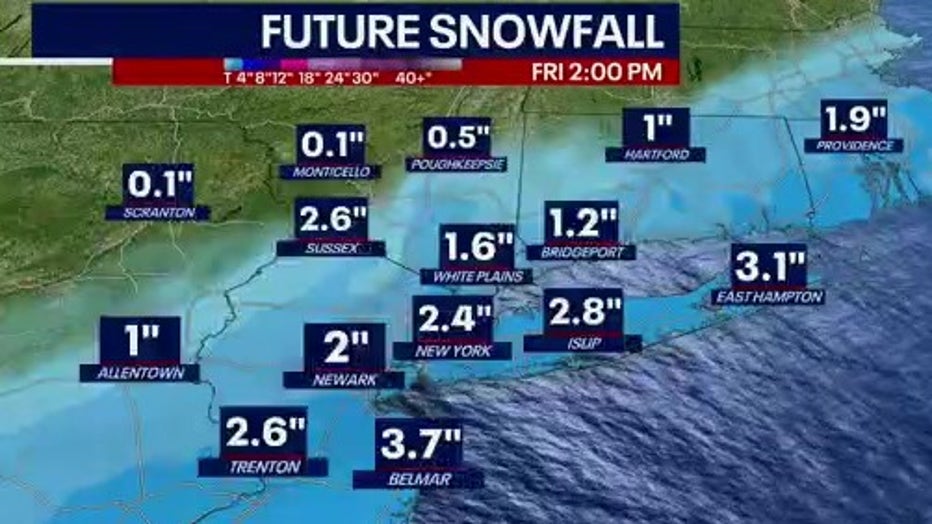 Nearly 2.5 inches of snow fell in New York City from a winter storm that started as rain on Jan. 20, 2022. Eastern Long Island saw more than 3 inches and parts of coastal New Jersey including Belmar saw 3.7 inches.
"The dangerously cold wind chills could cause frostbite on exposed skin in as little as 30 minutes," NWS said.
"As more snow heads our way, New Yorkers should prepare for slippery road conditions and a messy commute on Thursday," Acting Emergency Management Commissioner Christina Farrell said in a statement. "We urge New Yorkers to exercise caution. If you must travel, we encourage the use of mass transit and please allow for extra travel time."
Download the FREE Fox 5 NY weather app and always stay updated on storms.
Apple App Store: https://apple.co/2GrlPnz Google Play Store: http://bit.ly/2IPSlTd
The city's Sanitation Department deployed more than 700 salt spreaders to pretreat the roads ahead of the first snowfall. 
Weather Resources
Follow the FOX 5 Weather Team on Twitter