Who is Salvador Ramos? What we know about Texas elementary school shooting suspect
UVALDE, Texas - An 18-year-old gunman killed 19 children and two teachers as he went from classroom to classroom at a Texas elementary school on Tuesday, officials said.
The suspect, later identified as Salvador Ramos, was killed by a Border Patrol agent who rushed into the school without waiting for backup, according to a law enforcement official.
The assault happened at Robb Elementary School in the heavily Latino town of Uvalde, located about 85 miles west of San Antonio. It was the deadliest shooting at a U.S. school since a gunman killed 20 children and six adults at Sandy Hook Elementary in Newtown, Connecticut, in December 2012.
'What are we doing?': Sen. Chris Murphy begs for gun control after Texas shooting
Ramos had no criminal record or history of mental illness
State police say Ramos had no criminal record, no history of mental illness treatment and no obvious signs he was a danger to this tight-knit, largely Latino community 85 miles west of San Antonio.
But those who knew him saw increasing signs of isolation, outbursts and aggression. And there were a series of cryptic social media messages -- including to apparently random teenage girls in Germany and California -- that offered photos of rifles, ammo and hints of his desire to hurt and kill.
"He always seemed to take his anger out on the most innocent person in the room," said 17-year-old Crystal Foutz, who attended school with Ramos and worked with him at the fast-food chain Whataburger. "He would get angry at people thinking he wasn't OK. He was just always super odd."
Most chilling were a series of messages on the social platform Yubo just before Tuesday's shooting that may have come too late to prevent the violence. Investigators are examining texts they believe Ramos sent to a 15-year-old German girl, including one minutes before the massacre warning that he was about "to shoot up a elementary school," according to a law enforcement official not authorized to discuss the matter who spoke to The Associated Press on condition of anonymity.
Instagram photos posted under his moniker TheBiggestOpp showed him in front of a mirror taking a selfie and one of a gun magazine in his lap.
Earlier this month, Ramos tagged a photo of two long guns to an Instagram user with more than 10,000 followers and asked her to share the picture.
"I barely know you and u tag me in a picture with some guns," replied the Instagram user, a young woman in California. "It's just scary."
On May 17, a day after he turned 18, he visited a gun store to buy an AR-style rifle. He bought a second one a few days later.
On the day of the shooting, Ramos replied that he's "got a lil secret," according to the exchange of messages posted publicly. He later typed: "I'm about to."
A TikTok account with the same selfie photo and username included a chilling line in its profile: "Kids be scared IRL," short for "in real life."
Neighbors and classmates say that in recent years Ramos got into fights with his mother repeatedly, including times when the police were called in.
Some of them say that the seeds of Ramos' descent to mass murder may have started many years ago as a child who always had trouble fitting in with others, was an occasional target of bullies and then turned into one himself.
One childhood friend recalled a time Ramos admitted to cutting his own face with knives for fun. The same friend, Santos Valdez Jr., 18, told The Washington Post that Ramos would drive around at night egging cars and shooting random people with a BB gun. About a year ago, he said, Ramos posted a "wish list" on social media of automatic rifles.
Foutz, the former classmate, said Ramos had become increasingly withdrawn in recent months, having "slowly fallen off" from attending school, and got into angry disputes with her ex-boyfriend and a couple at Whataburger.
"He wasn't a big guy," she told AP. "He just had this ego. Like he was invincible."
"He was really a loner, and the people he did hang out with stopped hanging with him because of those things," she said.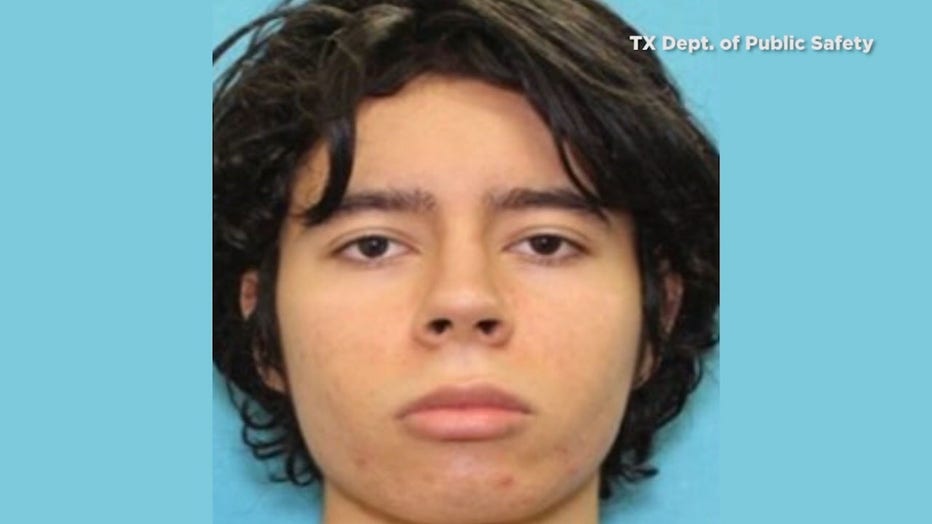 Salvador Ramos is pictured in a handout image. (Credit: Texas Department of Public Safety)
Was there a motive?
Investigators do not yet know why Ramos targeted the school specifically, said Steve McCraw, director of the Texas Department of Public Safety.
"We don't see a motive or catalyst right now," he said.
Officers found one of the rifles in Ramos' truck, the other in the school, according to the briefing given to lawmakers. Ramos was wearing a tactical vest, but it had no hardened body-armor plates inside, lawmakers were told. He also dropped a backpack containing several magazines full of ammunition near the school entrance.
On Tuesday morning, Ramos shot and wounded his grandmother at her home, then left. Neighbors called police when she staggered outside and they saw she had been shot in the face, Department of Public Safety spokesperson Travis Considine said.
Ramos then crashed his truck through a railing on the school grounds, and an Uvalde school district officer exchanged fire with him and was wounded, Considine said. Ramos went inside and exchanged more gunfire with two arriving Uvalde police officers, who were still outside, Considine said. Those officers were also wounded.
Dillon Silva, whose nephew was in a nearby classroom, said students were watching the Disney movie "Moana" when they heard several loud pops and a bullet shattered a window. Moments later, their teacher saw the attacker stride past the door.
"Oh, my God, he has a gun!" the teacher shouted twice, according to Silva. "The teacher didn't even have time to lock the door," he said.
A tactical team forced its way into the classroom where the attacker was holed up and was met with gunfire from Ramos but shot and killed him, according to Olivarez.
Uvalde, home to about 16,000 people, is about 75 miles from the border with Mexico. Robb Elementary, which has nearly 600 students in second, third and fourth grades, is in a mostly residential neighborhood of modest homes.
The attack came as the school was counting down to the last days of the school year with a series of themed days. Tuesday was to be "Footloose and Fancy," with students wearing nice outfits.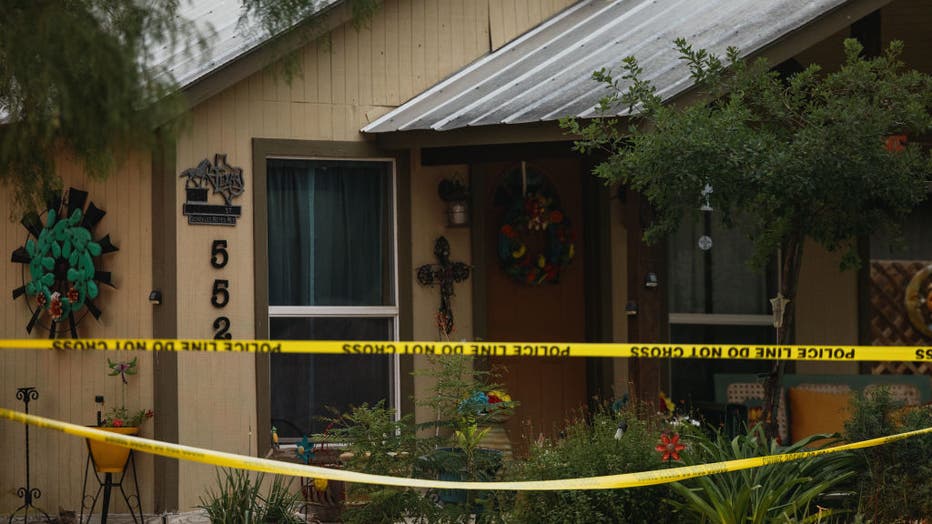 The home of the suspected gunman, 18-year-old Salvador Ramos, is cordoned off with police tape on May 24, 2022, in Uvalde, Texas. (Photo by Jordan Vonderhaar/Getty Images)
Law enforcement officers were serving multiple search warrants Tuesday night and gathering telephone and other records, the official said. Investigators were also attempting to contact Ramos' relatives and were tracing the firearms.
Other officials said that the grandmother survived and was being treated, though her condition was not known.
FOX News and the Associated Press contributed to this report.