When should stores start playing Christmas music? Here's how retailers decide
What effect does Christmas music have on the shopping experience for customers? How early is too early to start playing Wham's "Last Christmas" over store speakers? 
It depends on who you ask. 
Macy's, a leading department store in the U.S. in terms of sales, begins playing some holiday music during the second week of November, according to Scott Devine, Macy's vice president of visual marketing. 
"We start with 50% holiday music and then switch to 100% holiday music on Black Friday until Christmas Day," DeVine said in a statement to FOX Television Stations. 
Macy's divides the songs into two categories, either "bright/ festive" or "warm/ nostalgic" – with the goal of creating "a customer experience that truly captures the spirit of the season," Devine added.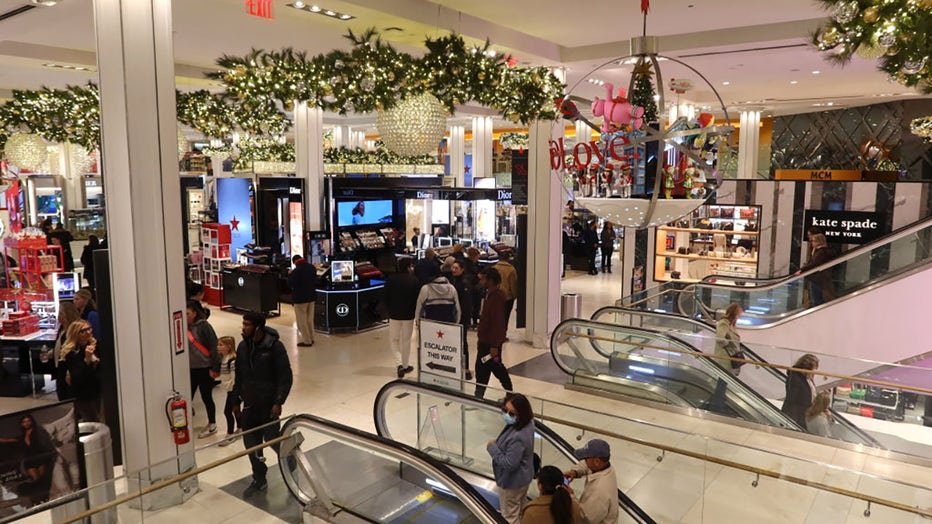 FILE - People shop at the Macys Herald Square store decorated for Christmas on Nov. 11, 2023, in New York City. (Photo by Gary Hershorn/Getty Images)
Previous research has suggested that nearly 80% of customers notice the music being played in stores – which plays a key role in creating the ideal holiday shopping atmosphere at a business. 
Industry experts say music is as important to customer experience as the design, aesthetics and amenities help to evoke emotion, build brand loyalty, and even keep the customer in the store longer. 
RELATED: Radio stations playing only Christmas music until end of the holiday season
What customers and retail staff think about Christmas music in stores
A survey conducted last year by Soundtrack Your Brand, which curates commercially-licensed music for businesses, found that about half of shoppers in the U.S. and U.K. were in favor of in-store Christmas music. 
American shoppers, however, were found to be "significantly" more fond of Christmas music in stores than British shoppers, according to the report. 
Participants of the survey, which included more than 2,000 shoppers and retail staff across both countries, weren't necessarily against the playing of Christmas music – but felt the songs were just too repetitive.
"People are quite simply of the opinion that Christmas music, while piped into a commercial setting, is far too repetitive," Soundtrack Your Brand said in its report of the 2022 survey results. "The survey shows that retailers should refrain from having a limited selection of Christmas songs and think about introducing more variety."
While customers hear Christmas music during their brief shopping experience, retail staff often have full-time exposure to the tunes each year. 
A majority of retail staff in the survey said they felt positive towards Christmas music in stores, but 25% of respondents said too much holiday music makes them feel "less festive."
One in six employees said Christmas music dampens their emotional well-being. 
"This adverse effect may hurt service quality, since emotionally damaged staff may not deliver top-notch service," the company said in its report.
RELATED: Which streaming services have which holiday movies? Your 2023 entertainment guide
The most-played Christmas songs, artists in retail
Soundtrack Your Brand, which has retail clients in over 50 countries, said the most-streamed Christmas artist in retail is singer-songwriter Michael Bublé, followed by Ariana Grande, Justin Bieber, and Mariah Carey.
The single-most streamed Christmas tune is "This Christmas," a classic 1970s hit written by Donny Hathaway. Other top 10 holiday songs played by the brand's retail clients include "Sleigh Ride," "White Christmas" and "Santa Baby."
Soundtrack Your Brand said its long list of retail clients will begin playing Christmas music in early November. But the majority start playing the holiday tunes during the Thanksgiving holiday.
Christmas music peaks in the week leading up to Christmas Eve, when one in three songs played on its platform is a Christmas tune, the company said.
RELATED: When should you put up your Christmas tree? Experts weigh in
This story was reported from Cincinnati.