What is Felicity Huffman accused of in the bribery case?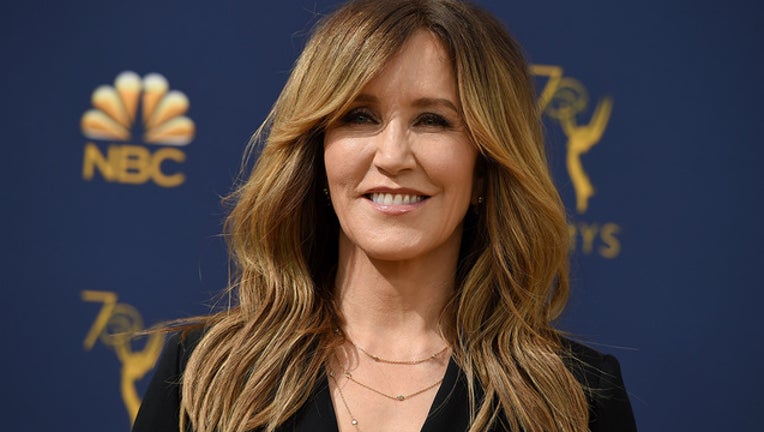 NEW YORK (FOX 5 NY) - Federal prosecutors claim that actress Felicity Huffman and her spouse made a purported charitable contribution of $15,000 to Key Worldwide Foundation (KWF) to participate in a college entrance exam cheating scheme on behalf of her eldest daughter.
Huffman is married to actor William H. Macy, who was not named in the indictment.
Authorities say Huffman later made arrangements to pursue the scheme a second time for her younger daughter but ended up deciding not to do it.
A cooperating witness claims that prior to the December 2017 SAT, they met with Huffman and her spouse in the Los Angeles home and explained, in substance, how the college entrance exam scheme worked.
What are Mossimo Giannulli and Lori Loughlin accused of in the bribery case?
He advised the pair that he "controlled" a testing center and could arrange for a third party to purport to proctor their daughter's SAT and secretly correct her answers afterwards.  The witness says that Huffman and her spouse agreed to the plan.
Prosecutors claim that Huffman sought and received approval for her daughter to get 100 percent extended time to complete the exam.
A second cooperating witness says he proctored Huffman's daughter's SAT exam at the West Hollywood Test Center on December 2, 2017.
Ultimately, Huffman's daughter received a score of 1420 on the SAT, an improvement of approximately 400 points over her PSAT exam, taken without the cooperating witness acting as a proctor.
Later that month, KWF paid Igor Dvorskiy, a compensated standardized test administrator for the College Board and ACT, $40,000 for administering the SAT to Huffman's daughter and three other students.  More than a week later, KWF paid the second cooperating witness $35,000 for purporting to proctor the exam for Huffman's daughter and exams for several other clients of the first cooperating witness.
In February 2018, Huffman and her spouse made a purported contribution of $15,000 to KWF.  The next month, Masera sent them a letter thanking them for the purported donation and, prosecutors claim, falsely stated that it would "allow us to move forward with our plans to provide educational and self-enrichment programs to disadvantaged youth."  The letter claimed that "no goods or services were exchanged" for the $15,000.
In October 2018, prosecutors claim that Huffman discussed repeating the SAT cheating scheme for her younger daughter before ultimately backing out.
Several calls with Huffman discussing the scheme were recorded as part of the investigation.
The Key Worldwide Foundation is a non-profit corporation founded in 2012 and is based in Newport Beach, Californida.  In 2013 the IRS approved KWF as a tax exempt organization.
The FBI claims KWF was really just a conduit for bribing college employees to get children into elite schools.