Wedding ring disappears from 92-year-old woman's hand at Monroe nursing home
MONROE COUNTY, Mich. (FOX 2) - For 50 years, Sandy Desautels' mother has worn her wedding ring.
"My dad's been dead 10 years in May. My mom was never the same after dad died. She held on to those rings because it held on to my dad," she said.
Desautels said she has never seen her 92-year-old mother without her ring.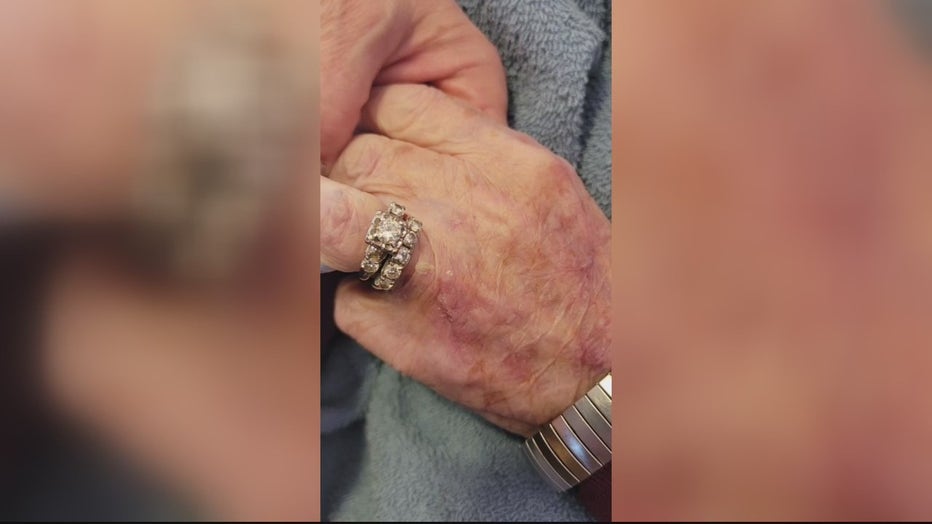 "Whenever you try to maneuver them, even look at them, if you try to spin them around, she clinches up and she says no. You don't touch her rings," she said.
However, something happened to the ring and others she wears a week after her mother, who has Alzheimer's dementia, moved into a Monroe nursing home.
"I moved the blankets and pulled her hand out, and I froze. The rings were gone. I just froze and started yelling," Desautels said. "We realize there were some light scratches on the knuckle there where the ring sat. So there was clearly some back and forth of someone working the rings."
Desautels spoke to the nursing home management, but she believes someone stole the ring between her last visit Saturday afternoon and Monday. 
FOX 2 reached out to the nursing home, which said an investigation is being conducted. However, the nursing home could not confirm or deny if the woman had the rings on when she checked in.
"Disappointed. I don't know who would've said that because everybody that was here on her check-in knew that they were there," Desautels said. 
Desautels said she isn't complaining about the care her mother receives at the home – she just wants the rings.
"My sister, my family, and I just want our rings back," she said.