New York City's Village Halloween Parade celebrates 50 years of magic and monsters
GREENWICH VILLAGE - Thousands braved the chilly temperatures in the costumes to celebrate the 50th annual Village Halloween parade.
It's one of New York City's most popular events, and organizers anticipated 70,000 participants and two million spectators.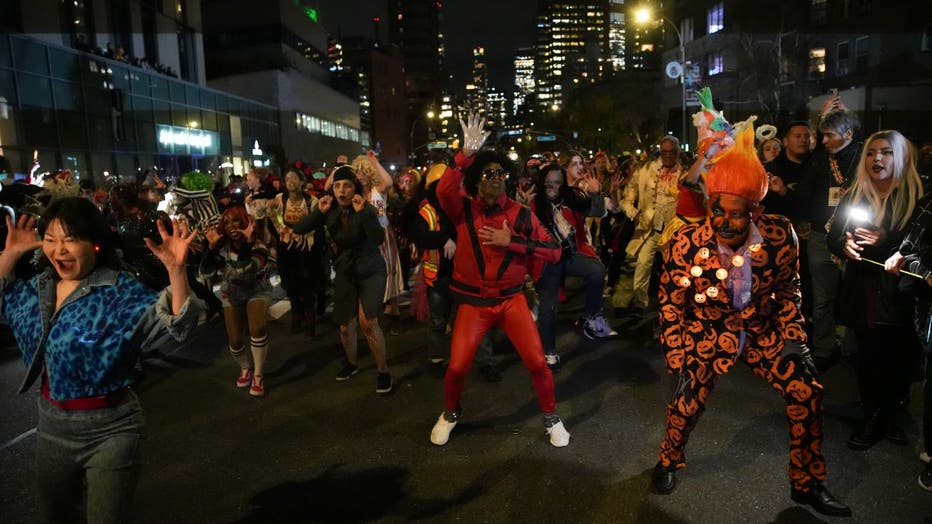 A Michael Jackson impersonator performs Thriller at the 2023 New York City Halloween Parade on October 31, 2023, in New York City. (Photo by Rob Kim/Getty Images)
Some people take all day basting the Thanksgiving turkey. Others spend all month picking out Christmas presents.
But on Halloween — these monstrous mortals get to show off what they've been working on all year.
Kicking off the 50th Annual Village parade were the giant puppets, made of cloth and paper mache, their haunting presence illuminated the night sky and sparking a sense of magic so strong, onlookers barely noticed the puppeteer below.
"It's not as heavy as it looks, and it's actually a lot of fun," the man said. "And I've been doing this for six years and you kind of get the hang of it."
This year's 'spooktacular' theme: 
The theme for this year's parade was"Upside Down/Inside OUT" to reflect New York City returning to a "new normal" after the 2020 pandemic. 
Since many people spent 2020 INSIDE, the parade's focus this year is finally celebrating OUTSIDE in a whole new world.
This year's parade paid tribute to the renowned artist Laurie Anderson, who will serve as the Grand Marshal, and the late Lou Reed, who will be honored as the posthumous Grand Marshal. 
The event also showcased numerous marching bands, hundreds of giant puppets and thousands of New Yorkers dressed in their own unique costumes.
This year, the illustrious New Orleans second line ensemble, The Young Fellaz Brass Band, renowned for their traditional performances in the funeral processions of NOLA, led the parade. 
The iconic Village Halloween Parade has embraced Lou Reed's legendary song, "Halloween Parade," as its anthem. 
Alongside his widow, Laurie, the role of Grand Marshal is a heartfelt tribute to the late Velvet Underground musician. Lou Reed's spirit will resonate through his music, skillfully performed by Stewart Hurdman on Lou Reed's very own guitars.
The parade began at Spring St. and traveled north on 6th Avenue from Canal Street to 18th Street. 
((Photo by Lokman Vural Elibol/Anadolu Agency via Getty Images))