When does the USFL 2023 season kick off?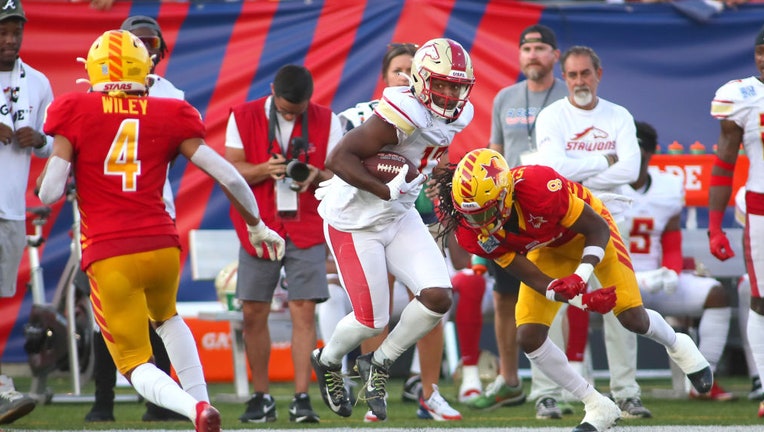 article
Super Bowl LVII may have marked the end of the NFL season, but football will roll on this spring with the return of the USFL. 
Week 1 action of the spring football league starts Saturday, April 15, with a doubleheader on FOX. The Memphis Showboats make their inaugural debut when they battle the Philadelphia Stars at 4:30 p.m. ET.  And in the nightcap, the New Jersey Generals take on the USFL defending champion Birmingham Stallions at 7:30 p.m. ET. 
RELATED: USFL 2023: 4 cities hosting games this season; here's the complete schedule
And Week 1 wraps up Sunday, April 16, with a pair of games beginning at 12 p.m. ET when the Michigan Panthers take on the Houston Gamblers in Memphis, Tennessee. And at 6:30 p.m. ET, the Pittsburgh Maulers square off with the New Orleans Breakers in Birmingham, Alabama.
Four cities hosting USFL games this season
This year, four cities, Detroit, Memphis, Birmingham, Alabama, and Canton, Ohio, will host USFL games in April within the season's first three weeks. 
Detroit is hosting the matchup between the Michigan Panthers and Philadelphia Stars, Birmingham will host the Birmingham Stallions and New Orleans Breakers, Memphis is hosting the Memphis Showboats and Houston Gamblers, and the Pittsburgh Maulers and New Jersey Generals game will be played in Canton, Ohio, according to a USFL release.
RELATED: USFL Championship: Stallions top Stars in thriller
During the 10-week regular season, each of the USFL's eight teams plays division rivals twice and teams of the opposite division once, the USFL noted.
The Maulers and Generals will face off in Canton's first regular season game on Sunday, April 23. The USFL became the first professional spring football league in nearly 40 years to complete a successful inaugural season and return for a second one. 
USFL 2023 season and what you need to know
The USFL is a new, independent American football league controlled by FOX Sports through NSFL HoldCo, LLC, a new business entity.
All eight USFL teams are split between a North and South division.
North Division: Michigan Panthers, New Jersey Generals, Philadelphia Stars and Pittsburgh Maulers.
South Division: Birmingham Stallions, Houston Gamblers, New Orleans Breakers, and the Memphis Showboats.
The top two teams in both the North Division and South Division will battle in two playoff games in late June, with the winners playing the following week in the USFL Championship Game at Canton's Tom Benson Hall of Fame Stadium, according to the USFL.
This story was reported from Washington, D.C.