USDA reveals new version of Plant Hardiness Zone map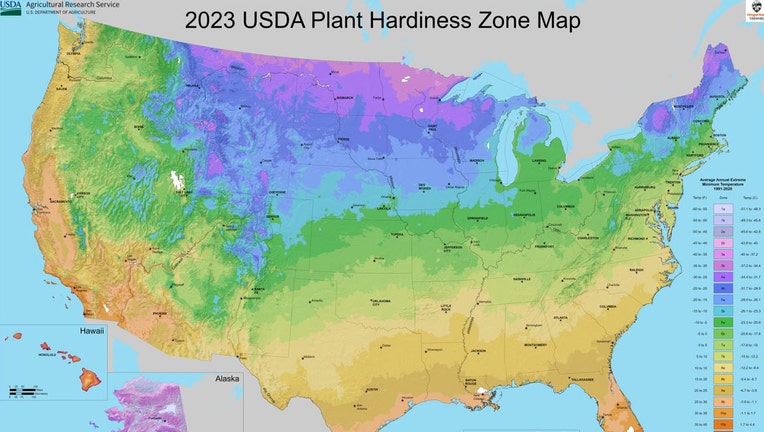 article
The United States Department of Agriculture (USDA) released a new version of its Plant Hardiness Zone map, the first update since 2012. 
This new map is a tool used to help gardeners and growers understand which plants can flourish in particular temperatures in different locations. 
Unlike previous maps, this year's version features 13 zones across the United States and its territories, with each zone divided into half zones, marked as "A" and "B."
RELATED: Minnesota's plant hardiness zones have changed
Compared to the 2012 map, the 2023 version shows that roughly half of the country shifted to the next warmer half zone, and the other half of U.S. remained in the same half zone. 
According to the USDA, the map is also based on 30-year averages of the lowest annual winter temperatures at the specific locations, and split into 10-degree and 5-degree zones and integrates data from 13,412 weather stations compared to over 7,000 used in the 2012 map. 
Not only is the map updated, but the USDA also noted that the Plant Hardiness Zone map website is expanded to feature "tips for growers" to offer information about agency programs for gardeners and others who grow and breed plants.
RELATED: Wisconsin Plant Hardiness Zone changes; what it means for you
Scientists also use the map for data in many research models, such as those modeling the spread of exotic weeds and insects.
Approximately 80 million American gardeners and growers represent the most frequent users of the USDA Plant Hardiness Zone Map, the USDA explained on its website. 
Moreover, a paper version of the new map isn't available to buy, but it can be downloaded for free. 
This story was reported from Washington, D.C.