Ukrainian surgeons successfully remove live grenade from soldier's body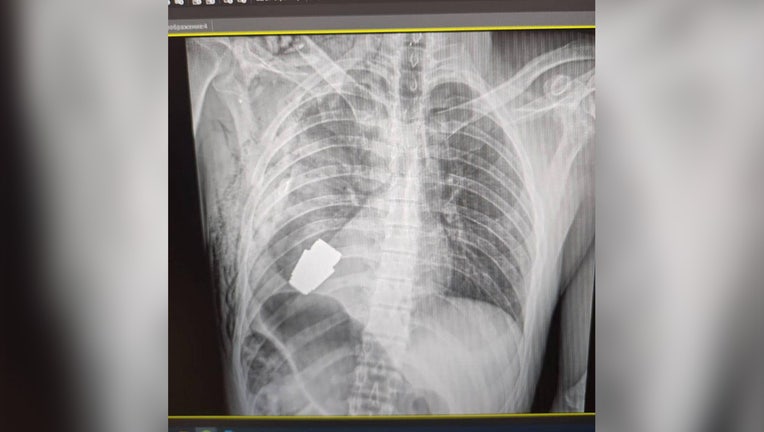 article
Doctors in Ukraine performed what can only be described as a miracle surgery after removing a live grenade from a soldier's body without detonating it. 
Hanna Maliar, Ukraine's deputy defense minister, posted images to her Facebook page showing an X-ray image of a foreign body lodged near the heart of an unidentified soldier. 
That X-ray image was placed next to another one showing what appeared to be a surgeon donning bloody gloves and holding the live grenade after it was removed. 
"Not every wound in the heart area is deadly!" Maliar wrote.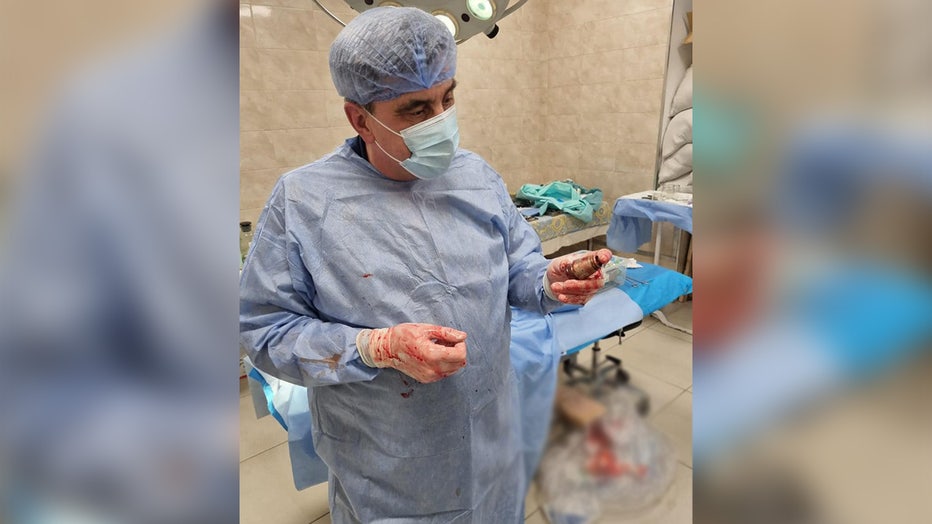 A surgeon holding the undetonated grenade post-operation. (Hanna Maliar, Ukraine's deputy defense minister. )
The surgery was conducted in the presence of two sappers, or combat engineers, to ensure the safety of medical personnel during the procedure, Maliar added. Surgeons also avoided using electrocoagulation, which is often a technique used to help control bleeding, in order to avoid triggering the device. 
"The surgical intervention was successful and the injured serviceman was sent to further rehabilitation and recovery," Maliar wrote. 
Since Russia's invasion of Ukraine on Feb. 24, 2022, between 10,000 and 13,000 Ukrainian soldiers have lost their lives and thousands more have been injured, according to a BBC report. 
Russia claimed Friday that its forces captured the fiercely contested salt-mining town of Soledar in what would mark a rare victory for the Kremlin after a series of setbacks in its war in Ukraine. Ukrainian authorities said the fight for the town continued. 
Moscow has painted the battles for Soledar and nearby Bakhmut as key to capturing the entire eastern region of the Donbas — and also as a way to grind down the best Ukrainian forces and prevent them from launching counterattacks elsewhere. But that cuts both ways, and Ukraine has said its fierce defense of the eastern strongholds has helped tie up Russian forces. 
Western officials and analysts say the two towns' importance after months of bloody fighting is more symbolic than strategic. 
Moscow has prioritized taking full control of the Donbas — a region made up of the Donetsk and Luhansk provinces, where it has backed a separatist insurgency since 2014. Russia has seized most of Luhansk, but about half of Donetsk remains under Ukraine's control. 
Just hours before Russia's claim, Ukraine reported there had been a heavy night of fighting. In a Telegram post early Friday, Maliar said Moscow "had sent almost all (its) main forces" to secure a victory in the east. 
"This is a difficult stage of the war, but we will win," Maliar added. 
The Associated Press contributed to this report. This story was reported from Los Angeles.