UK archaeologists ask public's help with puzzling cave carving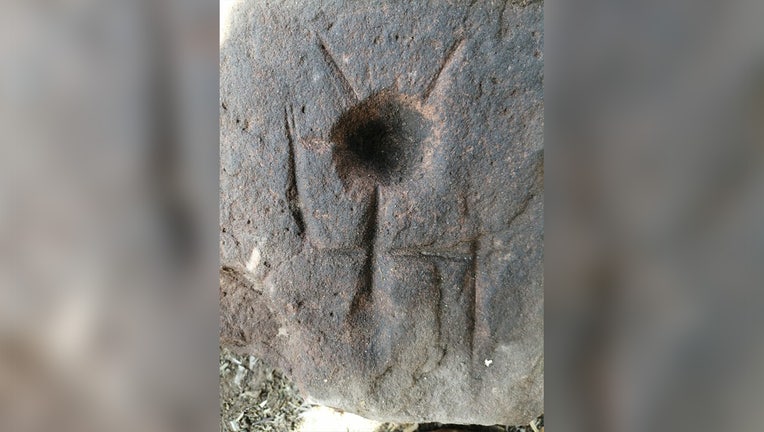 article
Calling all puzzle enthusiasts! 
Archaeologists in the United Kingdom are asking for the public's help with solving a "puzzle" after an unusual carving was discovered during one of their digs in 2022. 
During a dig at Nesscliffe Hill last summer, archaeology fellow Paul Reilly and professor of archaeology at the University of Oxford Gary Lock, spotted a cup-shaped carving with lines protruding from it, almost appearing to resemble a person with horns coming out of its head. 
Researchers have dubbed the carving Nessglyph but are curious to know what the carving means or what it's supposed to be. 
"The circular cup shape and the straight lines are indicative of two different types of technology, grinding and carving. We can speculate that the Nessglyph is figurative, with the cupmark being the head. It has two long horns and two small horns, a central body line and two arms, one held up and the other down, the upward one showing a possible hand holding a pipe or a weapon," Reilly said in a statement. 
RELATED: College student solves 'revolutionary' 2,500-year-old language puzzle
"It is difficult to find Iron Age parallels, but the carving has similarities with Late Bronze Age carvings of figures in horned helmets. It is also worth noting that Nesscliffe lies within the putative territory of the Cornovii, a name that has been suggested to reference to the 'horned ones'. There is the possibility of a connection to a horned deity cult in the Roman army as depicted at several military sites across Britain," Reilly continued.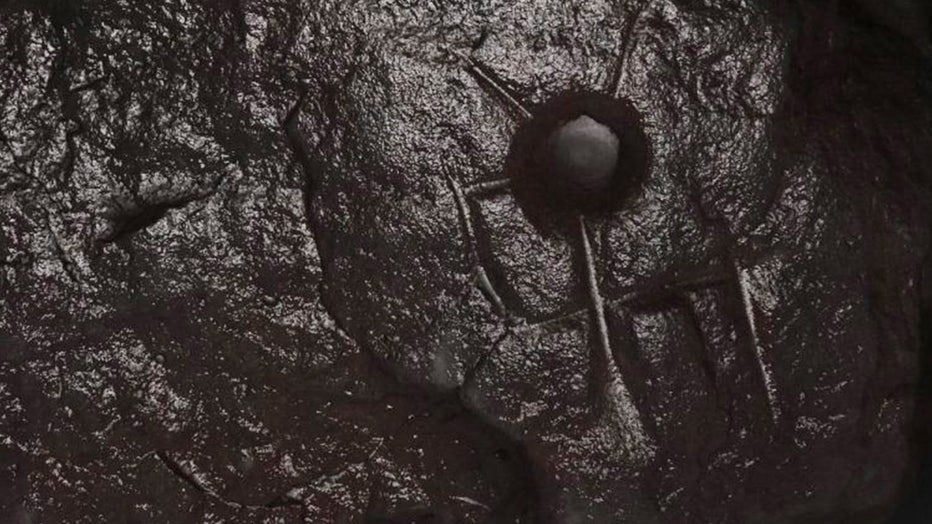 Nessglyph found in Nesscliffe Hill in the U.K. (Shropshire Council)
"Because the Nessglyph was not found in a secure context but in the backfill of a 1950s excavation trench within the guard chamber of the inturned entrance, it is more difficult to identify, and we are inviting people to help us solve the puzzle, or tell us if they have seen other similar carvings." 
The dig at Nesscliffe Hill began in 2019 and allowed researchers to study the earth and stone rampart surrounding the site. Exploration of the dig's monumental stone entrance with guard chambers gave way for further discovery of new trenches in the hillfort's interior where remnants of houses were found through a geophysical survey. 
Anyone with information or knowledge to help solve the puzzle can contact Reilly at p.reilly@soton.ac.uk or Lock at gary.lock@arch.ox.ac.uk. 
This story was reported from Los Angeles.