UFC fighter wins bout after bringing Bible into cage, says company 'gives me freedom to be who I want to be'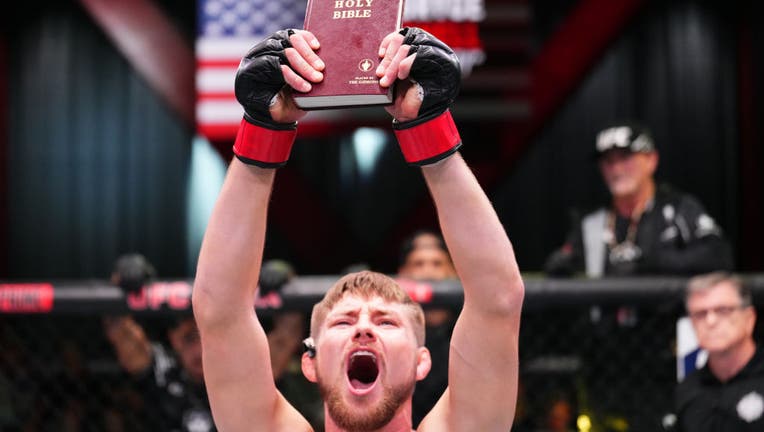 article
UFC fighter Bryce Mitchell made a statement on Saturday night.
Before his fight against Dan Ige, Mitchell brought a Bible into the octagon.
As his name was being announced into the ring, he yelled, "Freedom!" Mitchell later won the bout.
After the fight, Mitchell was asked about the move, and he gave kudos to the UFC for being able to express himself freely.
"That's what it's all about – is being yourself in here. That's what people love. I'm just glad for the opportunity to make – it [fused] my personality into what I'm doing," he said. "I have no problem fighting, but my favorite part is just getting to say what I want, do what I want, live the free life that I live. That's what I love about this."
"The UFC, it gives me freedom. I'm in here fighting for my freedom. You can't be in no NFL team talking how I talk. You can't be on no NBA team talking how I talk. UFC gives me freedom to be who I want to be, and that's what I love. That's why I go in here ready to [go]. I can't have no other job that gives me this freedom. And that's what I love, brother. I'm free."
UFC president Dana White had no qualms about it either.
"I got no reaction. You know how I am here, whatever you're into man. There's no muzzles here," White said via MMA Mania. "Whoever you are, whatever you believe, whatever you think, we've heard it all, seen it all – well, we think we have, who knows what's next – but this is one of those places where you say what you feel and say what you want, and it's all good with me."
Mitchell moved to 16-1 in his career with the victory, with the one loss having been in his previous fight on Dec. 10, 2022, against Ilia Topuria.
GET UPDATES ON THIS STORY AT FOXNEWS.COM