Tyvek-suit-wearing suspect arrested in Manhattan bodega murder, string of robberies
New York - NYPD arrested 39-year-old Kimond Cyrus for killing a bodega worker earlier this month on the Upper East Side. 
Police are also linking Cyrus to multiple armed robberies in the Bronx, Brooklyn and Manhattan. 
Investigators say his modus operandi was the same. He wore a hazmat Tyvek suit over his clothing and a mask over his face.
In his suit, officials say, Cyrus would show a black firearm, demand money, a cellphone and Newport cigarettes, and then flee the scene. 
His quick escape and disguise made it difficult for police to identify him – until now.
Police say Cyrus, who has three prior criminal arrests including one for robbery, began his recent crime spree in late February. 
Mayor Adams used the announcement of this arrest to amplify his desire for New Yorkers' to briefly remove face coverings when entering a store. 
"Face masks protected us from COVID, but it is really allowing criminals to exploit this," he said.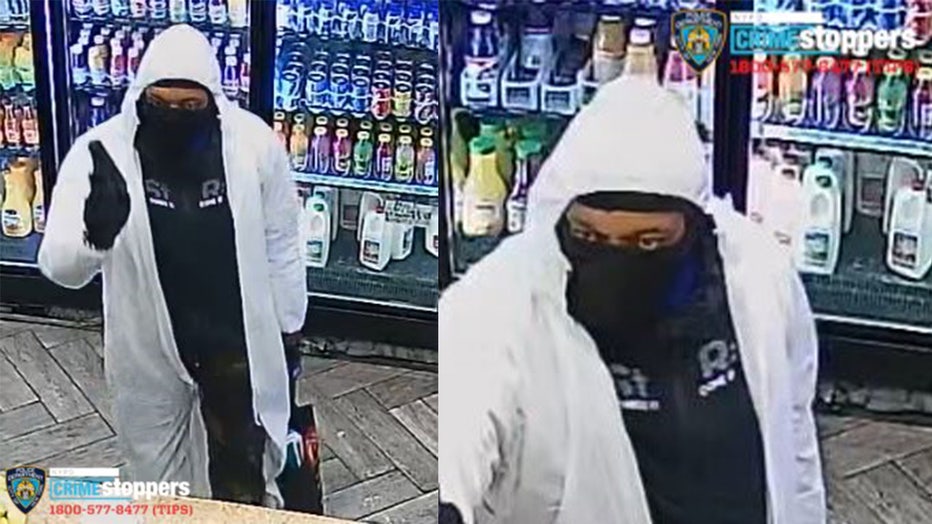 The NYPD has released surveillance photos of the suspect wanted for allegedly murdering a bodega worker on the Upper East Side Friday night. (Credit: NYPD)
Bodega workers gathered to express relief after the arrest on Thursday.  Most of them only wish an arrest could have happened sooner, before one of their own was murdered. 
Fernando Mateo, an advocate for United Bodegas of America, said, "we are relieved to know that this monster is behind bars we are relieved because he is no longer a threat with a gun robbing, assaulting, killing."