Masked gunman kills bodega worker in Upper East Side deli
New York - The NYPD is searching for the man accused of shooting and killing a bodega employee on the Upper East Side Friday night during a robbery.
Authorities say that the gunman, wearing a white hazmat suit and a black mask, walked into the Daona Deli, on East 81st street and Third Avenue around 11:30 p.m., demanding money from the employee.
The gunman then opened fire on the victim, a 67-year-old man, fatally shooting him in the head before fleeing the scene on an electric scooter, heading south on Third avenue, according to officials.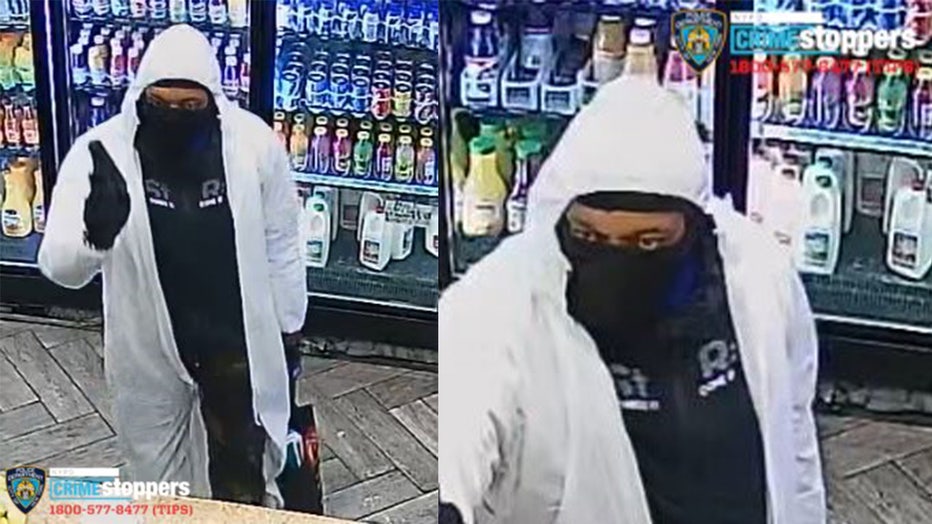 The NYPD has released surveillance photos of the suspect wanted for allegedly murdering a bodega worker on the Upper East Side Friday night. (Credit: NYPD)
A police source tells FOX 5 that the haunting disguise worn by the shooter fits the same description of the man who robbed a Bronx bodega on Melrose Avenue at gunpoint 30 minutes later. 
Get breaking news alerts in the free FOX5NY News app!  |  Sign up for FOX 5 email newsletters
Nearby residents say the victim, who has not yet been identified, was a beloved employee at the deli.
"I said what happened? He said our buddy got killed. What you mean he got killed?," one neighbor told FOX 5.  
"It's just heartbreaking. I feel so sad," said another local resident.  
A small memorial has been created outside the deli where people have left flowers and candles to mourn the slain employee.
NYPD crime stats show the 19th precinct is not an area that sees a lot of murder. In 2001 there was one, in 2022 there were two, and this marks the first murder of 2023.  
The amount of violence and death associated with attempted robberies is rising in the city, with some New Yorkers pointing the finger at an alleged lack of consequences for criminals.  
"The whole city is going to hell in a handbasket, and they'll probably let whoever this is out in two days," one resident said.  
The United Bodegas of America is offering a $5,000 reward for information that leads to the arrest and conviction of the murderer, saying at a news conference Saturday that New Yorkers are losing the battle against crime and must fight back.  
"We need a better, more aggressive judicial system," said Fernando Mateo, United Bodegas of America. "A judicial system that's not going to allow murderers, that's not going to allow thieves and criminals to get away with what they been getting away with. We need to go back 10 years, when this city was safe, when everyone was working and not worrying about anything, we don't have that today."