Tunnel to Towers legacy: Lisa and Jake's NYC marathon fundraising effort
NEW YORK CITY - Lisa and her son Jake are embarking on a mission that's deeply personal and profoundly meaningful.
"I always think doing a marathon is like a really, really cool accomplishment, and especially doing it for Tunnel 2 Towers," Jake said. "I think it's great. And I can't wait to do it, honestly."
But this is not just any marathon; it's the world-renowned New York City Marathon.
Lisa believes that if you're going to run, you might as well make it meaningful and give back. Their journey to join the race holds a special significance for their family.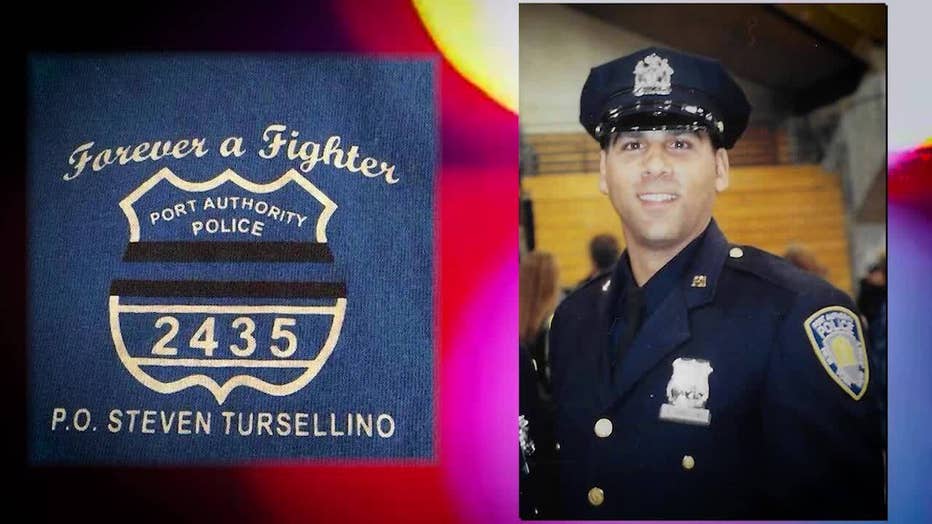 It's a tribute to Lisa's late husband, Port Authority Police Officer Steven Tursellino.
"He was the kind of guy that you wanted to live next door to," Lisa said. "The guy you wanted to work next to, the guy you wanted to coach your kids." He was a great dad, a great husband, and a great son.
On September 11th, Steven, who was with the NYPD at the time, rushed to Lower Manhattan after the attacks. He spent weeks on the pile, searching for survivors, driven by a profound sense of duty. This sense of duty was passed on to his eldest son, Jake. 
In 2010, Steven, by now with the Port Authority, went in for a routine health screening. "They noticed that there was a spot. So OK, let's go get that checked out," Lisa recalled.
It was cancer. "He had lung surgery, but it had spread to his lymph nodes, and that kind of just started the process."
By 2013, it had spread to his brain, and he was just 45 years old. An overwhelming situation for any family, especially one with young children. 
"So, in the mix of having a husband in the hospital, you know, undergoing brain surgery, I was trying to manage an almost-3-year-old, a 6-year-old, a 9-year-old, a 13-year-old, a household, working," Lisa continued.
Steven, always the optimist, envisioned undergoing surgery and returning to his job at the Port Authority, as well as his family. Unfortunately, that dream remained unfulfilled. 
"After that, he lasted here for like three weeks. I mean, I had to bring him back to the hospital, and then he died probably about 12 days later," Lisa said.
As Lisa raised their kids, the Tunnel to Towers Foundation expanded its efforts. In 2021, they established a program to pay off mortgages for families of first responders who lost their lives to 9/11-related illnesses and are survived by young children. 
"Eight years had passed, which is what was all the more reason why it was so shocking to hear from them," Lisa said. "I don't think we walk around with any expectations that we're owed anything. And I don't mean to imply that anyone else does. So it's just, how do we say thank you?"
So, they will run. Lisa and Jake have already participated in the annual 5K and are now gearing up for the NYC Marathon, all while raising money for the foundation. 
Their oldest daughter Ryan, a soccer player at Salisbury University in Maryland, will also be an official Tunnel to Towers student athlete. "Represent them and bring awareness, you know, we live in New York... she's in Maryland. And while I'm sure they recognize it, I don't think it's the same vibe that we have here."
A sense of duty and dedication... echoing the spirit of Steven. "My dad was my role model," Jake said. "He really taught me everything, and I try to everyday just this he was like she, you know, go on the hard work and stuff."
Tunnel to Towers' broader vision extends beyond this marathon, as they aim to make their presence felt in other endurance races, with teams participating in events like the Marine Corps Marathon.
In memory of Port Authority Police Officer Steven Tursellino, who died on September 13, 2013, as a result of cancer he developed following his assignment to the search and recovery efforts at the World Trade Center site following the 9/11 terrorist attacks, Lisa and Jake carry on his legacy.
Officer Tursellino had served with the Port Authority of New York and New Jersey Police Department for 20 years. He is survived by his wife and four children. Thanks to the Tunnel to Towers Foundation, his family's mortgage was paid off, a gesture that speaks to the impact of their mission.
LINK: For more information on Lisa and Jake's journey and how to support their cause, visit their fundraising page here.