Tropical Storm Philippe brings heavy rain, flash flooding to portions of Windward, Leeward islands
The center of Tropical Storm Philippe is passing just northeast of the British Virgin Islands Tuesday afternoon as flooding rains continue over portions of the Leeward Islands.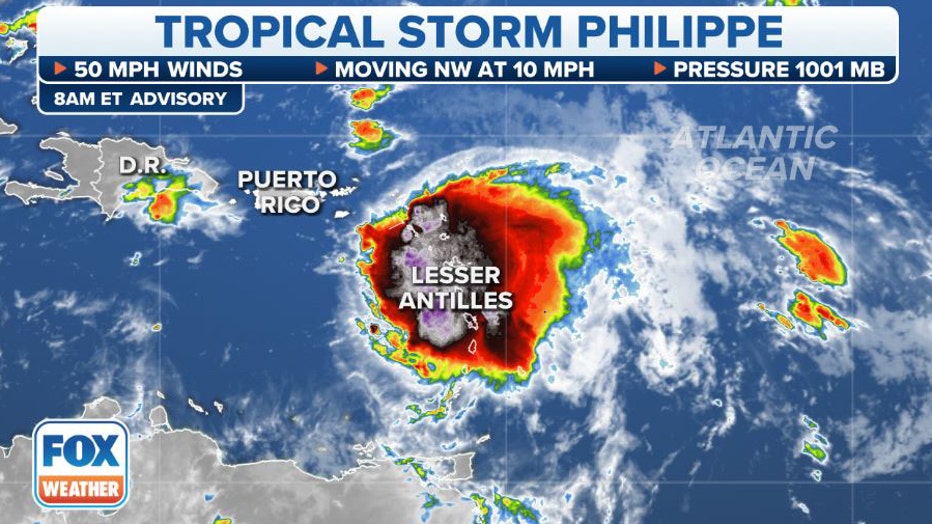 Tropical Storm Philippe's stats. (FOX Weather)
After making landfall on Barbuda Monday evening, Philippe is now centered about 80 east-northeast of St. Thomas, in the nearby U.S. Virgin Islands, with peak winds estimated to be 45 mph. 
Tropical storm-force winds (39-plus mph) currently extend out 175 miles, primarily to the east and southeast of Philippe's center. Little change in strength is forecast during the next couple of days, the National Hurricane Center (NHC) said. Philippe could begin to strengthen a bit late this week.
A Tropical Storm Warning is still in effect for Anguilla, meaning winds of at least 39 mph are expected somewhere in the warning area.  The government of Antigua and Barbuda has also issued a Tropical Storm Watch for the British Virgin Islands.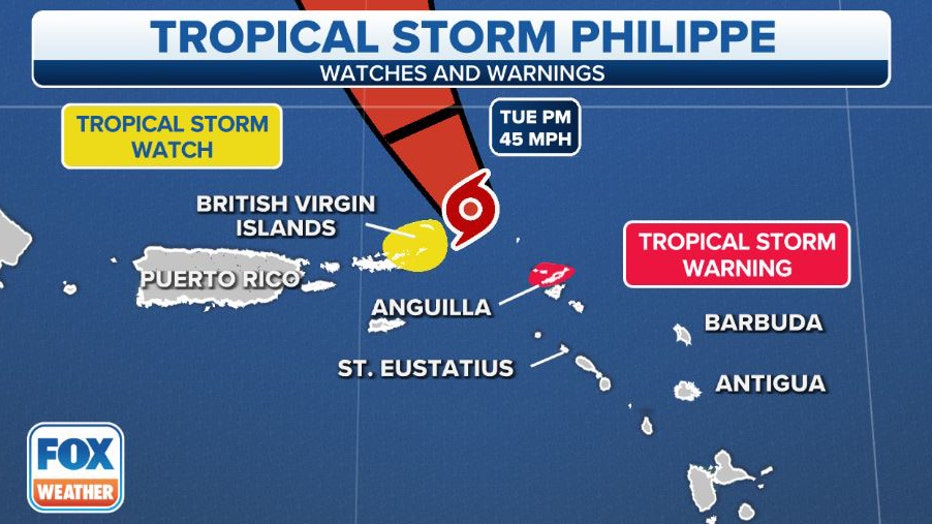 Tropical storm alerts issued along the path of Philippe. (FOX Weather)
On the forecast track, the center of Philippe is expected to move north of the Leeward Islands later Tuesday. However, the strongest winds and heaviest rains will likely occur in the islands to the south of the center.  
Flash flooding is possible as between 4 and 8 inches of rain is predicted from Barbuda southward to Dominica, with 3 to 5 inches for the rest of the Leeward Islands and the northern Windward Islands. The Virgin Islands could see 1 to 3 inches of rain.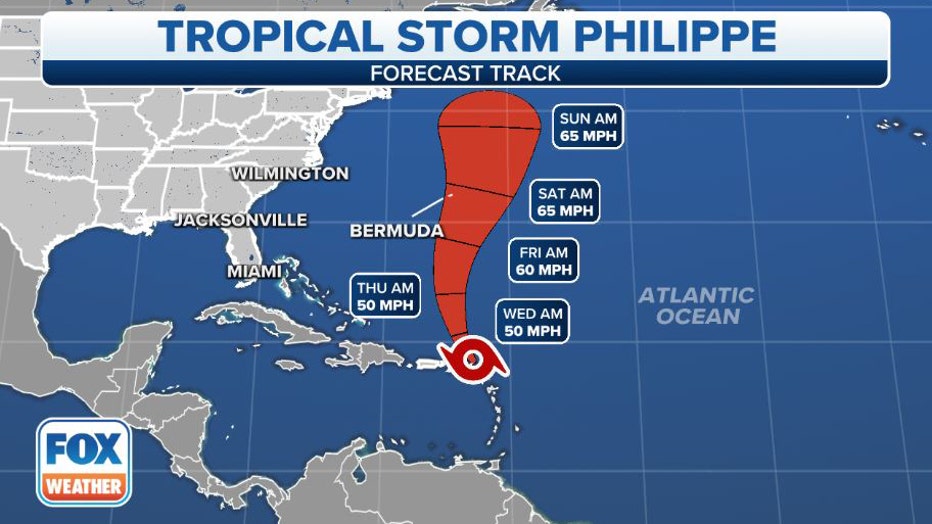 Tropical Storm Philippe's cone. (FOX Weather)
Additionally, life-threatening rip currents will affect portions of the Atlantic coasts of the northern Leeward Islands, the Virgin Islands and Puerto Rico through midweek.
BRYAN NORCROSS: TROPICAL STORM PHILIPPE TO TRACK UNCOMFORTABLY CLOSE TO THE CARIBBEAN ISLANDS
The storm is forecast to continue on a northerly track through the week, maintaining moderate to strong tropical storm strength as it passes near or just east of Bermuda Friday night and may eventually impact the Canadian Maritimes as still a potent storm.
Philippe is the 16th named storm of the 2023 Atlantic hurricane season and the 17th to reach at least tropical storm status.