Tropical Storm Philippe brings heavy rain, flash flooding to portions of Windward, Leeward islands
Tropical Storm Philippe made landfall on Barbuda Monday evening and continues to churn past the northern Leeward Islands, bringing heavy rain and flash flooding to portions of the northern Windward Islands and the Leeward Islands.
Philippe is centered about 40 miles northwest of the island of Anguilla, with peak winds estimated to be 50 mph.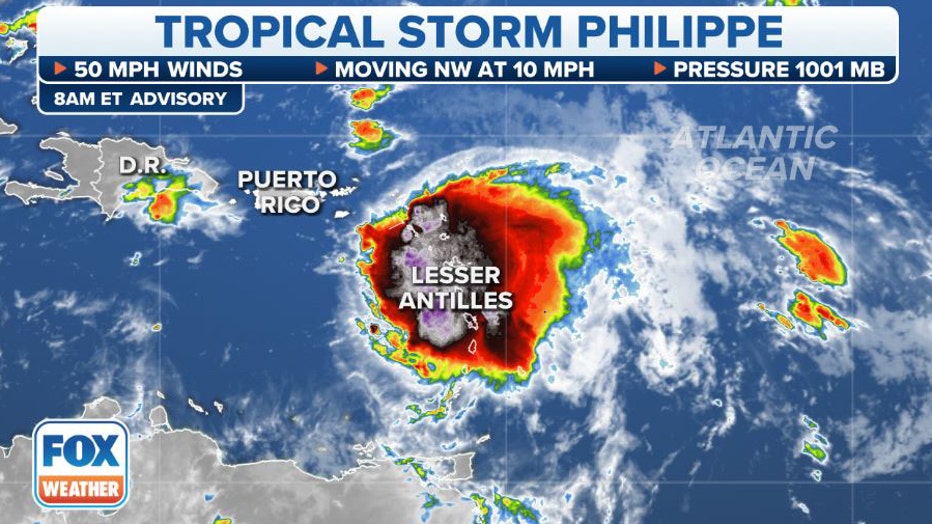 Tropical Storm Philippe's stats. (FOX Weather)
Tropical storm-force winds (39-plus mph) currently extend out 175 miles, primarily to the east and southeast of Philippe's center. A wind gust of 47 mph was reported on Antigua early Tuesday morning.
A Tropical Storm Warning is still in effect for Barbuda and Anguilla, meaning winds of at least 39 mph are expected somewhere in the warning area. 
The government of Antigua and Barbuda has also issued a Tropical Storm Watch for the British Virgin Islands. The Tropical Storm Warning for Antigua has been discontinued.
On the forecast track, the center of Philippe is expected to move north of the Leeward Islands on Tuesday. However, the strongest winds and heaviest rains will likely occur in the islands to the south of the center.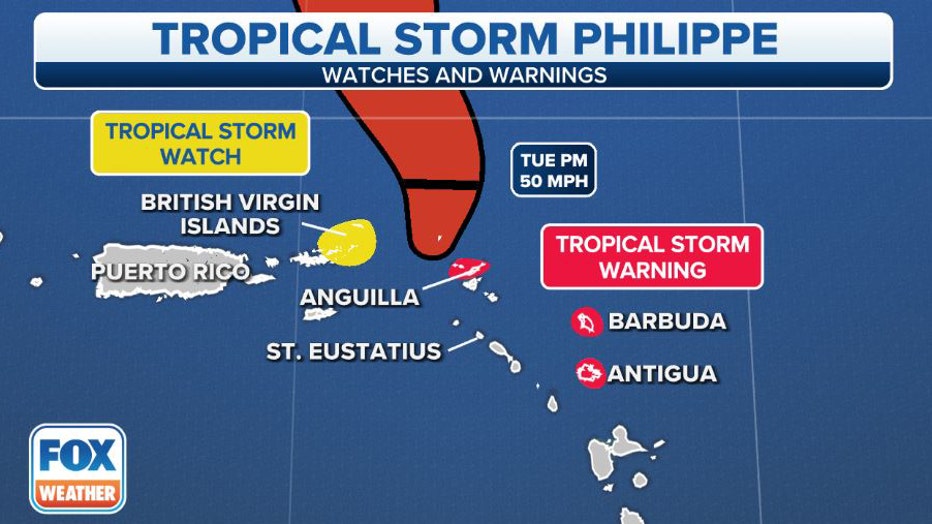 Tropical storm alerts issued along the path of Philippe. (FOX Weather)
Between 4 and 8 inches of rain is predicted from Barbuda southward to Dominica, with 3 to 5 inches for the rest of the Leeward Islands and the northern Windward Islands. The Virgin Islands could see 1 to 3 inches of rain. This heavy rainfall could result in flash flooding.
Additionally, life-threatening rip currents will affect portions of the Atlantic coasts of the northern Leeward Islands, the Virgin Islands and Puerto Rico through midweek.
BRYAN NORCROSS: TROPICAL STORM PHILIPPE TO TRACK UNCOMFORTABLY CLOSE TO THE CARIBBEAN ISLANDS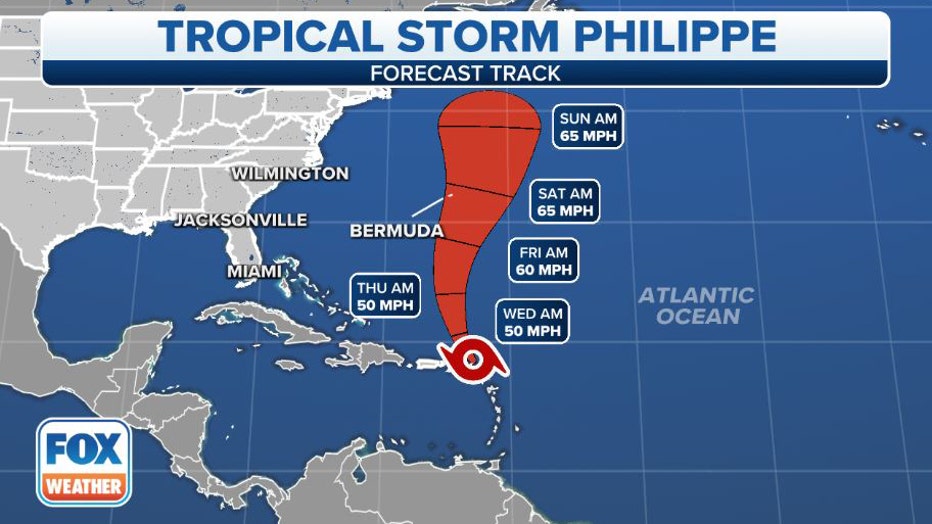 Tropical Storm Philippe's cone. (FOX Weather)
The storm is forecast to continue on a northerly track through the week, maintaining moderate to strong tropical storm strength as it passes near or just east of Bermuda Friday night. 
Philippe is the 16th named storm of the 2023 Atlantic hurricane season and the 17th to reach at least tropical storm status.