Top ZIP codes in US for Halloween trick-or-treating, according to Instacart
Ahead of Halloween, Instacart has unveiled the top trick-or-treating ZIP codes and candies across the United States. 
The online grocery delivery and pick-up service Instacart examined Halloween-related purchase data, crafting a custom Scare Score for every American zip code that placed an order for Halloween candy, decor and costume items in October 2022.
"For the first time ever, we're introducing a tool that lets you enter your ZIP code to discover your area's 'Scare Score,' Laurentia Romaniuk, Instacart's trends expert, said in a company blog post. "This score, determined by analyzing candy, costume, and decor purchases via Instacart, rates your community's Halloween spirit — and shows the top candies in your ZIP code, so you know which treats your neighbors are most likely going to be handing out." 
The new feature also allows users to pinpoint the places in the city with the highest Scare Scores –  the ultimate trick-or-treating destinations.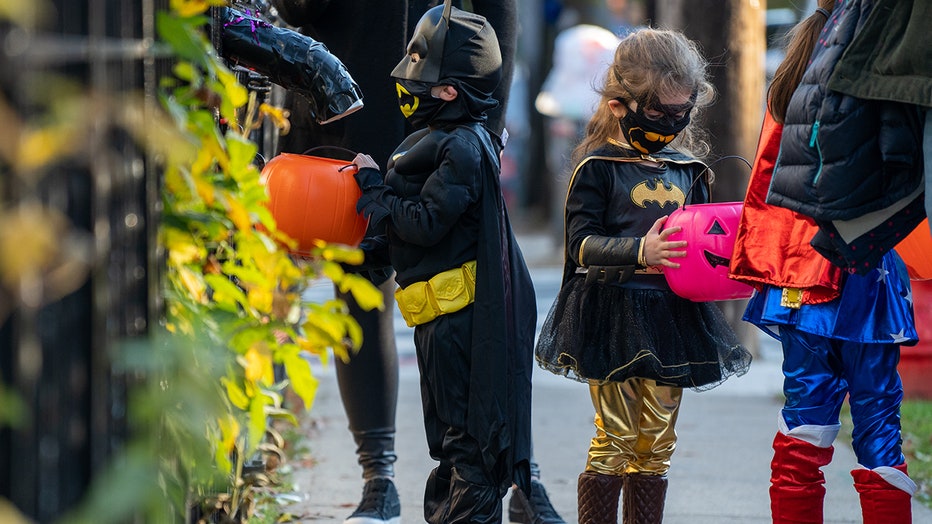 Children receive treats by candy chutes while trick-or-treating for Halloween in Woodlawn Heights on October 31, 2020 in New York City. (Credit: David Dee Delgado/Getty Images)
"With this unique metric, we've also identified Halloween's Best Haunts, a list of the top 10 zip codes boasting the highest Scare Scores — guaranteeing top-notch trick-or-treating experiences," Romaniuk continued.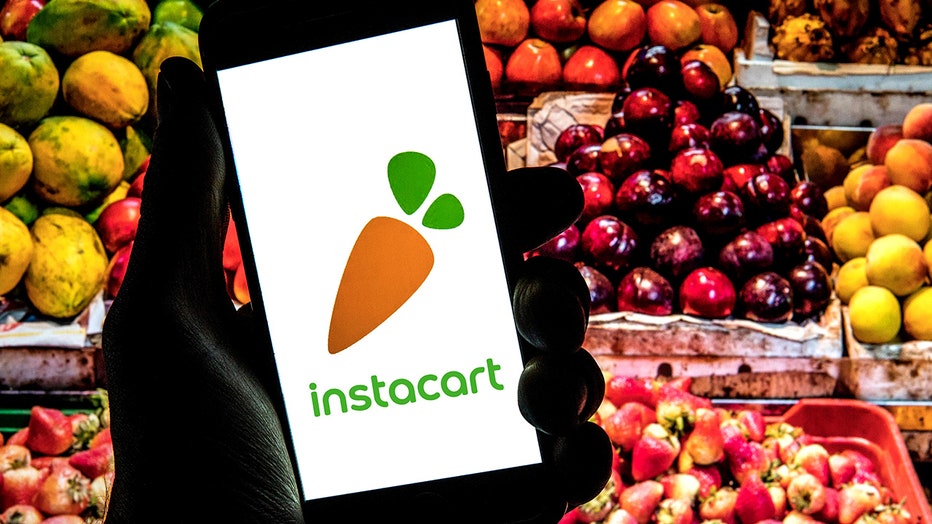 In this photo illustration a Instacart logo seen displayed on a smartphone with with fruits in a market in the background. (Credit: Thiago Prudencio/SOPA Images/LightRocket via Getty Images)
From Lehi, Utah to Lancaster, CA, here's a look at the communities that are likely to be the best trick-or-treating spots (with the best candy!). 
Utah, Texas cities offer best trick-or-treating spots
Among the top 10 cities, Instacart found that two zip codes in Utah and three in Texas dominate Halloween's best neighborhoods.
The ZIP code 84043, located in Lehi, Utah was the list's winner with a perfect 100 Scare Score. Meanwhile, Dallas, Houston and Southlake Texas grabbed the next three spots, followed by Saratoga Springs, Utah. 
Other cities in the top 10 included Chicago, Illinois, Beaumont, California, Garden City, New York, Moorestown, New Jersey and Lancaster, California.
Here are the top 10 ZIP codes on Instacart's list of 30 top places for trick-or-treating:
1. 84043 (Lehi, Utah)
2. 75205 (Dallas, Texas)
3. 77024 (Houston, Texas)
4. 76092 (Southlake, Texas) 
5. 84045 (Saratoga Springs, Utah)
6. 60606 (Chicago, Illinois)
7. 92223 (Beaumont, California)
8. 11530 (Garden City, New York)
9. 08057 (Moorestown, New Jersey)
10. 93536 (Lancaster, Georgia)
"So whether you find yourself in the picturesque landscapes of Utah or the sprawling Texan towns, you're in for a Halloween treat," Instacart wrote.
You can explore your neighborhood's Scare Score here. 
Most popular Halloween candies in each US state
Instacart also recently revealed the top candy cravings among Americans — and it definitely contains chocolate-y dreams.
RELATED: Most popular Halloween candies, according to Instacart shopping data
"Reese's Peanut Butter Cups, Peanut M&M's, and classic M&M's reaffirm their status as Halloween favorites among Americans coast to coast," Romaniuk told FOX Business. 
"Hershey's Milk Chocolate and KitKat also secured places within the top 10, further underscoring the spell that chocolate casts on Halloween enthusiasts nationwide." 
This story was reported from Los Angeles.