Thousands of nurses at 2 NYC hospitals on strike
NEW YORK - Over 7,000 nurses at two New York City hospitals went on strike Monday after last-minute negotiations failed.
As many as 3,500 nurses at Montefiore Medical Center in the Bronx and about 3,600 at Mount Sinai Hospital in Manhattan were off the job. Talks were resuming Monday afternoon at Montefiore, but there was no immediate word on when bargaining might resume at Mount Sinai.
The New York State Nurses Association, or NYSNA, says while better pay and benefits are an issue, their biggest grievance is understaffing and an inability to effectively care for patients.
Hundreds of nurses picketed, some singing the chorus from Twisted Sister's 1984 hit "We're Not Gonna Take It," outside Mount Sinai. It was one of many New York hospitals deluged with COVID-19 patients as the virus made the city an epicenter of deaths in spring 2020.
"We were heroes only two years ago," said Warren Urquhart, a nurse in transplant and oncology units. "We was on the front lines of the city when everything came to a stop. And now we need to come to a stop so they can understand how much we mean to this hospital and to the patients."
Mount Sinai officials say their offer of a 19% salary increase over 3 years and the hiring of more nurses was turned down by the NYSNA, even though it accepted similar offers from other hospitals with whom they were also negotiating.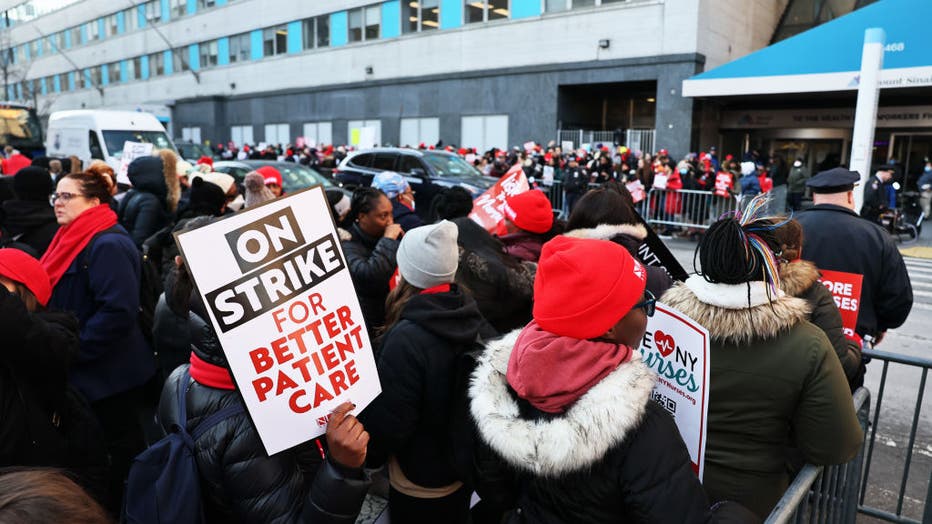 NEW YORK, NEW YORK - JANUARY 09: Nurses from Mount Sinai Hospital strike outside the hospital on January 09, 2023 in the Upper East Side neighborhood of New York City. Thousands of nurses from Mount Sinai's main hospital and at three locations of the
Montefiore said it had agreed to add 170 more nurses. Mount Sinai's administration said the union's focus on nurse-to-patient ratios "ignores the progress we have made to attract and hire more new nurses, despite a global shortage of healthcare workers that is impacting hospitals across the country."
The hospitals said Monday that they had prepared for the strike and were working to minimize the disruption. Mount Sinai called the union's behavior "reckless," while Montefiore said the strike was sparking "fear and uncertainty across our community."
"In my opinion, this action was totally unnecessary," Montefiore President Dr. Philip Ozuah told staffers in a memo Monday afternoon. Ozuah maintained that the two sides had been close to agreement on "a very generous offer."
Some patients, meanwhile, were left in limbo.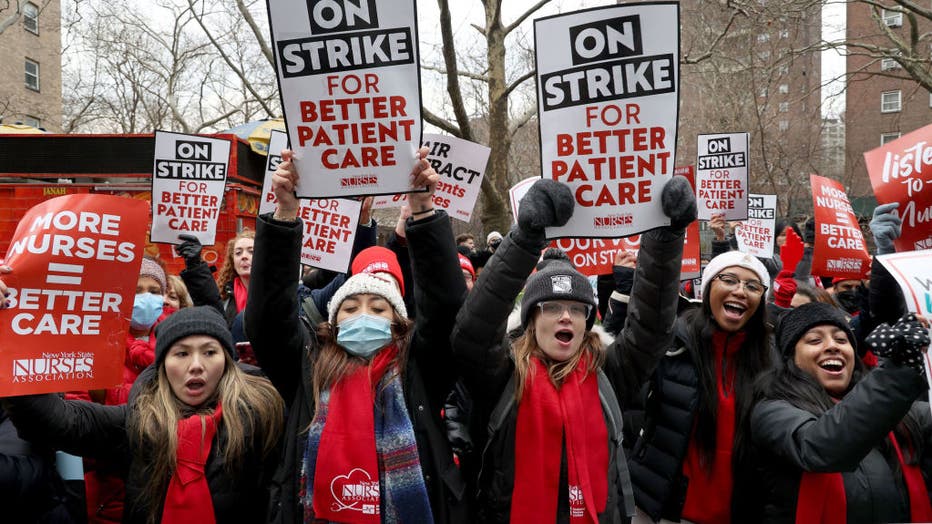 Nurses walk the picket line outside Mount Sinai Hospital at Madison Ave. and 99th St. in the Upper East Side of Manhattan on Jan. 9, 2023. (Luiz C. Ribeiro for New York Daily News/Tribune News Service via Getty Images)
Darcy Gervasio took medical leave from her job at a suburban college library, made child care and transportation arrangements, got tests and otherwise prepared for a gastrointestinal surgery that was scheduled Monday but now is postponed indefinitely, she said. While the procedure is considered elective, Gervasio said it's essential to controlling her Crohn's disease.
"As a patient, of course, I am annoyed and inconvenienced," she wrote in an email. But Gervasio, a union member herself, said she blames the hospital management, not the nurses.
"I am very disappointed in the administration for letting the nursing staffing crisis get out of hand in the first place — especially in the wake of the tremendous strain on nurses during the COVID pandemic," Gervasio wrote. She questioned why Mount Sinai couldn't strike a deal with the union when several other local hospitals did in the last two weeks.
Gov. Kathy Hochul urged the union and the hospitals late Sunday to take their dispute to binding arbitration. Montefiore's administration had said it was willing to let an arbitrator settle the contract "as a means to reaching an equitable outcome."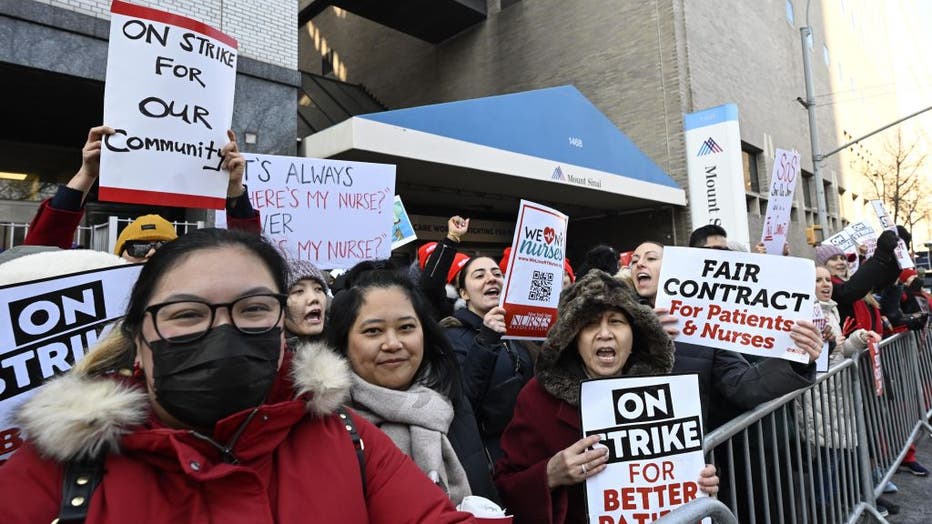 NEW YORK, UNITED STATES - JANUARY 09: Nurses and healthcare workers during a strike at Mount Sinai Hospital in New York, US, on January 9, 2023. More than 7,000 nurses at two major New York City hospitals went on strike Monday, saying staffing levels
The union did not immediately accept the proposal. In a statement, it said Hochul, a Democrat, "should listen to the frontline COVID nurse heroes and respect our federally-protected labor and collective bargaining rights."
A lineup of other city and state Democratic politicians, including Attorney General Letitia James, joined a midday union rally Monday, flanked by workers carrying signs with such messages as "Patients Over Profits" and "Will Work for Respect."
Both hospitals had been getting ready for a walkout by transferring patients, including intensive-care newborns at Mount Sinai.
Montefiore and Mount Sinai are the last of a group of hospitals with nursing contracts that expired simultaneously. The Nurses Association had initially warned that it would strike at all of them at the same time, a potential calamity even in a city with as many hospitals as New York. The other hospitals reached agreements as the deadline approached.
Nurses at NewYork-Presbyterian Hospital ratified a deal Saturday that includes raises of 7%, 6%, and 5% over the next three years while also increasing staffing levels. That deal, which covers 4,000 nurses, has been seen as a template for the negotiations with other hospital systems.
Nurses at two facilities in the Mount Sinai system also tentatively agreed to contracts Sunday. But there was no such pact at the system's flagship hospital on Manhattan's Upper East Side.
With the Associated Press.