Roosevelt Hotel reaches full capacity as asylum seekers line up outside in Midtown
NEW YORK - The Roosevelt Hotel, which is the Arrival and Humanitarian Relief Center for asylum seekers, is at capacity.
Outside the hotel, located in Midtown, Manhattan we found asylum seekers wrapped around the sidewalk. 
Some said they have been there for days. They are humanitarian workers providing food and water. 
The Roosevelt is only a location for families with children.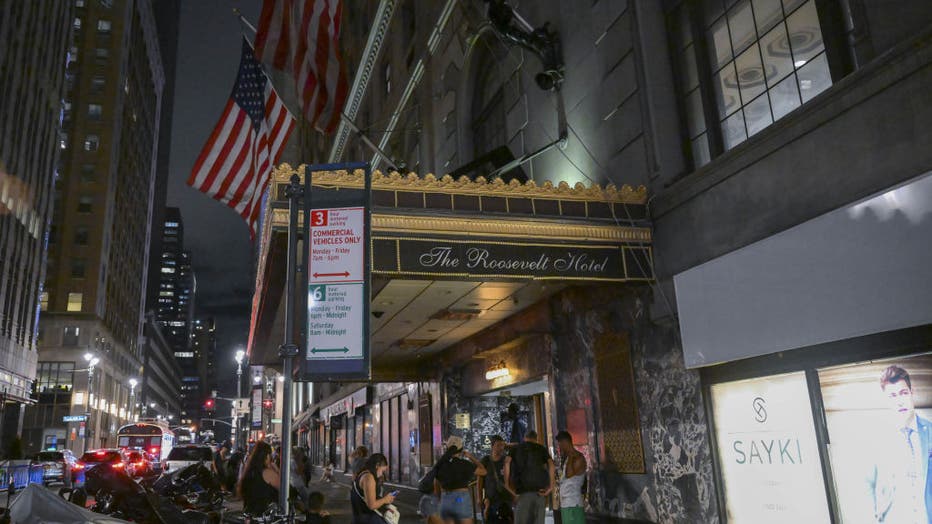 NEW YORK, NY - JULY 29: Migrants are seen as they wait outside the Roosevelt Hotel in Manhattan, NY on July 29, 2023. (Photo by Fatih Aktas/Anadolu Agency via Getty Images)
There are currently more than 56,000 migrants in New York's care, with more people arriving daily, officials said.
As NYC faces growing pressure to expand its shelter system, it relies on vacant hotels to help those that need a place to stay. 
It's not new for the city to turn to hotels into shelters, but the city is currently scrambling to find more shelter for migrants.
During the pandemic, the city was forced to rent out hundreds of hotel rooms as COVID wards. As the pandemic eased, the city became less reliant on hotels.
That changed as thousands of migrants began arriving by bus last year.
Many of those waiting, according to city officials, are waiting for placement at other locations.  Fox 5 NY confirmed that families with children are being put up in other locations too. 
A spokesperson for the Mayor's office said in a statement:
"As we've said for a while now, with more than 93,000 asylum seekers coming through our intake system since last spring, our teams run out of space every single day and we do our best to offer placements wherever we have space available. Children and families continue to be prioritized and are found a bed every night. While we at least offered all adults a temporary place to wait off the sidewalks last night, some may have chosen to sleep outside and, in all honesty, New Yorkers may continue to see that more and more as hundreds of asylum seekers continue to arrive each day."
Associate Press wire services contributed to this report.