Texas ice cream store employs those with disabilities in effort to boost customer service industry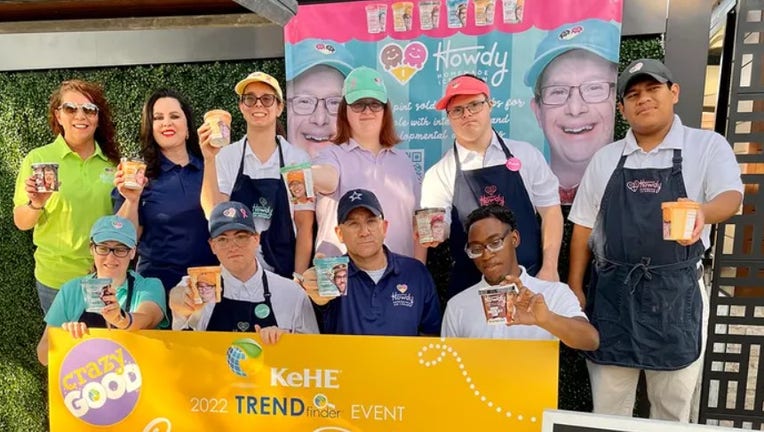 article
Howdy Homemade Ice Cream is putting a twist on the typical local dessert shop by employing those with intellectual and developmental disabilities (IDDs). 
The Texas-born idea came from founder and CEO Tom Landis, who told Fox News Digital about the company and why he's so passionate about helping others. 
The first shop opened in Dallas, Texas, after the 54-year-old father of two said he found a passion for helping those with disabilities.
TEXAS COUPLE SHARES DELICIOUS SECRETS OF THEIR OPRAH-APPROVED COOKIE BUSINESS
"God put it on my heart and said, 'Man, let's give guys like this an opportunity'," he said.
IDDs, according to the National Institute of Child Health and Human Development, are defined as differences that typically present themselves at birth and affect children's physical, intellectual and/or emotional development. 
These disabilities can include Down syndrome, autism spectrum disorders, cerebral palsy and more.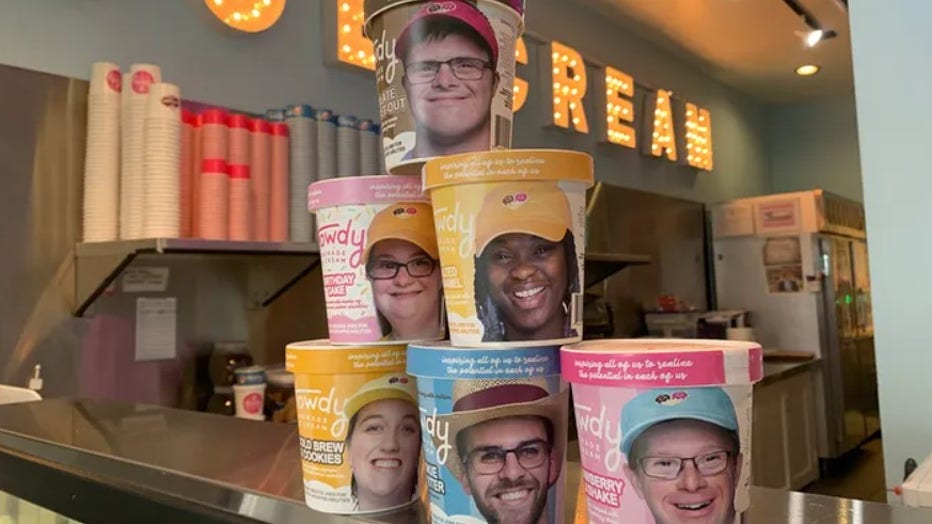 Howdy Homemade has six different flavors of ice cream and is sold at select retailers. (Tom Landis / Fox News)
Landis said he first thought about opening a donut shop — but the challenges that come with making that kind of food,  including the early working hours and more, made him steer clear.
COMPANY LOOKING TO PAY SOMEONE TO WATCH 'THE GREAT BRITISH BAKE OFF' AND EAT DESSERT
Ice cream, however, made him raise his eyebrows after he realized the simplicity and the need for good customer service.
"You choose your ice cream and then from there it comes down to the one factor that's just dead in America and that's customer service — where our guys just thrive," he said. 
Landis explained that those with intellectual and developmental disabilities tend to work well with checklists and repetition — a skillset that many customer service employees may be lacking, he suggested.
"We train them with checklists, and they honor and respect the checklist to the point where they say, 'Hey, no, wait a minute,'" he said. 
Landis said his employees also have patience and grace — something that also tends to be missing in the service industry.
About five years into Howdy Homemade, Landis said his one ice cream shop location was struggling before a shining light appeared. 
"I said, 'God, give me a sign, help me out a little bit,'" he recalled. 
TOP 10 BEST CITIES FOR FOODIES ANNOUNCED IN RECENT STUDY: ARE YOUR FAVORITE LOCATIONS HERE?
Then the pandemic hit. 
Howdy Homemade closed its doors during lockdown out of an abundance of caution for the employees' health, said Landis.
On the verge of losing his home, Landis recalled a GoFundMe page that was created by those in the community to help the company make it through the rough time.
Within two weeks, the effort had raised $120,000 for the company. 
CLICK HERE TO SIGN UP FOR OUR LIFESTYLE NEWSLETTER
Landis said the money and the media attention that came with the spreading word made a world of difference. 
"We would get 1,100 franchise requests at one time," he recalled. 
Howdy Homemade now can be franchised out and is currently in seven different cities across the states of Texas, Louisiana, Indiana, Colorado and North Carolina.
The brand is also sold in H-E-B, Tom Thumb, Albertsons and Randalls across the country. 
Ice cream flavors offered at Howdy Homemade include birthday cake, cinnamon roll, chocolate Dr. Pepper chocolate chip, cookie monster and strawberry milkshake. 
CLICK HERE TO READ MORE ON FOX BUSINESS
Landis said he is proud of Howdy Homemade.
He said he stands by his original mission to prove that employing people with disabilities is a better experience for the customer. 
"I want to show a way that we can change business when we prove that they are better than the other employees," he said. 
Read more of this story from FOX Business..