Texan on hunting trip in Tennessee helped search for survivors following tornado
A group of Central Texans who were out on a hunting trip in Tennessee Friday night found themselves in a tornado's path.
Once they heard sirens, they said they immediately took cover in their hotel room.
A tornado leveled a trailer park across the street. Once it was gone, the group of men sprang into action to search for survivors.
The group was in Tiptonville, in western Tennessee, right in the path of the tornado before it entered Kentucky. It's about 60 miles from Mayfield, Kentucky.
Friday night, the three young men heard the tornado sires in Tiptonville and put mattresses over their heads in their hotel room. 
Once the tornado passed, Cayden Rawls - a rookie firefighter from the Buffalo Volunteer Fire Department in Central Texas – said he saw the trailer park across the stress was leveled. 
He spent most of the night searching through the rubble for survivors, before the local sheriff's office arrived and took over.
"We opened the door, and everything was black and gone. There was a camper in our parking lot…The whole trailer park was wiped out," he recalled. "I didn't see anyone else. I looked for about three hours."
It's still unclear if everyone at the trailer park survived. 
Investigators said the majority of the trailers were vacant. 
Rawls said campers were launched into trees and blown down the street.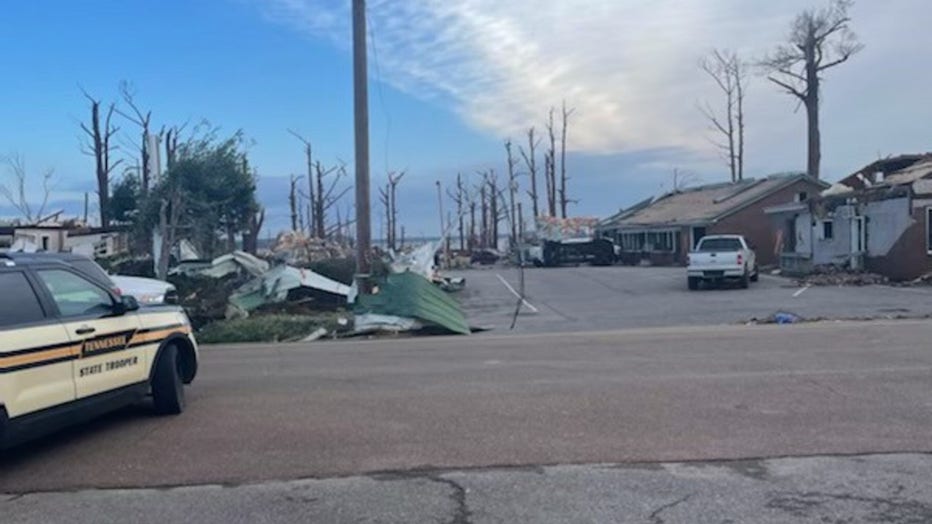 RELATED: Kentucky tornado: Texas Task Force on their way to help residents
Texas Governor Greg Abbott deployed Texas A&M Task Force 1 to western Kentucky to help with recovery efforts. 
Also, Carter BloodCare, headquartered in Bedford, was also activated. 
Overnight, it sent emergency blood supplies to Chattanooga, Tennessee to help patients in hospitals. 
RELATED STORIES:
Mayfield, Kentucky tornado: Gov. fears at least 70 dead after storm hits candle factory
WATCH: Terrifying video shows massive tornado sweeping through Kentucky
Deaths confirmed in collapsed Amazon warehouse in Illinois after severe weather