NYPD seeks man accused of groping 16-year-old girl on Bronx MTA bus
THE BRONX - The NYPD is looking for a man they said groped a 16-year-old girl on an MTA bus in the Bronx.
It happened Sunday around 10:30 a.m. in the Mott Haven section.
According to police, the girl boarded a BX17 MTA bus at Jackson Avenue and E 149 St. when the man sat next to her and tried to talk.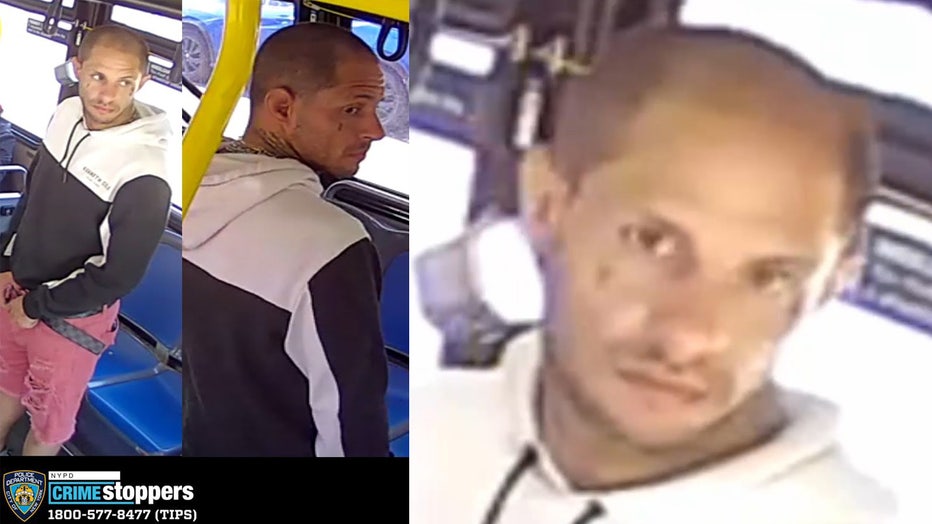 Images of the individual obtained from the bus. (NYPD)
The man allegedly placed his arm around her, caressing her shoulder and offered her a ring that he had, but she refused to take it. 
Police said he then touched her without permission, including placing his hand on her right thigh, hugging her and kissing her on the right cheek. 
As the bus was stopping at E 180 St. and Crotona Avenue, the man tried to get the victim to exit the bus with him, but she refused and remained on board, police said.
The man exited the bus and fled. The victim was not physically injured.
The individual is described as a man around 5'10" tall, with a light complexion, slim build, shaved head, brown eyes and tattoos on his face and neck. 
He was last seen wearing a white and black hooded sweatshirt and pink shorts.
Anyone with information is asked to call the NYPD's Crime Stoppers Hotline at 1-800-577-TIPS (8477).