Taylor Swift appears at Chiefs game to root on Travis Kelce as dating rumors reach fever pitch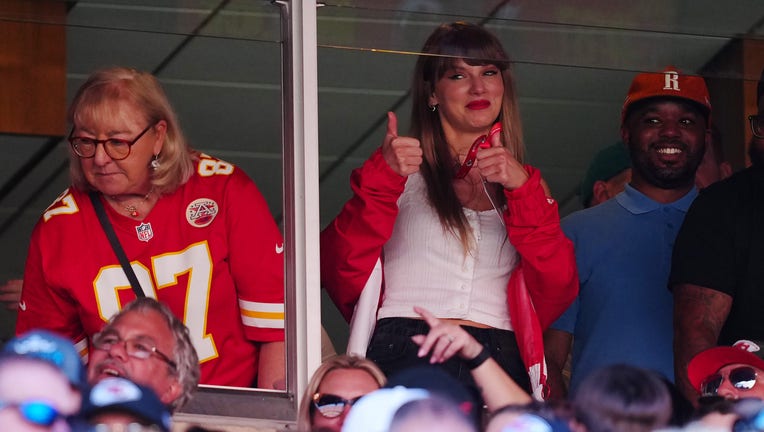 article
Taylor Swift appeared at Arrowhead Stadium on Sunday as the Kansas City Chiefs took on the Chicago Bears. The pop superstar was seen in the suite cheering on her alleged boyfriend, Travis Kelce, with his mother, Donna.
Rumors have swirled around the relationship status between Swift and Kelce all week and her appearance at the stadium all but confirms what everyone had been thinking.
Kelce addressed the rumors on "The Pat McAfee Show" after his brother, Jason, added to the mix during the week when he said he believed they're "100% true."
Kelce doesn't mind it at all. And while he didn't necessarily confirm what's been said about the suspected couple, Kelce did divulge what he told Swift recently. 
"It's life, baby," Kelce told McAfee about the rumors spreading. "I threw the ball in her court and told her, 'I've seen you rock the stage in Arrowhead. You might have to come see me rock the stage in Arrowhead and see which one's a little more lit.' We'll see what happens in the near future."
Taylor Swift reacts during the first half of a game between the Chicago Bears and the Kansas City Chiefs at GEHA Field at Arrowhead Stadium on September 24, 2023 in Kansas City, Missouri. (Photo by Jason Hanna/Getty Images)
Jason Kelce spoke with 94 WIP in Philadelphia on Wednesday, where he poured some fuel into this fire that has connected the sports and entertainment worlds.
"It's hard to answer, because I don't really know what's happening in Travis' love life, and I try to, like, keep, you know, his business kind of his business and stay out of that world," Jason explained. 
"But having said that, man, I think he's doing great. I think it's all 100% true."
The initial report came from The Messenger, which said that Kelce, the four-time first-team All-Pro, has been "quietly hanging out" with Swift, the pop music sensation, for weeks.
JETS' MICHAEL CARTER, ASSISTANT COACH GET INTO HEATED EXCHANGE DURING GAME VS PATRIOTS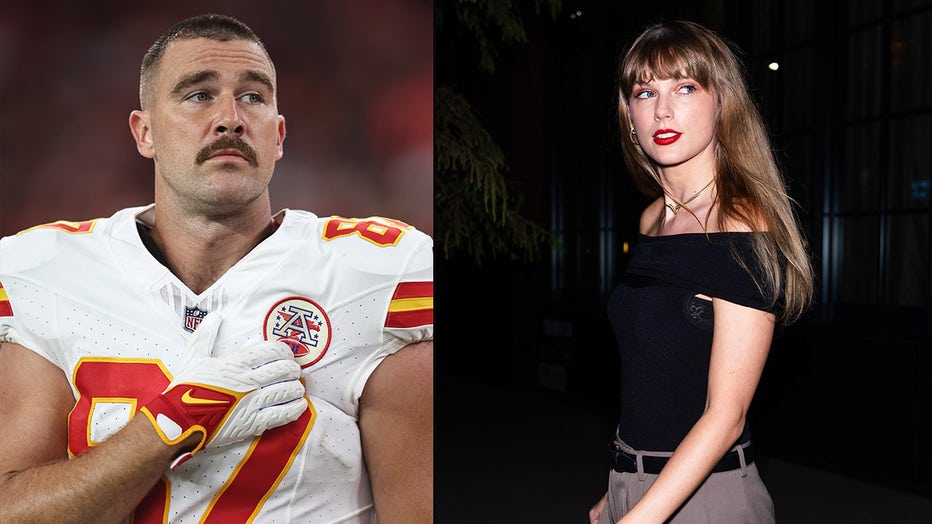 "She and Travis have hung out twice, and it's nothing serious. She thinks he is very charming, and they have been texting this last week," a source told The Messenger recently. "He is a little embarrassed at how much attention they are getting, but he has told her he would love to continue seeing her."
Kelce revealed on his podcast with his brother, "New Heights," back in July that he had made a failed attempt to meet Swift, where his intention had been to give her his number. 
"I was disappointed that she doesn't talk before or after her shows, because she has to save her voice for the 44 songs that she sings," Travis told his older brother at the time. "So, I was a little butthurt I didn't get to hand her one of the bracelets I made for her.
"If you're up on Taylor Swift concerts, there are friendship bracelets, and I received a bunch of them being there, but I wanted to give Taylor Swift one with my number on it."
But Kelce has finally made contact with Swift, and we'll see whether she pulls up to Arrowhead soon to see just how "lit" it can get for a Chiefs game. 
Until then, the rumors will definitely continue, and NFL play-by-play announcers will likely try sneaking in some Swift references whenever Kelce makes a big play, just like Ian Eagle did for his first touchdown catch of the season. 
Fox News' Scott Thompson contributed to this report.