Standoff ends: FBI fugitive taken into custody after dangling from Midtown highrise
NEW YORK - Police spent much of the day Wednesday negotiating with a suspect who, at one point, was dangling from a 31st-floor window in Midtown Manhattan.
It all began around 9 a.m. Police say that FBI agents were trying to execute an arrest warrant on a man for financial fraud charges at an apartment on the 31st floor of the CitySpire high-rise building.
At some point, the suspect, who was allegedly suicidal, broke out part of the window of the unit and then started dangling outside of it, threatening to jump.
Police, fire, EMS, and hostage negotiators all converged on the scene. Authorities set up an air cushion right in the middle of West 56th Street as talks continued to try to get the man to give up peacefully.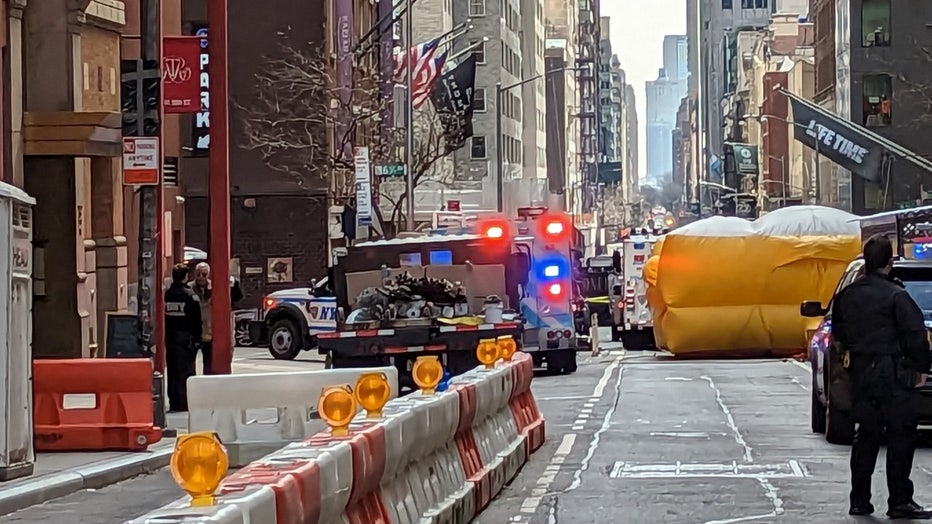 The NYPD's elite Emergency Services Unit arrived on-scene to help bring the standoff to an end.
When negotiations failed to bring the encounter to an end, Detective James Tobin and the other members of his team with the ESU decided to take a more dramatic approach. 
Tobin climbed out of a window just a floor above the suspect, rappelling down the side of the building to rescue the man and help police bring him under arrest.
"I was able to guide him into the window where my teammates were able to take him into custody," Tobin said at a press conference after the standoff. 
"What they did today was beyond brave," offered NYPD Chief of Department Jeffrey Maddrey.
The suspect was later taken away by police.  
"It feels great to save someone," Tobin added.
If you or a loved one is feeling distressed, call the National Suicide Prevention Lifeline. The crisis center provides free and confidential emotional support 24 hours a day, 7 days a week to civilians and veterans. Call the National Suicide Prevention Lifeline at 1-800-273-8255. Or text HOME to 741-741 (Crisis Text Line).