Starbucks adds new cold drinks to its 2023 summer menu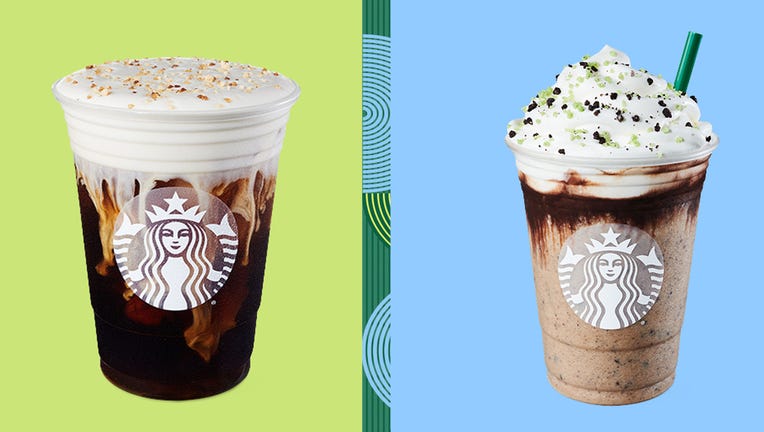 article
SEATTLE - Starbucks is ushering in the warm weather months by adding two new cold drinks to its 2023 summer menu. 
The coffee giant unveiled a new Chocolate Java Mint Frappuccino and a White Chocolate Macadamia Cream Cold Brew, now available on store menus nationwide. A new whole bean packaged coffee, called Starbucks Green Apron Blend, and a Bumblebee Cake Pop are also new in stores.
Starbucks said the new Chocolate Java Mint Frappuccino features Starbucks Frappuccino roast coffee blended with chocolate, mint flavors and Frappuccino chips. The beverage is finished with a layer of mocha sauce, whipped cream, and a chocolate cookie mint sprinkle topping.
"The new white chocolate mint sauce is subtle and creamy, and when paired with the crunch of Frappuccino chips and a swirl of rich mocha, is reminiscent of mint chocolate chip ice cream poolside on a warm summer day," Maureen Matthews with Starbucks' beverage development team said in a statement.
Meanwhile, the new White Chocolate Macadamia Cream Cold Brew combines Starbucks Cold Brew "with a summer twist," the company said. 
"This delightfully dreamy beverage is sweetened with macadamia syrup, topped with a white chocolate macadamia cream cold foam and finished with toasted cookie crumbles," Starbucks said in an announcement.
The company said the new items will be available "for a limited time, while supplies last.
Last month, Starbucks said its popular Pink Drink, along with the coffee chain's Paradise Drink, was coming to grocery stores, convenience stores and other retail chains for a suggested price of $3.67 a bottle.  
RELATED: Starbucks customers say olive oil-infused drinks have laxative properties: 'You'll run to it and from it'
This story was reported from Cincinnati.