Spirit Airlines bringing in 4,000 pilots, flight attendants, other team members this year
Spirit Airlines will recruit several thousand new workers this year, the airline announced in a statement.
The low-cost carrier said Thursday the number of employees it intends to bring onboard this year will come out to more than 4,000. The roles the company is planning to fill are those for pilots, flight attendants, plane maintenance techs and other positions, according to the release.
A spokesperson told FOX Business the airline is not providing a breakdown of the hiring at this time.
In early February, Spirit Airlines reported that its workforce at the end of 2022 totaled roughly 12,000 active employees, of which almost 3,200 were pilots, about 5,700 were flight attendants and some 3,100 were workers in other roles, according to its annual report. That overall figure marks a 22% increase from the prior year and equates to about 11,100 on an "average full-time equivalent basis."
CLICK HERE TO READ MORE ON FOX BUSINESS
The company is holding five recruitment events – two in Las Vegas, one in Chicago and two in Miramar, Florida – in April, according to the release.
The hiring announced Thursday is not related to JetBlue's acquisition of the low-cost airline, the Spirit spokesperson also told FOX Business.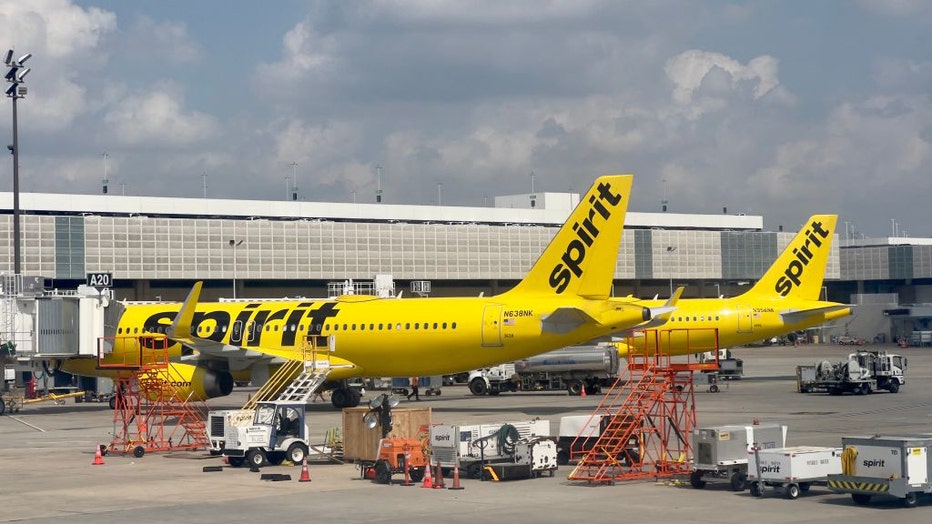 FILE - Spirit airlines planes sits at the gate at George Bush Intercontinental Airport (IAH) in Houston, Texas, on March 8, 2023. (Photo by DANIEL SLIM/AFP via Getty Images)
DOJ SUES TO BLOCK $3.8B JETBLUE-SPIRIT AIRLINES MERGER, SAYING IT WILL MEAN HIGHER FARES FOR CUSTOMERS
The JetBlue-Spirit transaction, worth $3.8 billion, was announced in the summer of last year and has since been met with a challenge from the U.S. government. The Department of Justice filed a lawsuit earlier in the month on antitrust grounds, allegations the airlines have pushed back on.
"The merger is under an extensive regulatory review process that's expected to extend into next year," the spokesperson said. "Until the transaction closes, we continue to operate as independent companies. So, it's business as usual for Spirit. We continue to add new destinations and planes."
Spirit anticipates receiving more than two dozen new planes this year that will need staff, which is on top of the 21 "brand-new Airbus A320 Family aircraft" it got the prior year, according to the company's release. The number of routes it offers has also seen growth, with nine cities in 2022 and "more new cities coming" this year, it said.
REGIONAL AIRLINE HAS SOLUTION FOR PILOT SHORTAGE
The total people employed by U.S. passenger and cargo airlines saw a slight 3,000-job rise in January, coming in at 787,328, according to the Bureau of Transportation Statistics. In January 2019, it was 730,384.