Son of NBA's LeBron James suffered cardiac arrest during practice: What you should know about SCA
PHOENIX - As news spread that the eldest son of NBA player LeBron James was rushed to the hospital after he collapsed during a morning practice in California, some are wondering why a seemingly healthy young person could suffer a cardiac arrest.
Here's what you should know about cardiac arrests in young athletes.
What is Sudden Cardiac Arrest?
According to the Mayo Clinic's website, Sudden Cardiac Arrest, or SCA, happens when there is a sudden loss of all heart activity due to an irregular heart rhythm.
"Breathing stops. The person becomes unconscious. Without immediate treatment, sudden cardiac arrest can lead to death," read a portion of the website.
The website also states that SCA is not the same as a heart attack, as a heart attack happens when blood flow to a part of the heart is blocked, and SCA is not due to blockages.
"However, a heart attack can cause a change in the heart's electrical activity that leads to sudden cardiac arrest," read a portion of the website.
Arizonans share their SCA experience
"I walked up the stairs, and that's when I suffered a cardiac arrest. I believe it was my stepmother. She's actually an oncology nurse and still is, she is a medical professional she started chest compressions," said Austin Sleeseman.
Now 22, Austin was 16 when he suffered an SCA.
"I was brain-dead for about a little over 24 hours. Usually around that time is when it gets scary. I think they usually wait 24 to 48 hours before they decide what to do from there. I think on that 25th or 26th hour, I showed brain function, and they got to work on me."
Austin was in a medically-induced coma for more than a month. He lost about 20 pounds of muscle, and was on oxygen and dialysis. He was later given an Implasntable Cardioverter Defibrillator (ICD) that monitors his heartbeat, and can deliver electric shocks when needed to restore regular heart rhythm. 
Another Arizonan who suffered an SCA was Kathie Reilly. For her, it happened in 2008.
"I was working full-time, and a mom of two small children," Reilly recounted. "Nothing that would have led me to believe that anything traumatic like that was going to happen."
Sudden Cardiac Arrest Foundation - https://www.sca-aware.org
What causes SCA?
According to the Cleveland Clinic's website, SCA is mostly caused by abnormal heart rhythms known as arrhythmias.
"The most common life-threatening arrhythmia is ventricular fibrillation. This is an erratic, disorganized firing of impulses from your heart's ventricles (lower chambers). When this happens, your heart is unable to pump blood. Without treatment, you can die within minutes," read a portion of the website.
Other causes for SCA include coronary heart disease, heart conditions that a person has had since birth, changes to a heart's structure due to disease or infection, or extreme physical activity or blood loss.
The Cleveland Clinic's website notes that in younger people, congenital heart defects or genetic abnormalities in their heart's electrical system are often the cause for SCA.
What are the symptoms of SCA?
According to the Mayo Clinic, symptoms of SCA are immediate and severe, and they include:
Sudden collapse
No pulse
No breathing
Loss of consciousness
Sometimes, according to the website, other symptoms could occur before SCA, and those symptom might include:
Chest discomfort
Shortness of breath
Weakness
Fast-beating, fluttering or pounding heart called palpitations
Are there risk factors for SCA?
According to the Cleveland Clinic's website, many factors can increase SCA risks, and the leading factors include previous heart attack(s) and coronary artery disease.
Other factors, according to the website, include prior SCA episodes, family history of SCA, personal or family history of certain abnormal heart rhythms, congenital heart defects, along with obesity and diabetes.
How common is SCA?
SCA in athletes, according to the Cleveland Clinic's website, is rare, with an incidence rate of about 1 in 100,000 to 1 in 300,000 athletes.
"Most professional athletic programs will screen their prospective athletes for the most common causes of sudden cardiac death in that population, which in the United States is hypertrophic cardiomyopathy," read a portion of the website.
What do I need to do if I see someone collapsing due to SCA?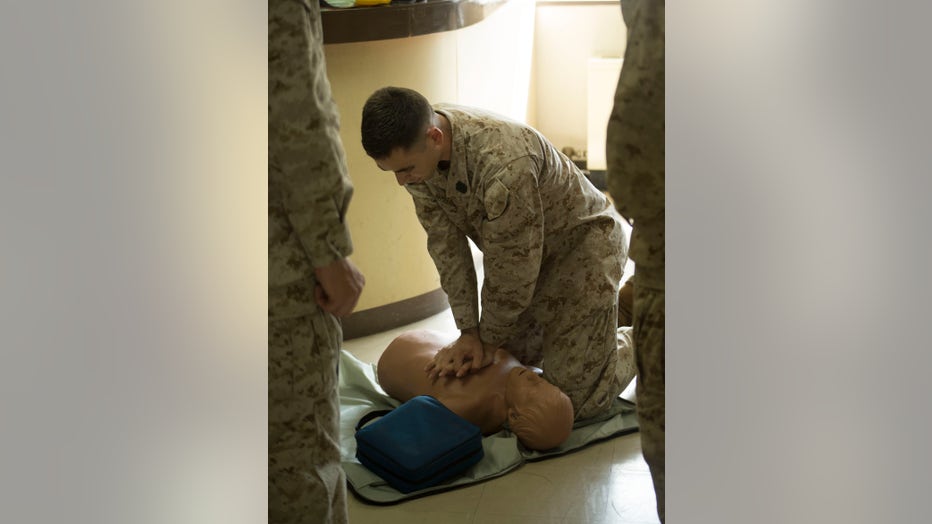 Petty Officer 3rd Class Joshua White, a corpsman with Combat Logistics Company 36, demonstrates the proper way to deliver chest compressions during the Heartsavers class at Corporals Course. (Photo by Alissa Schuning)
According to the Cleveland Clinic's website, emergency action has to start immediately in order for a person to treat and reverse SCA.
"Survival can be as high as 90% if treatment starts within the first minutes after sudden cardiac arrest. The rate drops by about 10% each minute longer," read a portion of the website.
If you see someone experiencing SCA, the Cleveland Clinic's website says you need to do the following:
Call 911 immediately
Start CPR, even if it is just the hands-only version
If one is available, use an Automated External Defibrillator
What happens to people who survived an SCA?
According to the Cleveland Clinic's website, most people will need hospital care to recover from the effects of their SCA, and to treat and prevent future cardiac problems.
Besides LeBron James' son, have there been other athletes who have been affected by SCA?
Yes.
In January 2023, NFL player Damar Hamlin was taken to the hospital in critical condition after he collapsed on the field during a game between the Buffalo Bills and the Cincinnati Bengals. According to the Associated Press, a rare condition called commotio cordis, which occurs when a severe blow to the chest causes the heart to quiver and stop pumping blood efficiently, caused him to go into SCA.
In June, Hamlin was cleared to fully participate in practices for the first time since the incident.
SCA can also affect the youth. In April 2023, we reported that a 12-year-old soccer player in Arizona collapsed on the field during practice.
"One of those things that's never going to happen to you right? I mean, a healthy 12-year-old, a healthy 12-year-old with no symptoms with parents that are fit and healthy," said the soccer player's father, Matt Midkiff.
Isn't SCA caused by COVID-19 vaccine?
No.
According to a December 2021 AP article, some people have suggested that COVID-19 vaccines were to blame for the deaths of athletes from SCA.
In one case, the article states, the death of a 17-year-old from Indiana was suggested to be linked to COVID-19 vaccination. This was despite the fact that the 17-year-old in question died in 2013 from an undiagnosed heart condition, seven years before the COVID-19 pandemic began.
Suggestions of a link between COVID-19 vaccination and SCAs rose again following the incident involving Hamlin, according to the AP. Those claims, however, were based on a website that compiled news reports on recent deaths and medical emergencies. The list includes incidents around the world, and included people of all ages, including some in their 70s and 80s. It also includes cases not reported to be spurred by cardiac arrest: Some deaths, for example, were reportedly from cancer.
"It's not real research," Dr. Matthew Martinez, director of sports cardiology at Atlantic Health System in Morristown Medical Center, told the AP. "Anybody can write a letter to the editor and then quote an article that has no academic rigor."
Dr. Jonathan Kim, chief of sports cardiology at Emory University School of Medicine and team cardiologist for Atlanta's NFL, NBA and MLB teams, similarly said of the blog post: "It's just shocking to use that as a citation."
"It's scientific garbage, you can't just pull a bunch of media reports," he added, noting that in some cases a clinically determined cause of death or health issue isn't released because it's private medical information.
Cardiologists have also told the AP there have been instances of athletes experiencing sudden cardiac death and cardiac arrest long before the COVID-19 pandemic, and that they have not observed the dramatic increase alleged on social media.
What should people do to help prevent SCA?
Cardiologists say one way for parents to help prevent SCA in children is to get their kids' hearts screened, as devices like ultrasound or EKG can detect abnormalities most of the time.
"More screening is always better from our perspective," said Dr. Maulik Shah with the HonorHealth Cardiovascular Center for Excellence.
In Arizona, one organization is working to get more people screened.
"We've screened over 17,000, over 18,000 people, and we find that one in seven have a heart problem," said Sharon Bates.
Sharon, who is now a certified Cardiac Ultrasound Technician, started the Anthony Bates Foundation in 2000. The foundation is named after her son, a 20-year-old college player who died from SCA.
Sharon's foundation offers low-cost heart screenings, as insurance companies generally don't cover preventative heart screenings. If an abnormality is discovered, Sharon gives parents copies of the results to take to their own doctor for diagnosis and treatment.
Cardiologists say there is no negative side effects to getting kids a heart screening, even if they don't have any symptoms.
__________
This website does not provide medical advice. The information provided above is meant to be informative, and nothing on this site should be considered as a substitute for professional medical advice, diagnosis or treatment. If you have concerns about your health, reach out to your primary care doctor or other health care providers.