Soldier's widow: Trump didn't know husband's name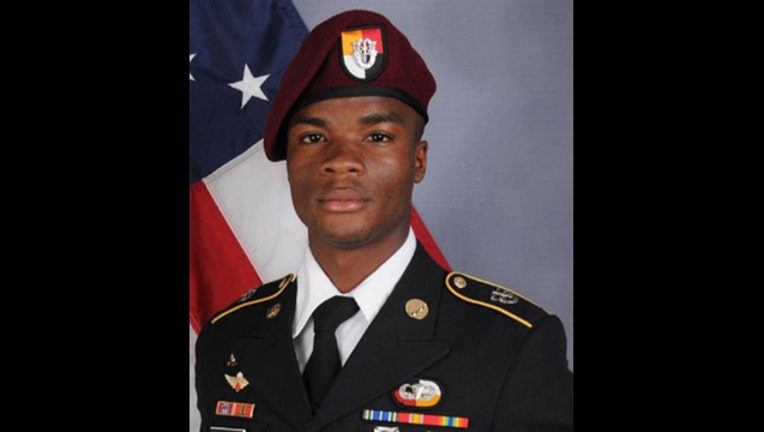 article
WASHINGTON (AP) — A fallen soldier's angry widow joined the stormy dispute with President Donald Trump on Monday over his response to her husband's death, declaring that his failure to remember the soldier's name in last week's condolence call "made me cry." He retorted that the call was "very respectful" and her accusation about her husband's name simply wasn't true.
Though Trump refused to let the new round of complaints go unanswered, he steered clear of the insults he exchanged last week with a congresswoman who had overhead the sympathy call.
The president spoke in public at two events during the day — including his awarding of the military Medal of Honor to a Vietnam-era Army medic — and made no mention of the case of Sgt. La David Johnson, one of four soldiers killed Oct. 4 in a firefight with militants tied to the Islamic State group in Niger.
In addition to criticizing Trump, Myeshia Johnson, the sergeant's widow, also complained bitterly that she had not been able to see her husband's body.
"I need to see him so I will know that that is my husband," she said. "I don't know nothing, they won't show me a finger, a hand."
A Pentagon spokeswoman said the military often may make a recommendation on viewing but that soldiers' bodies are prepared and turned over to the family and its funeral director. The final decision on viewing is up to them, said spokeswoman Laura Ochoa.
Myeshia Johnson spoke for the first time in the dispute on ABC's "Good Morning America." In the interview, she supported critical statements last week by Rep. Frederica Wilson, who had been in the car with the widow and other relatives when Trump phoned.
"Yes, the president said that 'he knew what he signed up for, but it hurts anyway.' And it made me cry 'cause I was very angry at the tone of his voice and how he said he couldn't remember my husband's name," Johnson said.
The president answered on Twitter soon after the interview aired, saying: "I had a very respectful conversation with the widow of Sgt. La David Johnson, and spoke his name from beginning, without hesitation!"
At the Pentagon, Marine Corps Gen. Joseph Dunford, chairman of the Joint Chiefs of Staff, said an investigation has still to resolve questions about the Oct. 4 firefight. They include whether the U.S. had adequate intelligence and equipment for its operation, whether there was a planning failure and why it took two days to recover Johnson's body.
Besides Johnson's family, members of Congress are demanding answers. Last week, Sen. John McCain, R-Ariz., threatened a subpoena to accelerate the flow of information.
The row over Trump's call began last week when Wilson, a Florida Democrat, accused Trump of being callous in the conversation and Trump responded that Wilson's account was fabricated.
But Johnson backed Wilson's account, saying that the congresswoman was a longtime friend and listened on a speakerphone in the car with family members.
Said Johnson on Monday: "I heard him stumbling on trying to remember my husband's name, and that's what hurt me the most, because if my husband is out here fighting for our country and he risked his life for our country why can't you remember his name."
The continuing dispute drew criticism from McCain, who spent more than five years in a Vietnamese prison. He said on "The View" Monday: "We should not be fighting about a brave American who lost his life."
Confusion over what happened in Niger has dogged Trump, who was silent about the deaths for more than a week.
Asked last Monday about that silence, Trump credited himself with doing more to honor the military dead and console their families than any of his predecessors. His subsequent boast that he reaches out personally to all families of the fallen was contradicted by interviews with family members, some of whom had not heard from him.
Questions about Trump's responses continued Monday. The family of Capt. Ben Cross of Bethel, Maine, who was one of three Marines killed in an MV-22 Osprey crash in August off the coast of Australia, received a letter from Trump on Friday, a day after his brother called out Trump.
The timing of the letter indicated "it was obviously done in an attempt to repair the political damage," said Ryan Cross. "We think he was going through the motions."
The administration has said protocol requires that the Pentagon and White House Military Office prepare and confirm an information packet before the president contacts grieving family members, a process that can take weeks.
A White House official said Monday that the controversy did force a look at the overall outreach efforts and prompted letters that in some cases had been held up for bureaucratic reasons.
Rep. Wilson criticized the condolence call beginning last Tuesday. She continued to assail Trump, and he fired off insulting tweets, calling her "wacky" and accusing her of secretly listening.
Johnson declined to directly address Trump on Monday. Asked if she had a message for the president, she replied: "No. I don't have nothing to say to him."
___
Associated Press writer David Sharp contributed from Portland, Maine.