Social Security recipients to receive 3.2% cost-of-living increase in 2024
WASHINGTON - Millions of Social Security recipients will get a 3.2% increase in their benefits in 2024, far less than this year's historic boost and reflecting moderating consumer prices.
The cost-of-living adjustment, or COLA, means the average recipient will receive more than $50 more every month beginning in January, the Social Security Administration said Thursday.
About 71 million people — including retirees, disabled people and children — receive Social Security benefits.
RELATED: USPS releases its holiday deadlines for packages, cards
Thursday's announcement follows this year's 8.7% benefit increase, brought on by record 40-year-high inflation, which pushed up the price of consumer goods. With inflation easing, the next annual increase is markedly smaller.
Still, senior advocates applauded the annual adjustment.
"Retirees can rest a little easier at night knowing they will soon receive an increase in their Social Security checks to help them keep up with rising prices," AARP CEO Jo Ann Jenkins said. "We know older Americans are still feeling the sting when they buy groceries and gas, making every dollar important."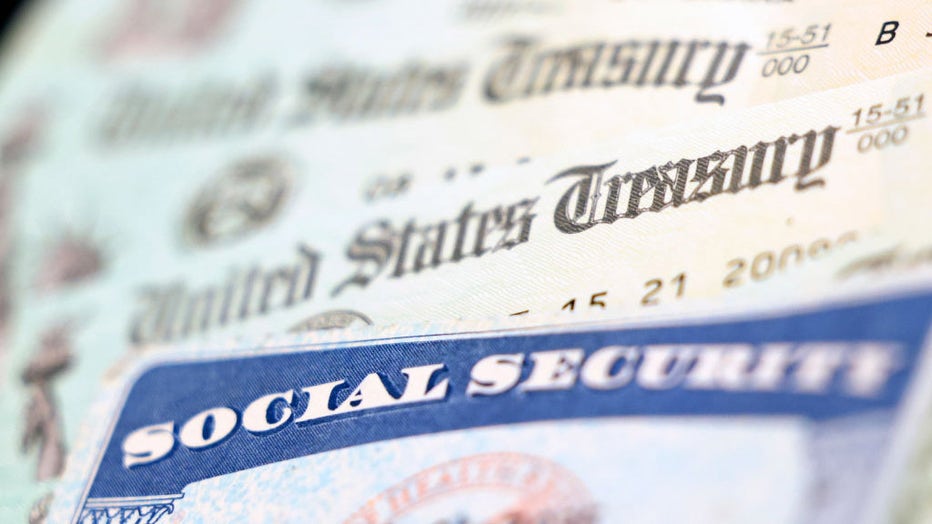 In this photo illustration, a Social Security card sits alongside checks from the U.S. Treasury on October 14, 2021, in Washington, DC. (Photo illustration by Kevin Dietsch/Getty Images)
Social Security is financed by payroll taxes collected from workers and their employers. The maximum amount of earnings subject to Social Security payroll taxes will be $168,600 for 2024, up from $160,200 for 2023.
The social insurance program faces a severe financial shortfall in coming years.
The annual Social Security and Medicare trustees report released in March said the program's trust fund will be unable to pay full benefits beginning in 2033. If the trust fund is depleted, the government will be able to pay only 77% of scheduled benefits, the report said.
There have been legislative proposals to shore up Social Security, but they have not made it past committee hearings.
The COLA is calculated according to the Bureau of Labor Statistics' Consumer Price Index, or CPI. But there are calls for the agency to instead use a different index, the CPI-E, which measures price changes based on the spending patterns of the elderly, like health care, food and medicine costs.
Any change to the calculation would require congressional approval. But with decades of inaction on Social Security and with the House at a standstill after the ouster of Speaker Kevin McCarthy, R-Calif., seniors and their advocates say they don't have confidence any sort of change will be approved soon.
The cost of living adjustments have a big impact for people like Alfred Mason, an 83-year-old Louisiana resident. Mason said that "any increase is welcomed, because it sustains us for what we are going through."
As inflation is still high, he said, anything added to his income "would be greatly appreciated."
RELATED: Housing inventory remains painfully low as shortage persists