Sleepy Michigan wife mistakes husband's $1M lottery win for dream
IONIA, Mich. - A Michigan wife was so sleepy that when her husband said that they won the lottery, she thought it was a dream. 
Charles Wolthuis, 78, won $1 million after matching the five white balls in the Oct. 2 Powerball drawing. He bought the winning ticket at Purk's, located at 875 East Lincoln in Ionia.
"I usually play Powerball every drawing," Wolthuis said in a news release. "I called the winning numbers hotline and wrote down the winning Powerball numbers right when I woke up the morning after the drawing.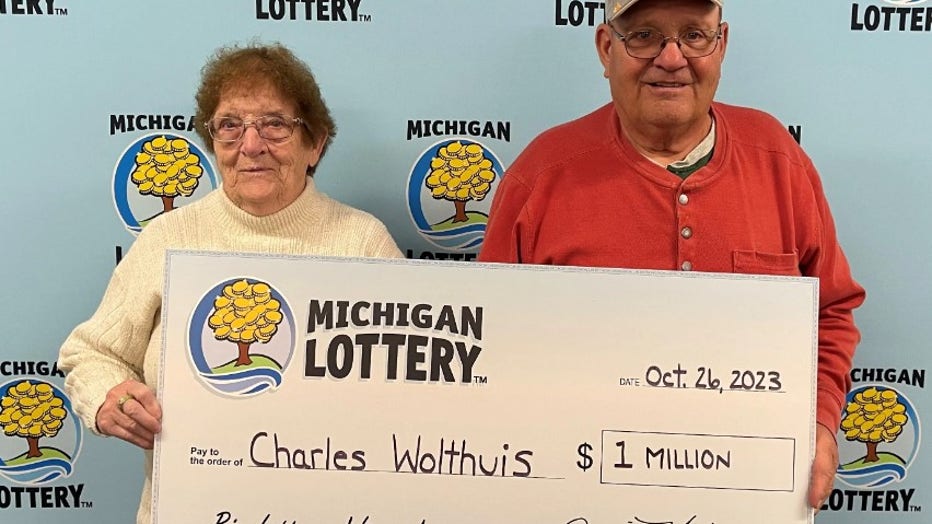 Charles Wolthuis (right) and his wife Jean Wolthuis (left) holding $1 million check. (Credit: Michigan Lottery)
"I checked my ticket and saw I'd matched five numbers, but I wasn't sure what I'd won," he continued. "I called my daughter and asked her to check and see what the prize is for matching five numbers. It was quiet for a minute, and then she said: 'Dad, you won $1 million!'"
RELATED: Kentucky woman's lottery win mistaken for pregnancy announcement by family
"I woke up my wife and told her we won $1 million, but she thought I was kidding and went back to bed," he added. "When she woke up, she told me she had a dream that we won the Lottery. I said: 'We did! That wasn't a dream, we won $1 million!'"
Wolthuis said he plans to but a new truck with his winnings. 
This story was reported from Los Angeles.