Singer Pink cancels multiple shows due to 'family medical issues'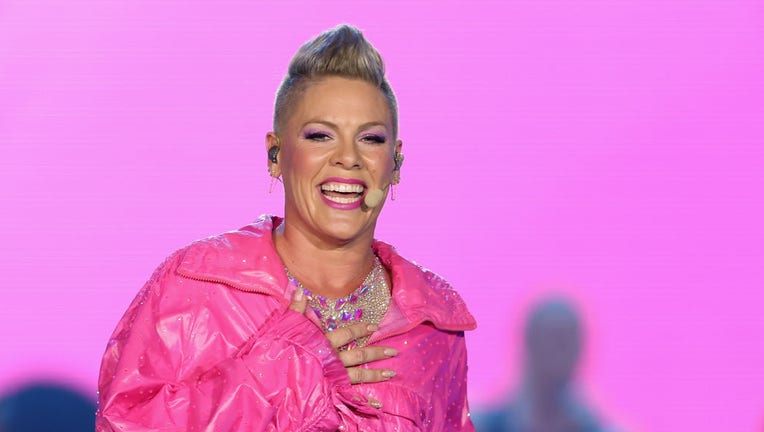 article
Pink announced the cancelation of multiple performances after a family emergency required her "immediate attention."
"I am so sorry to inform the Tacoma ticket holders that the two shows October 17 and October 18 (tomorrow and Wednesday) will be postponed," the 44-year-old singer wrote on Instagram Monday night.
She noted that the Live Nation team is currently working on rescheduling future dates for the concerts.
SINGER PINK KICKS OUT MAN CONDEMNING CIRCUMCISION AT HER CONCERT: 'GET THAT S--- OUT'
"Family medical issues require our immediate attention. I send everyone my sincerest apologies for any inconvenience this has caused. I am sending nothing but love and health to all."
Reps for Pink did not immediately respond to Fox News Digital's request for comment.
APP USERS CLICK HERE TO VIEW POST
Currently on her "Summer Carnival" tour, Pink has been subjected to bizarre fan behavior in recent months.
While performing in San Antonio in September, the star had zero tolerance for a concertgoer protesting in the middle of her set.
"What does that say?" Pink asked an individual holding up his phone in a fan-recorded video. "Oh wow, you're making a whole point right now, aren't ya? Do you feel good about yourself?"
The man, who stood mere feet away from Pink in premiere seating, pointed his finger aggressively at the "So What" singer while saying something inaudible. 
"Are you gonna be alright? You spent all this money to come here and do that? Come on, dude. I'm gonna have to buy a Birkin bag with that ticket money," Pink joked of the expensive and highly coveted Hermès bag. "Get that s--- out of here."
The man spun around and showed the audience the words on his phone. It read "CIRCUMCISION CRUEL & UNUSUAL."
"He wants all of you to read it. He came here tonight to talk about circumcision," the mother of two told the crowd. 
Irritated fans yelled at the man to "shut up."
Security swiftly removed the man as fans booed his exit.
SINGER PINK SHOCKED AFTER FAN TOSSES DEAD MOTHER'S ASHES ON CONCERT STAGE
Earlier this summer during her performance, Pink had a bag full of ashes tossed at her onstage. In a fan-recorded video, Pink is seen picking up a plastic bag, full of some substance, in the middle of her performance of "Just Like a Pill."
LIKE WHAT YOU'RE READING? CLICK HERE FOR MORE ENTERTAINMENT NEWS
"Is this your mom?" the stunned singer asked, speaking directly to a member of the audience. 
CLICK HERE TO SIGN UP FOR THE ENTERTAINMENT NEWSLETTER
"I don't know how to feel about this," she continued in bemusement, placing the bag down by a speaker before continuing on with her song.
CLICK HERE TO GET THE FOX NEWS APP
The "What About Us" singer has two kids with her husband, Carey Hart, daughter Willow Sage and son Jameson.
Fox News Digital's Caroline Thayer contributed to this report. Read more of this story from FOX News.