'The odds are insane': Adopted siblings find out they are related
STATEN ISLAND - In 2004, a baby – just days old – was dropped off inside a bathroom at Richmond University Medical Center on Staten Island.
She was found by a hospital technician named Claudia.
On Tuesday, August 15, 2023, Claudia, the baby – now 19 years old – and that baby's adoptive family gathered just outside that same bathroom, but it has since been turned into an electrical closet.
"It feels heavy," the now 19-year-old Victoria said, "But in a really nice way of knowing where I was found, with such a careful and awesome and loving person."
"Going in there was very emotional," Claudia said. "But in a good way."
Claudia took care of baby Victoria until child protective services could pair her with her adoptive family. 
It wasn't long before adoptive parents Angela and Dennis had a baby girl to join their growing family.  And the parents knew the backstory of how Victoria was found but didn't tell her until after she had turned 18.
But this story takes another incredible turn.
Angela and Dennis already had one biological son and an adopted boy, Frank, who was paired with them about a year and a half before they adopted Victoria.
Frank and Victoria recently decided to find out more about their backstory, so they turned to DNA testing and ancestry.com.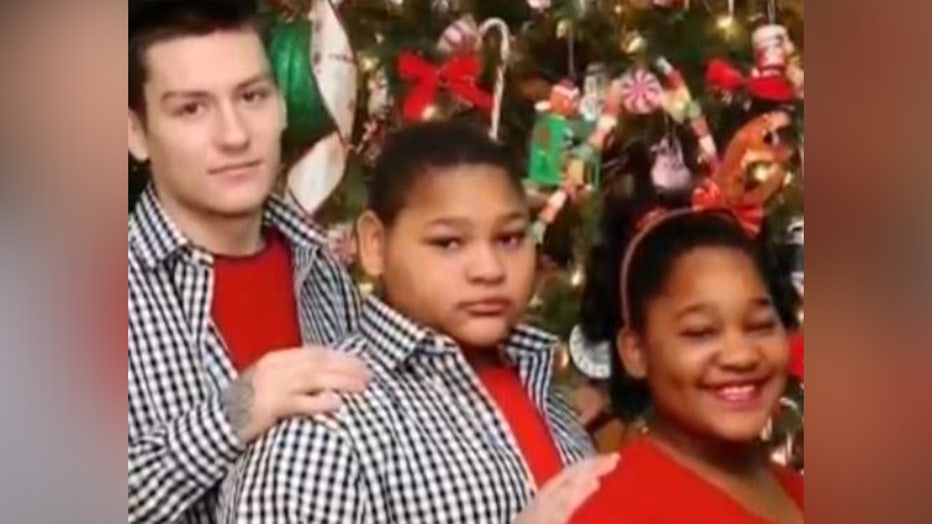 As it turns out, Frank is not Victoria's adopted brother, but they are actually 100% blood siblings. 
"My biological brother," Victoria said, incredulously, "Which was definitely something crazy and not really expected at all."
They lived almost two decades in the same home with no idea.
"The chances are crazy," Frank said. "We were both found a year and a half apart and wound up in the same family. The odds are insane."
Even their parents had no idea. The only thing both Angela and Dennis knew was the circumstances of how the kids were found before they ended up with child protective services: Victoria in the hospital bathroom and Frank left in a diaper bag of a daycare provider.
"My God, how did I miss this?" Angela asked.  "I'm floored. I'm floored. I can't believe it."
Both Victoria and Frank are confident that whoever their shared birth parents are, they had no ill intent.
Victoria had one final message for the reporters gathered at the press conference Tuesday: "Always be grateful for what you have and always be thankful for everything that you have."