Sauce Gardner fulfills promise to his mother of becoming a college graduate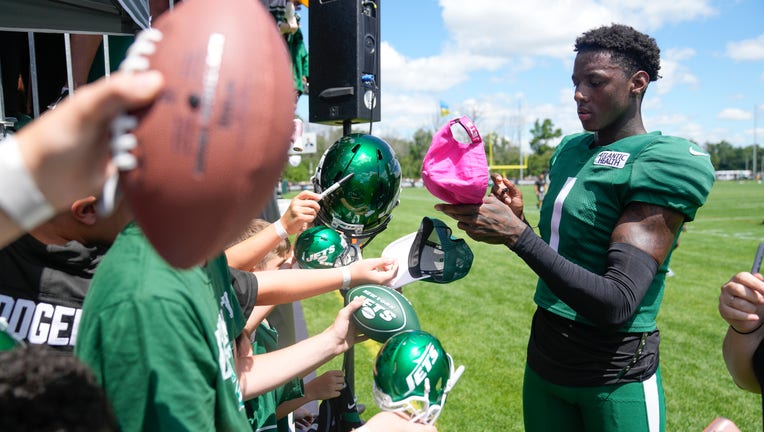 article
CINCINNATI - Sauce Gardner made a promise to his mother before he became a first-round NFL draft pick.
The New York Jets cornerback told her he'd soon take another stroll across a big stage — next time as a college graduate.
Gardner kept his word. And he has a diploma from the University of Cincinnati to prove it.
"Last year, I felt that was the one box I haven't checked," said the reigning Defensive Rookie of the Year who was also an All-Pro. "Now I can really say I made it."
During the Jets' day off Friday after playing their preseason opener against Cleveland in Canton, Ohio, on Thursday night, Gardner went back to campus and walked across the commencement stage to collect his diploma.
He even met a fan who wore a Jets jersey with Gardner's No. 1 under his gown and Gardner took a few "quick selfies" with several other classmates.
"It was cool, man," Gardner said. "Being able to feel regular. Being able to feel like a student again."
And it came just over a year after he left school early and a few credits short of graduating to pursue his football dreams.
"I had to meet my mom halfway when it came to leaving early," Gardner said after practice Saturday. "She wasn't really a fan of it. It wasn't really all about the money, you know what I mean? She wanted me to get my degree. That's what every parent should want."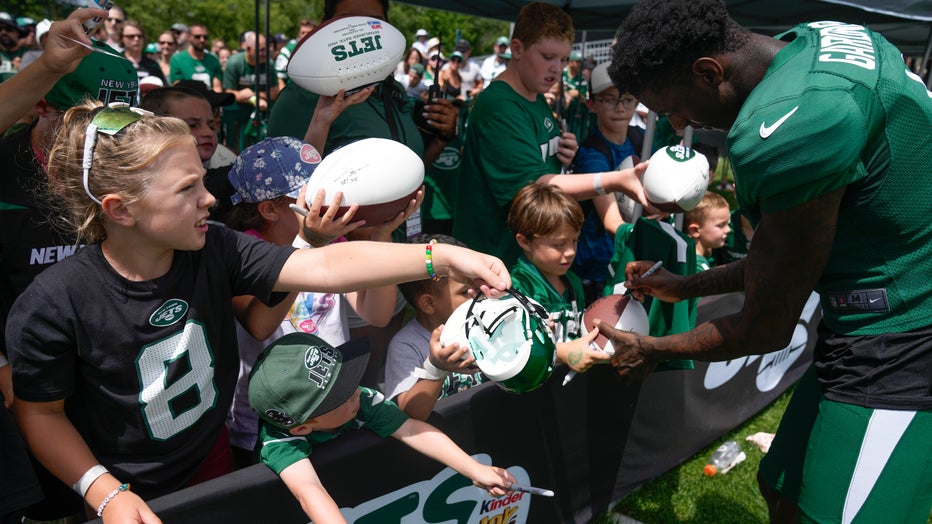 New York Jets' Sauce Gardner, right, gives autographs and talks with fans after a practice at the NFL football team's training facility in Florham Park, N.J., Sunday, July 30, 2023. (AP Photo/Seth Wenig)
Gardner, the fourth overall pick in last year's draft, spent the past offseason taking classes and completing his degree in interdisciplinary studies.
"It wasn't easy," said Gardner, who was able to get some credits for his charity work with his foundation.
He said other than fulfilling his promise to his mother, Gardner wants to be a role model to the many kids who follow him on and off the field. Gardner said he grew up in a rough area in Detroit and wants youngsters to know they can achieve success.
"Knowing they look up to me and I inspire and motivate them," he said, "that was non-negotiable to me."
Gardner is also inspiring his Jets teammates. All-Pro defensive tackle Quinnen Williams said he's just nine credits away from earning his degree at Alabama.
"I think that's phenomenal," Williams said of Gardner. "And it definitely motivated me to say, I need to stop playing (around) and get my degree as well (next) offseason because I'm just right there and I just need to go and finish it. ... I've probably got a semester left, so I can go and knock that out, easy."
Mayor Aftab Pureval proclaimed Aug. 4, 2023, — the date of the graduation — as "Ahmad 'Sauce' Gardner Day" in Cincinnati.
"It was everything I thought it was going to be," said Gardner, who opted to sit in the crowd of graduates rather than take up an offer to sit in a suite. "I actually wanted to go down there so it felt even more real so my parents and family could just look down and see me sitting.
New York Jets cornerback Sauce Gardner (1) warms up during practice at the NFL football team's training facility, Friday, July 21, 2023, in Florham Park, N.J. (AP Photo/John Minchillo)
"I ain't going to lie. It kind of felt like game day a little bit. I was a little anxious. I didn't know what to expect. But it was a true blessing."
Several of Gardner's teammates sent congratulatory texts to him after hearing the news he graduated.
Among the first was quarterback Aaron Rodgers, who spent some time in the offseason with Gardner at Knicks playoff games.
"He knows my mom's proud and he knows my family's proud," he said. "That's love right there."
After the ceremony, Gardner's family threw him a graduation party — "I never had one of those" — and he then hurried to barely make his flight back to New Jersey so he could be at practice Saturday.
"I just think it signifies so much in what he's been able to achieve and what he still can achieve as he goes forward in his career, but I think it's cool," coach Robert Saleh said. "I think everyone should walk if they have the opportunity and he got that opportunity."
Associated Press wire contributed to this report.