Former first lady Rosalynn Carter enters hospice care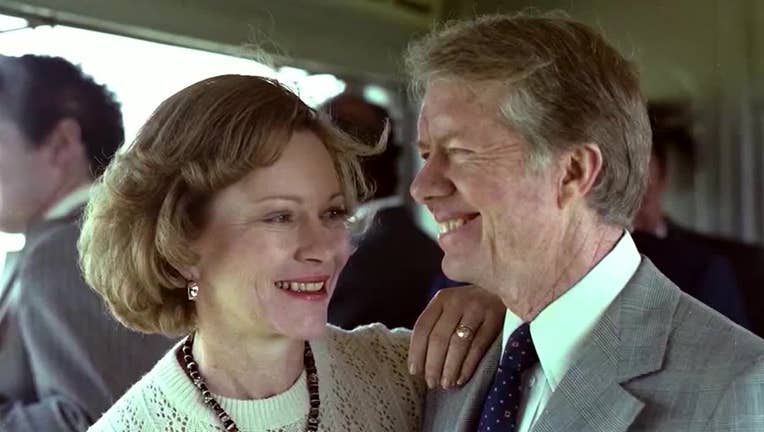 article
ATLANTA - Former first lady Rosalynn Carter, wife of former President Jimmy Carter, is entering hospice care.
The family of the 96-year-old first lady made the announcement on Friday afternoon through a statement issued from the Carter Center. The Carter family said in the statement that they are "grateful for the outpouring of love and support." 
The statement also says the Carters, who have been together for 77 years, "are spending time with each other and their family."
Earlier this year, Rosalynn was diagnosed with dementia.
JIMMY AND ROSALYNN CARTER CELEBRATE 77TH WEDDING ANNIVERSARY
The former first lady has been an advocate for numerous causes, including mental health. She has also written numerous books. She and her husband received the Presidential Medal of Freedom in 1999. 
President Carter, who turned 99 this October, has been in hospice care since February.
Despite their health diagnoses and physical challenges, Jason Carter said in September that his grandparents still experience many great moments as they spend their time surrounded by family at their home.
FORMER PRESIDENT JIMMY CARTER, FIRST LADY ROSALYNN ATTEND PLAINS PEANUT FESTIVAL
The former president now spends his time watching baseball games and spending time with family "almost every day."
Jason Carter also said that his grandfather and President Joe Biden talk to each other "on a relatively regular basis," and that the president wrote to him recently to say that he was thinking of him.
After his 1980 defeat, the couple established The Carter Center in Atlanta as a global center to advocate human rights, democracy and public health.
Jimmy and Rosalynn Carter: A political power couple
"The best thing I ever had happen in my life was when she said she'd marry me," Jimmy Carter said, long after leaving the Oval Office.
The couple's grandson, Jason Carter, described his grandmother in a recent interview as the former president's "partner No. 1, 2 and 3," and the former first couple themselves both agreed that she has been the more aggressive political personality of their long pairing. 
In Washington, the political press of the late 1970s dubbed Rosalynn Carter "the Steel Magnolia," reflecting the quiet grace stereotypical of the era's Southern political wives and a tough core that made her a force on her husband's behalf and in her own right.
"She knew what she wanted to accomplish," said Kathy Cade, a White House adviser to Rosalynn Carter.
Expanding the role of first lady, she worked in her own office in the East Wing, with her own staff, on her own initiatives. She also huddled with the president's advisers and sat in on top-level meetings, raising eyebrows in Washington power circles.
"She didn't say anything in Cabinet meetings, but she wanted to be fully informed so she could give her husband good advice," said Carter biographer Jonathan Alter.
Close-up of US First Lady Rosalynn Carter during an unspecified event, Pine Bluff, Arkansas, July 23, 1979. (Photo by Diana Walker/Getty Images)
Alter considers Rosalynn Carter's only peers as influential first ladies to be Eleanor Roosevelt and Hillary Clinton, although he said the Carters' partnership was more seamless, because it lacked the infidelity and personal drama of the Roosevelts and Clintons.
The bond also involved friendly rivalry and humor: "I never knew I'd be married to somebody that old," he wisecracked when Rosalynn was 91.
They often raced to finish writing their next books or best the other in tennis, skiing or any other pursuit.
Rosalynn was at the center of Carter's political campaigns, starting with his first state Senate race in 1962.
"In the beginning, I wrote letters to people. He would go out and then I would write letters to them," she told The Associated Press. "But then it developed into a full-time job for me, working to help him get elected."
She first campaigned solo during his 1966 bid for governor. She was initially nervous but warmed to the role and ultimately demonstrated what White House adviser Stuart Eizenstat called "uncanny political instincts."
In the White House, it was Rosalynn who urged her husband to think more about the 1980 election as he set priorities, and talk through how decisions might play in the media.
When Jimmy Carter stayed in Washington to work every angle to free the American hostages in Iran, the first lady hit his reelection campaign trail.
"I had the best time," she told the AP. "I campaigned solid every day the last time we ran."
Rosalynn Carter's signature policy issue - improving treatment and removing societal stigma about mental health - traced back to her husband's Georgia campaigns.
Voters "would stand patiently" waiting to tell of their family struggles, she once wrote. After hearing one overnight mill worker's story of caring for her afflicted child, Rosalynn decided to take the issue to the candidate. She showed up at her husband's rally that day, unannounced, and stood in line to shake his hand like everyone else.
"I want to know what you are going to do about mental health when you are governor," she asked him. She recounted his reply: "We're going to have the best mental health system in the country, and I'm going to put you in charge of it."
The Associated Press contributed to this report