Roommate or risk? Experts caution against online connections in NYC
NEW YORK CITY - Summer is a notoriously hot market for apartment shopping in New York and for people who can't afford the ever-increasing monthly rents, finding a roommate is the best option. 
But FOX 5 asked the experts and found it's best to avoid moving in with someone you met online.  
You can find them on Facebook — groups full of people posting about available apartments and looking for roommates.  
"I have been posting in the "Young females chat" only to look for a roommate," said Shubi Ahluwalia, who is looking for an apartment in New York City.  
Ahluwalia is a recent college grad, coming from Austin and starting a new job this summer in NYC. She is now one of 70,000 other young females in the Facebook group desperate to find an apartment she can afford.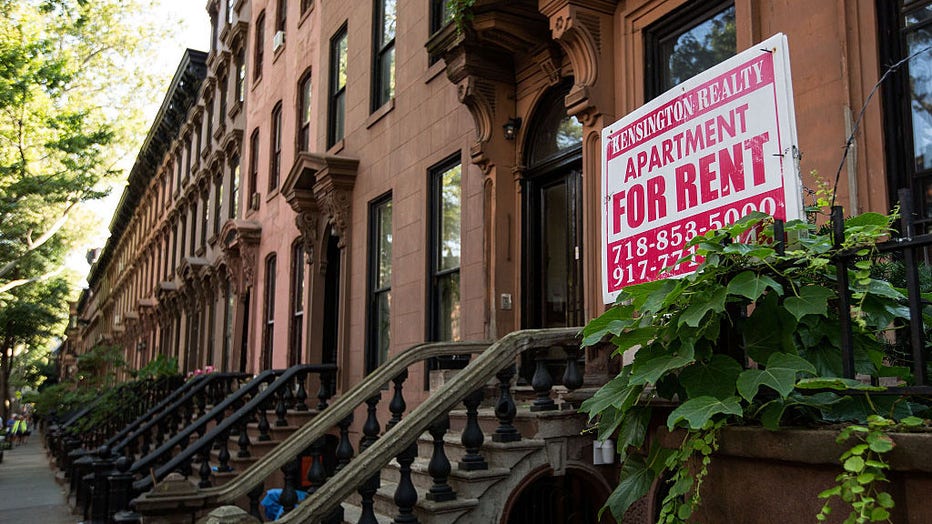 A sign advertises an apartment for rent along a row of brownstone townhouses in the Fort Greene neighborhood in the Brooklyn. (Photo by Drew Angerer/Getty Images)
"Posts get flooded so fast," Ahluwalia said. "I'll contact a girl who posted maybe 16 hours ago, and she has already found someone." 
"The climate right now is honestly crazy," said Janna Raskopf, a Licensed Real Estate Agent in New York. 
Raskopf says the low inventory mixed with employees desperate to move before their new job starts, means landlords can charge excessive rent and a plethora of other fees including a broker's fee that's 15% of the annual rent.  
This has created a market of people looking for roommates and opening themselves up to scams.  
"It's really hard to not fall for it sometimes," said Ahluwalia. "I see a lot of posts every now and then where people are like I just got scammed and lost a couple thousand dollars." 
Raskopf encourages renters to avoid online rental groups where people can pose as landlords or tenants and demand money. And even if the profile pic looks nice, that potential roommate might not be real.  
"Rents are $3,000-$4,000 a month," Raskopf said. "You're signing a contract for $36,000-$50,000 a year with a stranger – I wouldn't do it." 
Instead, ask people you know for roommate recommendations – even if that's your employer. 
Ask for all the fees upfront, and make sure your potential roommate is on the same page and put it in writing.  
"I think hopefully now that I found a place, it shouldn't be too hard to find a person who's interested," Ahluwalia said.