Rockefeller Christmas tree makes its grand arrival to NYC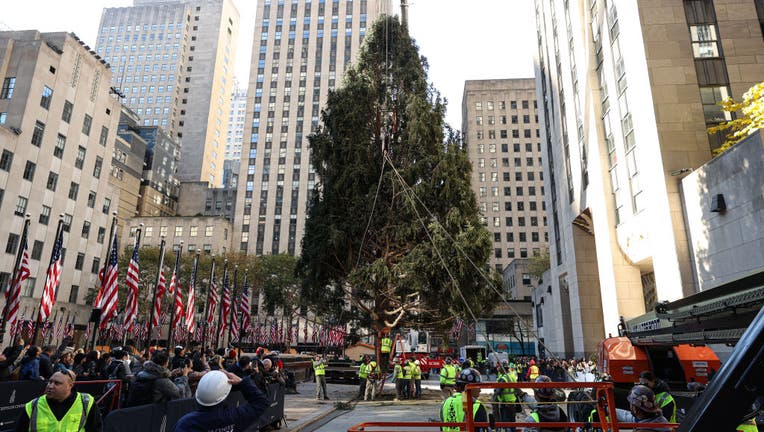 article
NEW YORK - It's beginning to look a lot like Christmas in New York City.
The Rockefeller Center Christmas tree has officially made its way to Manhattan and is ready for its close-up.
The tree is one of the city's most popular holiday attractions, drawing admirers from all over the world every year.
Hundreds of spectators watched as the 12-ton tree was lifted into place at Rockefeller Center Saturday morning.
The 80-year-old Norway Spruce made the nearly 200-mile journey to the city from Vestal, New York just outside of Binghamton.
The tree is 80 feet tall, 12 tons, and is believed to be between 80–85 years old.
The Rockefeller Center Christmas tree was lifted into place after arriving in the plaza in New York City on Saturday (Nov. 11). (Photo by Lokman Vural Elibol/Anadolu via Getty Images)
PREVIOUSLY: The countdown begins: Rockefeller Christmas tree makes journey to NYC!
Dan Riley from Philadelphia, saw the tree for the first time: "I thought it would be taller to be honest, but you know it is what it is we'll see when the lights are on," he told FOX 5 NY.
The tree will officially light up the city on Nov. 29 until Jan. 13, 2024.
It will be wrapped in more than 50,000 lights and crowned with a star.
The star is a multidimensional Swarovski star that weighs approximately 900 pounds with 70 spikes covered in 3 million crystals.
For more information on the lighting ceremony, visit rockefellercenter.com.