Ring could give you $1 million for video of aliens this Halloween
Ring doorbell camera users have the chance to win $1 million this spooky season by submitting their best extraterrestrial Ring camera sighting.
The Ring Million Dollar Sighting contest is underway now through Nov. 3 for U.S. residents who capture "unaltered scientific evidence of a real extraterrestrial lifeform on their indoor or outdoor Ring device."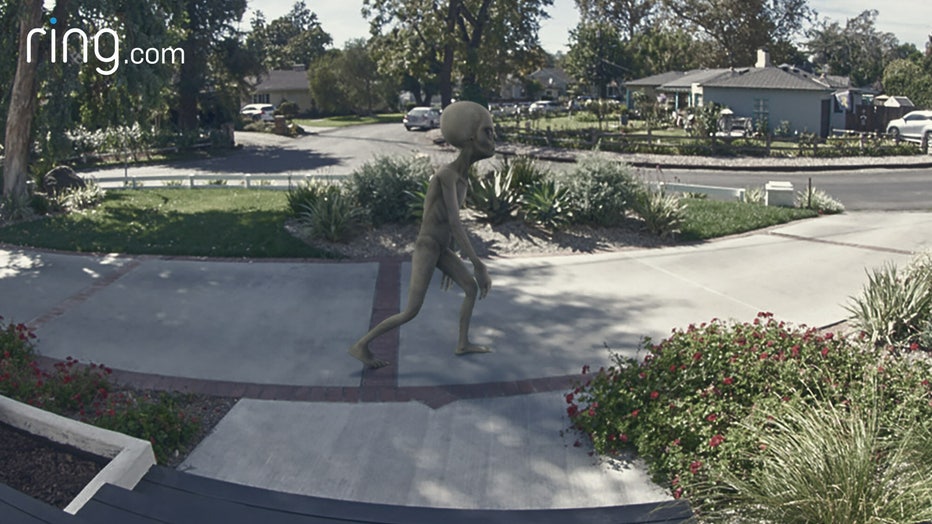 Ring Announces Million Dollar Search for Extraterrestrials This Halloween Season (Ring)
The submissions will be reviewed by "extraterrestrial expert" Jacob Haqq Misra, and if none of them meet the criteria, no $1 million grand prize will be awarded. But if you've got a creative side, you can use your Ring camera to compete for an "Out of this World" prize by capturing and submitting your best interpretation of an alien sighting.
READ MORE: NASA releases UFO report with no evidence of extraterrestrial origin
"Out of this World" submissions will be judged based on creativity, humor, engagement with a Ring device and other criteria outlined in the official rules. Ring users who enter the Out of this World contest will be in the running for a $500 Amazon gift card.
READ MORE: Ufologist presents alleged 'non-human' bodies to Mexico's Congress
"Alien costumes and accessories, homemade spacecrafts, and Extraterrestrial-inspired communication with your Ring device are highly encouraged for the 'Out of this World' Prize submissions," Ring said in a news release. "We recommend trying Halloween-themed Quick Replies with your Ring Video Doorbell, which allows you to greet guests with an intergalactic or frightfully fun response when they press the doorbell. Or, use Two-Way Talk through your Ring app to communicate directly with Extraterrestrial visitors or trick-or-treaters on Halloween."
Ring Million Dollar Sighting contest rules
Here are the contest rules from Ring: 
"Artifact" is defined as (1) a physical sample from an Extraterrestrial or (2) documentation of Extraterrestrial markings or symbols.
"Extraterrestrial" is defined as: Any life in the universe originating or occurring outside Earth or its atmosphere. The Extraterrestrial must take up physical space in order to be perceived by humans or cameras and have sufficient technology to be capable of traveling to and surviving within Earth's atmosphere.
"Scientific Evidence" is defined as an unaltered video (with audio) recorded with a Ring device (maximum one minute long) containing ALL of the following criteria (the contents of the unaltered video must be recorded during the Promotion Period with a Ring device without the use of computer graphics, digital effects and/or other artificial elements):
The Extraterrestrial exhibiting unusual, extraordinary, or unexplainable behavior (i.e. strange movement, velocity, pattern or other unique morphology).
An explanation of why the anomaly is necessarily extraterrestrial in origin (i.e., explanation based on theoretical predictions from the existing scientific literature, recovery and analysis of an Artifact or documentation of Extraterrestrial markings or symbols).
The Scientific Evidence must unequivocally rule out any known explanations or any new Earth-based phenomena as an explanation (e.g., equipment malfunction, known aerial objects, atmospheric phenomena, recently discovered terrestrial species).
The Scientific Evidence must demonstrate that there was no alteration or malfunction of the Ring device on which it was captured ("Corroboration") (e.g., including footage from an additional camera, correlating audio, or other simultaneously-captured data).
The $1 million grand prize – if it's awarded – will be paid as a $50,000 annuity over 20 years. Click here for more information.