Questions linger after Connecticut police officers fatally shoot man in his bed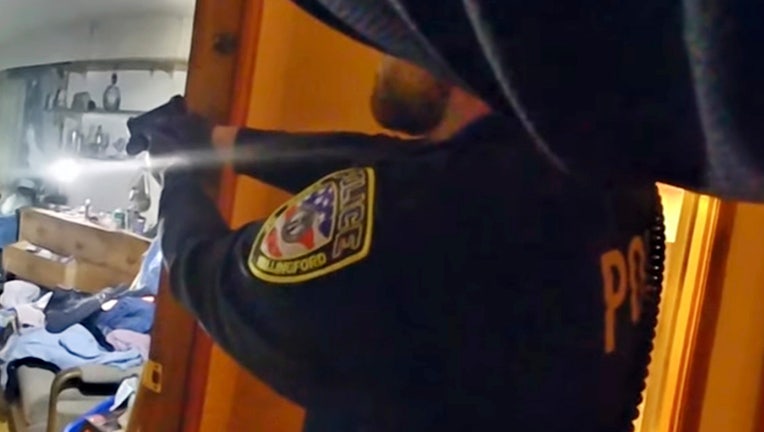 article
Donald Passmore was lying in bed with a .22-caliber revolver and had country music playing when he was killed by two police officers who had initially been summoned to the 62-year-old's Connecticut home after a report he'd shot himself.
The killing Monday angered and saddened Passmore's family and raised questions about whether officers could have done things differently. It came as many police departments nationwide have changed the way they respond to certain calls, including those involving mentally ill people — in response to outcries over police killings.
Police body camera videos showed part of what happened after officers arrived at Passmore's home in Wallingford, Connecticut. The man's girlfriend had called 911 shortly after 2:30 a.m. to report he had shot himself in the face in their bedroom.
The state inspector general's office, which investigates all police shootings in Connecticut, said the officers spoke to Passmore for about nine minutes.The videos show Passmore telling officers Gordon McCaskill and Robert Bellucci to put their flashlights down and the officers yelling "Do not touch the gun," "Get your right hand up now" and "Keep your ... hands where we can see them."
Seconds later there is a burst of about 10 gunshots.
The state inspector general's office said in a preliminary report that Passmore's revolver was found on the bed, but neither officer's video shows it. The videos also do not show the movement of Passmore's right arm. There was nothing in his left hand.
In the leadup to the shooting, the report said, Passmore told the officers to put down their flashlights and said "I'm telling you right now ... one of you are going to go."
No information has been released on Passmore's mental health.
The report did not make any conclusions about the shooting, and the investigation is expected to take months.
Wallingford police declined to comment on the shooting and referred all questions to the inspector general's office. A department spokesperson, officer Alex Torres, said the department has a crisis negotiation team and has in the past used the mobile crisis service of a local mental health provider.
Passmore's sister, Susan Cone, sounded upset during a brief phone interview and declined to comment.
The house had belonged to Passmore's late mother. Court records show Passmore's mother, Pauline Passmore, died last year. Her mortgage lender has a pending foreclosure action against the home.
Michael Lawlor, a criminal justice professor at the University of New Haven and a former state lawmaker, said the inspector general's office will determine whether the officers broke any laws.
Speaking generally, Lawlor said a debate and policy focus has emerged in recent years over whether the question about police shootings should be whether they were necessary instead of whether they were justified.
"Based on the training, based on the situations, was it really necessary in this particular case to fire your weapon at the guy?" said Lawlor, adding he had no opinion on shooting because few details have been released.
Several cities have experimented with having civilian emergency workers respond to mental health calls, rather than armed police.
Many police departments now train officers that the safest thing to do in some situations is to back off, contain and isolate a person experiencing a mental health crisis — even if they have a weapon — as long as it is likely they only pose a threat to themselves.
Some departments have changed their approach to certain calls after the 2020 killing of George Floyd in Minneapolis.
There also have been calls for law enforcement to improve its responses to psychiatric crises after killings by police including the death of Daniel Prude in Rochester, New York, also in 2020. Prude was just out of a psychiatric hospital and running naked through snowy streets when he was suffocated by police who had been called to help him. He was Black, as was Floyd.
Passmore was white.
Monday's shooting was one of three violent confrontations in the past two weeks involving police in Connecticut. Also on Monday, a Hartford police officer shot and killed a 44-year-old man who pointed a handgun at the officer on a city street. On Oct. 5, a woman fired several shots inside the Bristol police department lobby and was arrested.