NYC subway chokehold: Homeless man's death ruled a homicide
MANHATTAN - The death of a homeless man who was placed into a chokehold by a subway rider after allegedly acting aggressively toward other passengers has been ruled a homicide by the New York City Medical Examiner's Office. 
A vigil was held Wednesday afternoon for Jordan Neely, the man who was killed. Dozens took to the platform of the Broadway-Lafayette subway station protesting his death.
According to the medical examiner, Neely died as a result of compression of his neck caused by the chokehold.
Meanwhile, new video shows riders trying to subdue Jordan Neely. Lying on the floor of the subway car, a Marine veteran has Neely in a sleeper hold from behind while another man tries to immobilize his arms.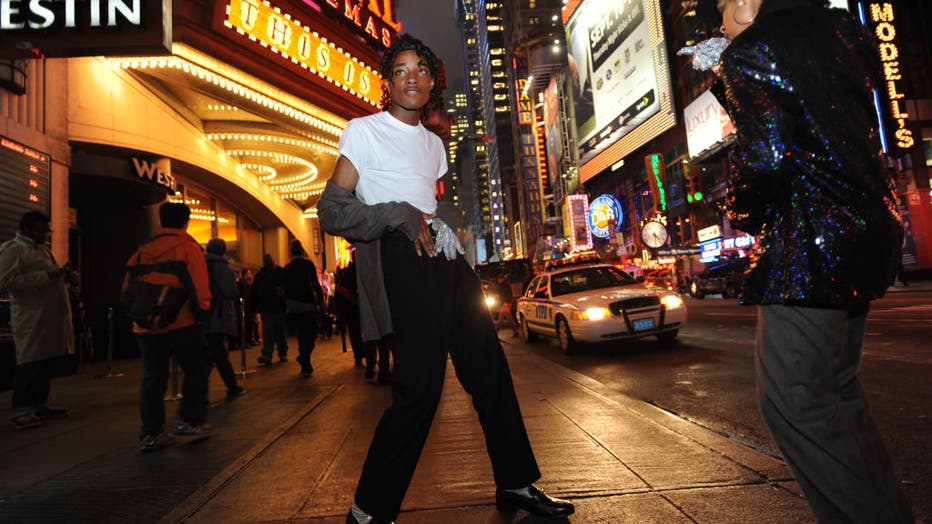 Jordan Neely is pictured before going to see the Michael Jackson movie, "This is It," outside the Regal Cinemas in Times Square in 2009. (Andrew Savulich/New York Daily News/Tribune News Service via Getty Images)
"That was deeply disturbing and that causes a lot of fear in people." Governor Kathy Hochul spoke of the death, saying she's looking into Neely's history while emphasizing the importance of mental health services.
A separate video shows EMTs trying to revive the 30-year-old man who has a criminal record with a history of 44 prior arrests, many of them subway related including disorderly, conduct, assault, and fare evasion. 
As for the 24-year-old Marine veteran, he was taken into custody and interviewed by police, and released without charges.
Some are calling for his arrest while others say he acted to subdue someone who is clearly threatening people in that subway car. 
The Manhattan district attorney's office confirms they are investigating the case to see if charges are warranted.
"The critical question here will be what was in the head of the person doing the subduing." Dmitriy Shakhnevich, a defense attorney and an adjunct professor at John Jay College told FOX 5, "If that person reasonably believed that there was some imminent harm to himself or others, then he could act in a way that would be effective."
An autopsy is being conducted by the Medical Examiners' Office.