Pride flags ripped down at Stonewall National Monument: 'It's just disappointing'
NEW YORK - Pride flags were broken and ripped off the railing at the Stonewall National Monument over the weekend. 
It's the third incident of vandalism in the past seven days.  
Park volunteers said flags are often pulled off the railing by partygoers late at night. But when volunteer Steven Menendez woke Sunday morning and found 68 flags damaged-- including 33 broken in one section– he was concerned.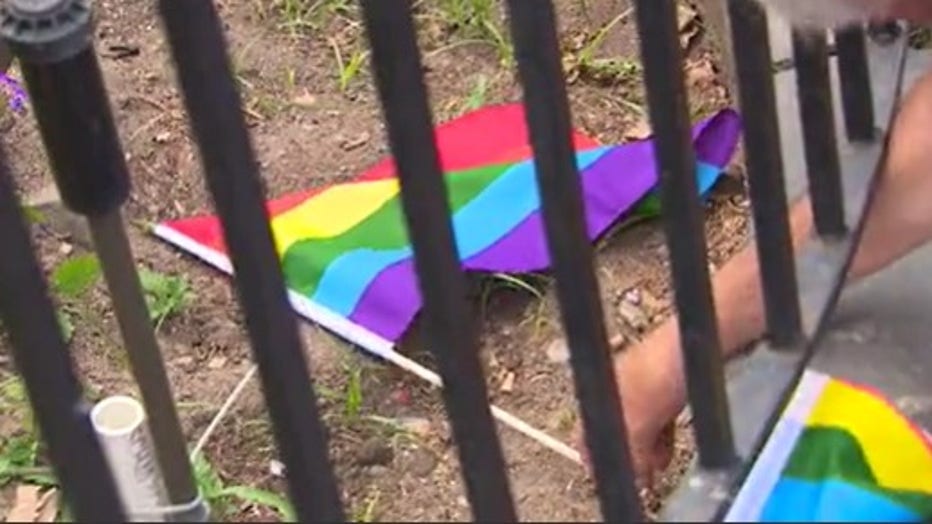 One of the pride flags ripped down over the weekend in Greenwich Village. 
"It's just disappointing to see it again in the park," Menendez told FOX 5. 
Police were called to the scene, but there was little they can do other than check if neighboring shops have cameras. 
Park volunteers are relying on the existence of only one camera guarding the front of the park and they argue the city needs to put up more so if people choose to vandalize the park, they know they're being watched.  
"We'll always have that reminder that there are those who don't support LGBTQ rights," said one parkgoer. "It's upsetting and sad and concerning that we have to at one of the sights where our rights were born and continue to grow." 
It's not yet clear if this was the work of the drunk and disorderly, or a targeted effort to vandalize a historic gay monument, but parkgoers observing Menendez replacing the flags, argued about how to react.  
"I feel like as a transgender, this is too much in your face," said another resident. "As an American, I want American flags, this isn't LGBT country."
The divisiveness among passersby was just a small example of the underlying reason behind now a third instance of vandalism at Stonewall Monument.  
"We have so much hatred and anger in the air right now," Menendez said. "We really need to reverse that and replace it with love compassion and acceptance."