President Trump abandons plan to open country by Easter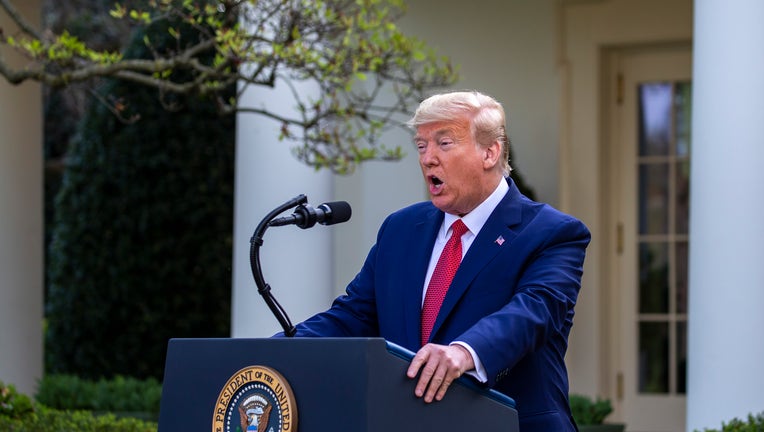 article
WASHINGTON - On Sunday, President Donald Trump announced that he was extending federal social distancing guidance for 30 days as scientists warn the coronavirus continues to spread.  That would extend the guidance to April 30.
The federal guidelines recommend against large group gatherings and urge older people and anyone with existing health problems to stay home. People are urged to work at home when possible and avoid restaurants, bars, non-essential travel and shopping trips.
The extension would leave the federal recommendations in place beyond Easter on April 12, by which time Trump had hoped the country and its economy could start to rev up again. Alarmed public-health officials said Easter was sure to be too soon.
The U.S. had more than 137,000 COVID-19 cases reported by late Sunday afternoon, with more than 2,400 deaths.
Earlier Fauci told CNN: "I would say between 100,000 and 200,000 cases," then corrected himself to say he meant deaths. "We're going to have millions of cases." But he added "I don't want to be held to that" because the pandemic is "such a moving target."
One in 3 Americans remain under state or local government orders to stay at home to slow the spread of the virus, with schools and businesses closed and public life upended.
That is quite a change from Trump's pronouncement last week that people will probably be able to pack churches on Easter Sunday, April 12.
"For me, for a lot of our friends, that's a very special day," Trump said on March 24. "What a great timeline this would be."
But he said that wasn't going to happen on Sunday.
"It was just an aspiration," Trump said Sunday of his Easter pronouncement.
"But probably on Easter, that could be the peak period, the peak number of deaths before it starts coming down, we had an aspiration of Easter, but when you hear this kind of numbers, we don't want a spike up, you're coming down and there's a spike up and we don't want that," Trump said Sunday.
There are now more than 137,000 Americans diagnosed with coronavirus as of Sunday afternoon.
With the Assoicated Press