How an indictment of Donald Trump would be carried out
The image of an arrest of a former president has been stoked in part by former President Donald Trump himself. 
Trump claimed over the weekend that he will be arrested this week. For some, the image involves the former president being handcuffed and walked out of his Florida residence. 
But law enforcement experts said that if Trump is criminally charged by the Manhattan District Attorney's Office, what happens next more likely resembles how high profile celebrity cases are handled - where the suspect is notified and turns himself in. 
"I highly doubt that they're going to have him in handcuffs walking out the front door at his home in Florida." Lenny DePaul, former Commander of the U.S. Marshals NY/NJ Fugitive Task Force told FOX 5 New York. 
"I'm hoping that they've got to avoid any craziness that may happen if this does go come to fruition. And who wants to see riots and people going crazy with him walking out the front door in handcuffs," DePaul said. 
Legal and law-enforcement experts told FOX 5 that if the case goes forward, authorities in New York will reach out to Trump's attorney and schedule a time and place for him to surrender himself.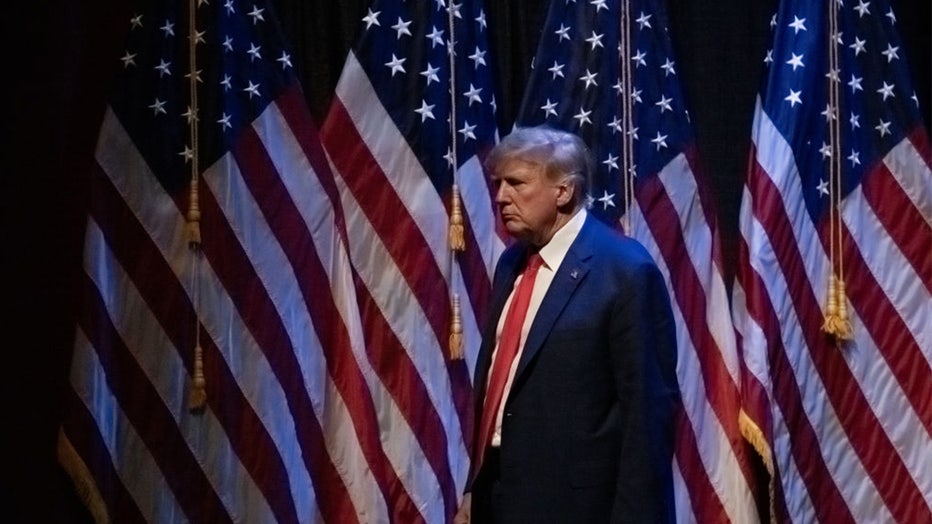 FILE - Former US President Donald Trump during an "America First Education Policy" event in Davenport, Iowa, US, on Monday, March 13, 2023. (Miriam Alarcon Avila/Bloomberg via Getty Images)
RELATED: Here is the status of the Donald Trump investigations 
Trump already has a lawyer in line, and with the Secret Service protecting him, they will be notified as well. 
"He would arrange for Donald Trump to have a location, to be fingerprinted and have his mug shot taken. And then he would go into a courtroom, stand in front of the judge and then say, not guilty," said Arthur Aidala, a former senior assistant district attorney, on how Manhattan DA Alvin Bragg would handle the process. 
RELATED: Will Donald Trump take a mugshot if he's indicted? 
New York City is preparing for a turnout unlike any other if Trump does end up having to turn himself in. And a day that would likely draw crowds of both supporters and counter protesters. 
More than just a logistics nightmare for crowd control, some worry about the safety of those inside and outside the courthouse. 
"Everyone looks at what happened on Jan. 6. And with the [former] president saying, you know, 'Protest and take back our nation.' I think many of us who work down in that area of Manhattan. It made you put your guard up a little bit," Aidala added.